Former Sac State women's tennis captain returns as new coach
After contributing to one of the most successful runs in the history of Sacramento State athletics, alumna Clarisse Baca has rejoined the women's tennis program as the new head coach.
Baca, at 26 years old, is one of the program's youngest head coaches ever. Born and raised in Chihuahua, Mexico, Baca was recruited by Sac State in 2007 as a top-three junior player and helped lead the Hornets to four of its 13 consecutive Big Sky tournament championships and NCAA tournament berths. Baca, who captained the women's team for three of her four seasons at Sac State, eventually went on to obtain her Bachelor's degree in 2012 and her MBA in 2015.
In her first collegiate coaching position, Baca has inherited the title of her former coach Dima Hrynashka, who won five Big Sky coach of the year awards in 10 years and played a crucial part in the program's record 112-match conference winning streak.
"I am definitely intimidated (by) all the legacy that I was part of before (but) I'm not afraid to ask for help or reach out for more specific knowledge," Baca said. "There's a whole team (of faculty in the athletic department) supporting me and these girls so I don't feel that I'm alone in this."
Baca's appointment is just one of the few changes for the team this year. The 10-player roster has three freshmen as well as a brand-new coaching staff, and will hold all practices and home games on the campus after playing at the Rio Del Oro Racquet Club for over a decade.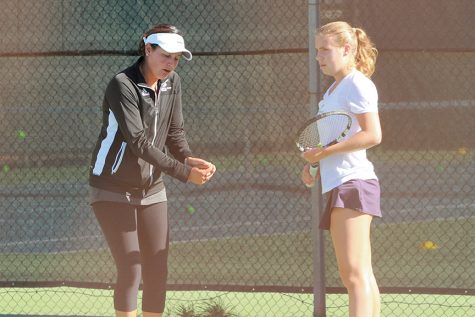 Working alongside Baca is Eric Roberson, the new assistant coach for the program. Roberson spent the past four years as a volunteer assistant coach for the men's team. Baca says that Roberson's relaxed coaching style and knowledge of tennis technique contrast well with her high-energy quality and business credentials.
"I'm pretty good (at) taking care of business like paperwork and recruiting and making sure we comply with the NCAA rules, and I think Eric is going to be very beneficial for (helping with) the more specific details of the girls' game," Baca said.
Like Baca, all but three players on the roster were recruited from outside of the United States. While some players admit experiencing challenges with age differences, many appreciate Baca's perspective as a former international player, including junior Ana Loaiza Esquivias, a native of Mazatlan, Mexico.
"We can relate to many things, we can speak Spanish and we have a good chemistry," Loaiza said. "Most of us are international and we're all going through the same things. We're all away from our families; she knows what we're going through."
After missing the NCAA Tournament the past two seasons, Baca and the team are eager to return to the program's winning ways with a conference championship. One of Baca's favorite memories amidst her decorated career at Sac State was her team's close-knit camaraderie, which she hopes to replicate with the current squad.
"I think she has made an improvement overall with (us) being closer as a team — last year we struggled with that," senior Andie Mouzes said. "She's really into team spirit, teamwork (and) bringing up our team positively."
Despite the official season not beginning until Jan. 20, the team has competed in exhibition tournaments at UC Berkeley, St. Mary's and Stanford. In spite of their struggles, many individual players, including Mouzes — who reached the finals in singles play at the St. Mary's Invitational — have improved.
"We have a good chance (to win this season)," Mouzes said. "(We're) training as hard and smart as we can, and just being positive and having a good outlook on the future."