Sacramento State women's soccer experienced a frustrating 3-0 season-ending loss at Northern Arizona that they could have easily turned around.
It wasn't until the second half that Northern Arizona managed to get a leg up on the Hornets with a controversial foul called in the box, resulting in a penalty shot the Lumberjacks took full advantage of.
"We played really well, I thought we were taking the game to them."Sac State head coach Randy Dedini said."Unfortunately, we didn't put one of our good chances away and it was still 0-0 at halftime.We were controlling the ball most of the first half and then the second half started out and we were kind of on the back foot, a little bit."
Sac State held possession well in the first half and matched Northern Arizona with seven shots. Game play, for the most part, stayed on the Hornets' offensive side. However, one mistake in the second half flipped the momentum of the game on its head.
Ten minutes into the second half, a foul was called on junior defender Erika Tilford for tripping a Lumberjack in the penalty box, leading to an easy goal for Northern Arizona.
"Unfortunately, we looked at film and the player he said fouled the girl, did not foul the girl," Dedini said. "It was actually one of their own players tripped their player in the box, but it was all so close that he just assumed it was our player."
It was a delayed call by the referee and not an easy one to make, which resulted in strong opposition from Sac State, but the Lumberjacks still got to take the shot.
"It was a very hard call for the ref," freshman forward Teysha-Rey Spinney Kuahuia said. "The ref couldn't really see, but after that our team shut down."
It's impossible to know how the game might have gone if those first 10 minutes of the half had gone differently, but as it was, Sac State was shaken and struggled to regain the upper hand they had in the first half.
Northern Arizona quickly solidified their lead with a goal just five minutes later, and a third five minutes to the end of the match. This was one of the few games this season where the Hornets didn't spend most of the last ten minutes on the offensive.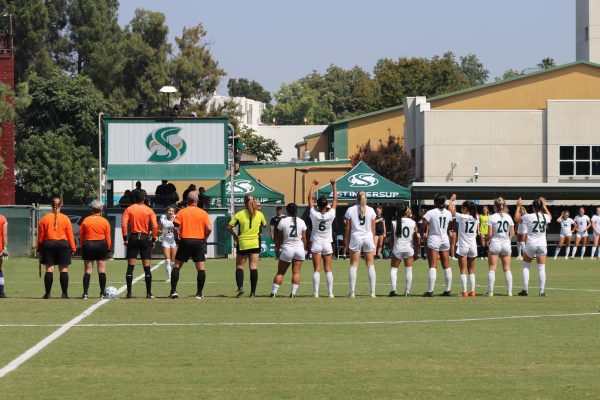 In the face of this rough end to their season, Sac State is looking ahead to the offseason, ready to give their all to improve and go into next year with every advantage they can get.
"We, as captains, told them to remember this feeling of making it all the way here and then losing in the quarter final game," junior midfielder Madelyn Dougherty said. "It's not a nice feeling. We're kind of on our comeback story. I think this is just motivation for next year and it lit a fire under a lot of the freshmen."
RELATED: Sac State fails to secure a win over the weekend coming up with two draws instead

The Hornets are certainly on track to have an exciting 2024 season. Their next group of seniors will include the offensive powerhouses junior midfielder Abigail Lopez who made Big Sky first team, junior forward Danna Restom and junior forward Ariana Scholten.
On the defensive side are junior defender Isabella Visonhaler and junior defender Erika Tilford who have both been invaluable this season and will hopefully continue to improve.
Not only will next year's seniors be formidable, there are a few freshmen who have already proven themselves this year and will be able to apply that experience next season. Spinney-Kuahuia scored two goals coming in just behind Lopez.
Freshman midfielder Ellie Farber didn't score, but took 32 shots, also placing just behind Lopez. Freshman goalkeeper Izzy Palmatier was impressive all season, with a high of 10 saves in one game and 73 overall.
"We [will] lose two seniors, but we're bringing in a strong class and we're really young," Dedini said. "Those young players are gonna have the experience of this year and know better how to prepare themselves for next year. I'm pretty excited about our time moving forward."