Advertise in The State Hornet
---
ABOUT THE STATE HORNET
The State Hornet has brought excellence in student media to Sacramento State and its surrounding community for 68 years, and we're ready to connect you and your business with that market today. Our staff is available to assist you with your advertising needs. We believe in developing long-term relationships that benefit your brand, our readers and The State Hornet.
THE SAC STATE MARKET: NEARLY 37,000 STUDENTS, FACULTY AND STAFF
The State Hornet newspaper, StateHornet.com, and social media feeds (via Facebook, Twitter, and Instagram among others) serve as the only student-run source of Sac State news for nearly 37,000 students, faculty and staff on the university campus. Your brand and its message can be distributed to this population in print every Wednesday (see publishing dates below) and daily online during the Fall and Spring school terms. Innovative multimedia native advertising and sponsored social media posts are available to reach readers as well.
We can help you develop a multi-platform marketing plan that reflects your mission and values, accomplishes your goals and is compatible with your budget. Contact The State Hornet today.
---
PRINT ADVERTISING BASE RATES
(black and white printing, per issue)

Full Color: $100 additional (For quarter, half, and full-page ads only. Must be reserved at least 10 days in advance; submit CMYK artwork for publication)
Back cover placement of tabloid: Posted rate + 25%. Please inquire about availability.
Page 2 placement (Inside front cover): Posted rate + 15%. Please inquire about availability.
Blow-in inserts: Pricing starts at $600 per issue based on insert size and printer capacity. Please inquire for details.
Design services: $100 one-time charge (per advertisement) for The State Hornet to design artwork for publication. (Minimum 10-day lead time.)
2017-18 PRINT PUBLISHING DATES
(Wednesdays during Fall and Spring semesters)

FALL 2017
Aug. 30
Sept. 6
Sept. 13
Sept. 20
Sept. 27
Oct. 4
Oct. 11

Oct. 18
Oct. 25
Nov. 1
Nov. 8
Nov. 15
Nov. 29
Dec. 6

SPRING 2018
Jan. 24
Jan. 31
Feb. 7
Feb. 14
Feb. 21
Feb. 28
Mar. 7

Mar. 14
Mar. 28
Apr. 4
Apr. 11
Apr. 18
Apr. 25
May 2
May 9

THEMED ISSUES & SPECIAL-INTEREST SECTIONS

The State Hornet produces special issues throughout the academic year that help advertisers target their specific audiences on the Sac State campus.

FALL 2017
Aug. 30: Back to School Issue
Oct. 11: Homecoming Week Issue
Oct. 25: Halloween Issue
Nov. 15: Holiday Issue

SPRING 2018
Jan. 26: Back to School Issue
Feb. 14: Valentine's Day Issue
March 7: Spring Break Travel
May 11: Best of Sac State Issue

Additional themed issues and sections to be determined. To request details, or to suggest a themed issue or advertising section, please contact The State Hornet.
---
DIGITAL ADVERTISING BASE RATES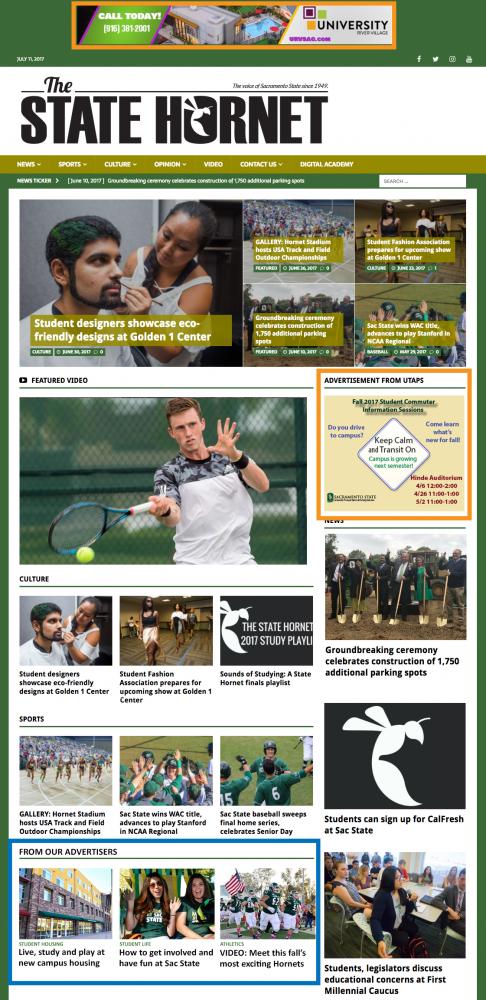 STATEHORNET.COM display ads $100 per week (per placement)
Display ad offerings at top, side, and bottom of site. Sizes include 728×90, 300×250, 205×90.
SPONSORED CONTENT $600 per week (+ $150 for :30 video)
The State Hornet works with advertisers to develop custom post featuring your branding and story, published on StateHornet.com and displayed on home page for duration of ad run. Formats include article, list, quiz, video, photo gallery, or combination of media. (Minimum 30-day lead time.)
SPONSORED SOCIAL MEDIA $100 per day; $400 per week (M-F)
Post your message and artwork on The State Hornet's Facebook, Twitter and/or Instagram platforms. (Up to five consecutive days.)
---
PLACEMENT
To request a specific page, section or other placement for your advertisement, please inquire about availability with your State Hornet advertising contact at the time of your order.
Rates may vary based on specific placement near special features, sections or other unique content in print and/or online.
Page 2 and and the back page are available on a first-come, first-serve basis for an additional 15% and 25% charge, respectively (full-page ads only). See Print Rates above for more information.
TECHNICAL SPECIFICATIONS
Print ad artwork should be submitted as Adobe Acrobat PDF files at 300 dpi resolution or higher, all fonts embedded. Color ads should be submitted using CMYK process artwork.
---
TERMS & POLICIES
• The State Hornet reserves the right to refuse or revise any advertising deemed to adversely affect the integrity and credibility of the newspaper as a source of truthful and accurate information, or be in conflict with the educational mission of the university community served. The State Hornet reserves the right to institute such other general policies as may be deemed appropriate at any time. Sole responsibility for the content of an ad lies with the advertiser who unconditionally agrees to hold The State Hornet faultless should claim arise, and to pay for any and all expenses incurred as a result of the publication of such ad. Should an ad not be published as ordered, The State Hornet's liability is limited to the amount paid for the ad.
• Print advertising must be reserved within seven (7) days of publication date. Advertising canceled after space reservation deadline will be billed at the one-time placement rate.
• Advertising contracts must be received fully executed from all advertisers before publication.
• Payment must be received via cash, check or charge (VISA or Mastercard only) before publication. Please call the Associated Students Inc. Business Office at (916) 278-7916 to remit payment and request a receipt.
• All artwork for ads must be received by The State Hornet by NOON five (5) days prior to publication date. If The Hornet designs your ad, please note that all content, logos, graphics and design instructions/guidelines must be received by NOON ten (10) days prior to publication so we can produce your artwork and generate a proof.
• Credit for errors shall not exceed the cost of the ad space.
For additional details about State Hornet advertising policy or guidelines, please contact ads@statehornet.com or call (916) 278-4092.
State Hornet Faculty Adviser / Business Manager
Stu VanAirsdale
vanairsdale@csus.edu
(916) 278-6065