Growing up, junior midfielder Abigail Lopez didn't like soccer. While Lopez's whole family played, as a little kid she resented all those Saturdays eaten up by a sport she didn't yet understand.
It wasn't until after a failed attempt to enjoy cheerleading, that Lopez decided to try rec soccer and her opinion quickly changed.
By the age of six Lopez had decided on her sport of choice, with the help of her family of soccer players. Lopez is now a captain on the Sacramento State women's soccer team.
"Looking back at my journals, I actually wrote one of my dreams was to become a captain at a Division I level," Lopez said. "It's one of my biggest accomplishments, so I don't take that very lightly."
Fellow captain and junior defender Isabella Vinsonhaler said being a captain requires a lot of communication, both with the coaches and the referees. Lopez isn't just a star offensive player, but also communicates with her team and ensures every woman has a voice on and off the field.
Though Lopez demonstrated a natural talent from the start, she didn't get to this point without dedication and rigorous training. Lopez only played one year of rec league before moving up to the more competitive club level and was captain her last six years at Blackhawks Soccer Club in Elk Grove, California.
She was also named captain of the JV team her first year at Pleasant Grove High School and then captained varsity for the next three.
Lopez said being on a first-place club team, a successful high school team and earning Delta League player of the year during her senior year of high school gave her the confidence she needed to move up to the collegiate level.
Sac State head coach Randy Dedini first met Lopez in her sophomore year of high school at a training camp.
"I always loved the way she played, but wasn't sure how it would translate to the Division I level," Dedini said. "We brought her in thinking she would be a developmental player; it might take her a year to really get her feet under her and get used to the physicality of the Division I game."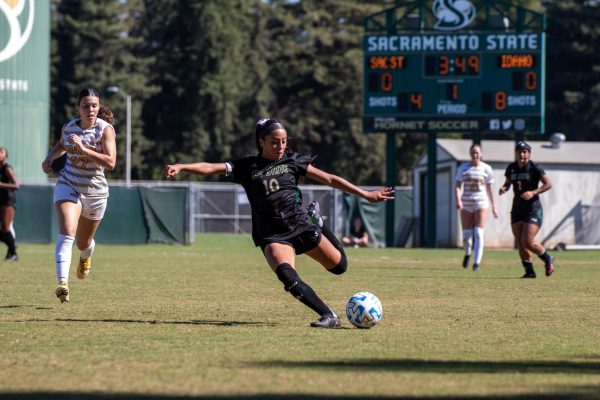 Lopez did not take long to prove she could keep up with the older girls. In her first season at Sac State, she played in 15 of 19 games, started in six of those, had two assists and scored four of the 19 total Hornets' goals.
"My freshman year the coaches told me exactly what my role was gonna be. If I come into training and I come into practice and I win my spot, I'll be on the field," Lopez said. "My natural position was a midfielder, but when you come into college, sometimes your position changes and for me as long as I'm on the field getting minutes, I don't care where I'm at."
Lopez continued to improve into her sophomore year where she scored three goals and led her team in shots and shots on goal.
Now as a junior and a captain in her third season with Sac State, Lopez has far surpassed her freshman and sophomore performance. Despite a low-scoring season for the Hornets, Lopez has still managed to lead the charge with four goals and 40 shots, with 13 of them on goal.
"She's one of those players that's just never satisfied with where she's at and constantly pushes herself to be a better player," Dedini said. "She's gotten better every single year and this year is no different. She's a better player than she's ever been right now and it just comes from all of the work and the training she's put in."
The 2023 women's soccer team has adjusted quickly to the largest addition of new players since 2002. They have done well despite being a young team and it is impressive how cohesively they've played, which both Lopez and Dedini attribute to the teams chemistry.
"I think this team that we have this year has been the closest I've ever been with any other team," Lopez said. "Clearly we have ups and downs [but] ultimately, we're sisters on this team."
Lopez said she started calling her teammates sisters after her grandma died during her sophomore season.
"The day after my grandma passed away I came to the field and I played soccer," Lopez said. "I knew that it wasn't just soccer, it was the people around me as well. I started to say sisters… because I saw how much they cared about me."
Earlier this season Lopez played against Pacific on the one-year anniversary of her grandmother's death, and scored a goal.
RELATED: Sac State women's soccer holds lead until final minutes against Pacific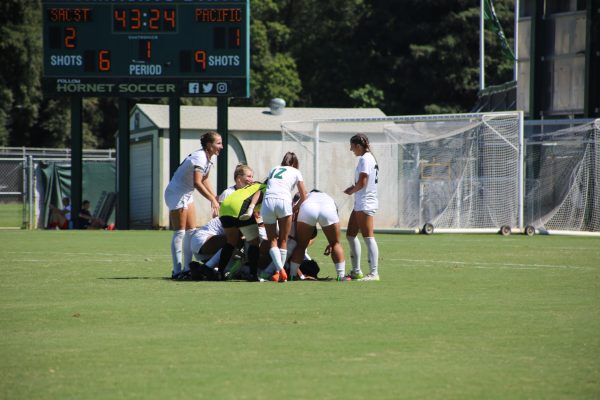 Having this experience last season gave Lopez a better understanding of the role mental health plays for student-athletes. As a captain, Lopez makes sure that she is always someone her teammates can talk to and looks out for things that might make their team less welcoming to its players.
Lopez is family oriented, and tries to apply things she has learned from her family to her role as a Hornet. Besides teaching her soccer, Lopez's parents have taught her that family will always be there.
"Family is number one," Lopez said. "If we win, if we lose, no matter what I'm gonna go back to the locker room with my sisters. Just like family, at the end of the day we're doing this out of love and we've definitely made that known."