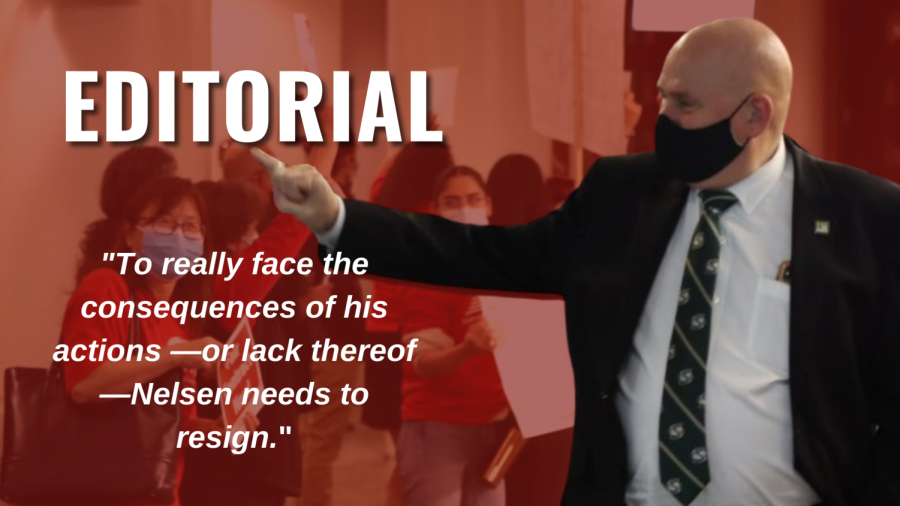 EDITORIAL: President Nelsen, we don't accept your apology — you should resign
One performative action doesn't undo Sac State mishandling racism
December 10, 2021
President Robert Nelsen's inability to properly address instances of racism on campus confirms his failure as president of Sacramento State and has damaged this university long enough.
"I ask that all of us play a role in supporting the implementation of the plan and holding each other accountable," President Nelsen said in July when the anti-racism and inclusive campus plan was announced.
Nelsen has repeatedly said he "takes accountability" for controversial and racist incidents on campus, most recently the moving of the anti-racism and inclusion convocation. But how many times does the Sac State student body have to hear Nelsen's email apologies when nothing changes? Accountability means nothing without change.
To really face the consequences of his actions — or lack thereof — Nelsen needs to resign.
His lack of urgency against racist campus issues has made him complicit in perpetuating racism himself, which is just as harmful as being racist. The history and recent incidents of racism at Sac State cannot be solved with focus groups or committees that end up becoming performative. The Sac State community needs direct action.
As said by Angela Davis, it is not enough to be non-racist. In a racist society, to enact change, we must be anti-racist. Through inaction, Nelsen is allowing Sac State to foster a racist environment.
In the heart of this institution, that supposedly prides itself on diversity, members of the Sac State community are discontent with the handling of racial controversy by leadership on campus. And rightfully so.
From our point of view as students from Black, Latino, Asian and Indigenous backgrounds, Nelsen has failed the communities we represent.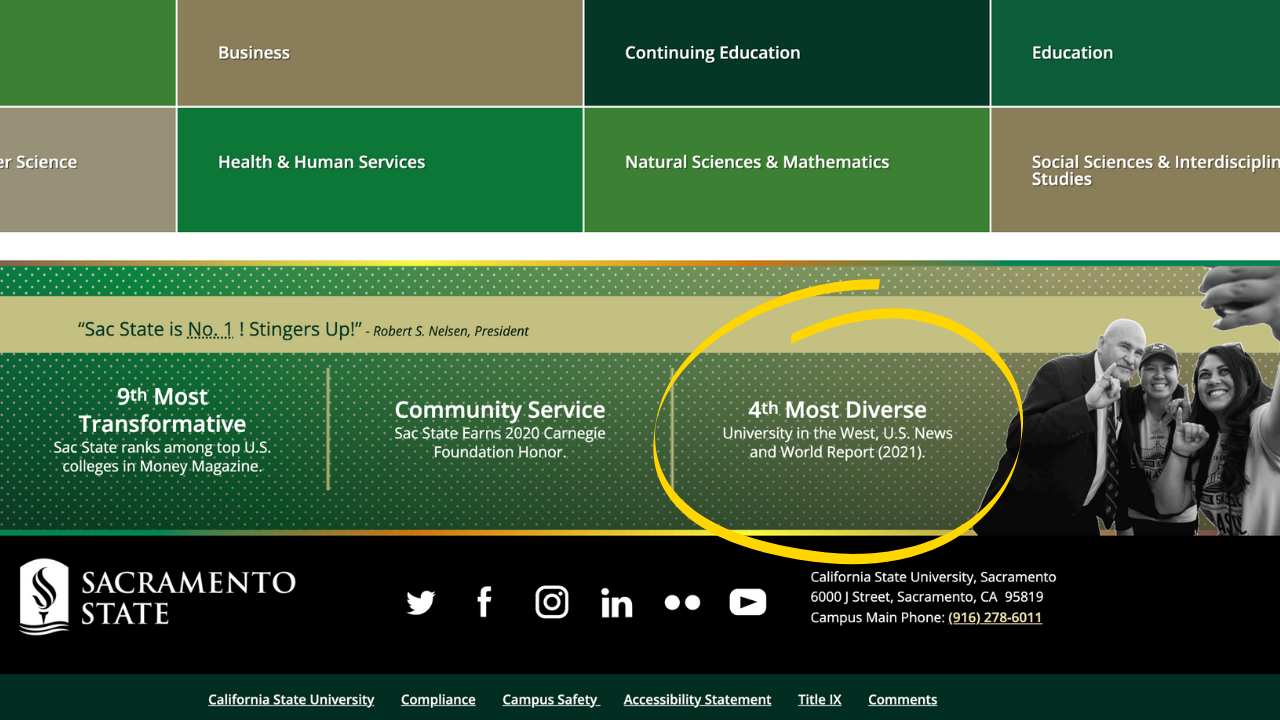 Sacramento State's home webpage, the university is listed as the fourth most diverse in California. However, Sac State does not commit to the diversity it is supposedly proud of. (Screenshot by Ayaana Williams)
During our time at Sac State, Nelsen has spent more time reacting to the issues that desperately need to be solved by him and his cabinet rather than taking meaningful action, which is well within his power as president. Instead, our inboxes are ripe with statements that feel more like meeting a quota than actually caring.
Nelsen wrote in response to the Kyle Rittenhouse and Ahmaud Arbery verdicts in a SacSend during Thanksgiving break,
"No one should fear for their safety because of the color of their skin, or because of whom they love, or because of their gender or sexual identity or political views, or for any other reason." he wrote.
While Sac State hired a vice president of Inclusive Excellence, this does not undo the fact the university is systematically oppressive. Having a VP of Inclusive Excellence isn't enough. We cannot expect the university's division of inclusive excellence and faculty of color to do the things Nelsen fails to do.
The State Hornet understands institutional racism cannot be solved in a day, but Nelsen has — and continues to — not act urgently against racism on campus, which allows oppression to continue.
Throughout this semester, The State Hornet has heard several anecdotes from Sac State community members from Asian, Latino, Black and Indigenous backgrounds on how the university has failed to support them.
This has been exhibited repeatedly, like when the Full Circle Project told The State Hornet how they struggle with a lack of institutional funding, or when Latino faculty and a student spoke out on the disproportionate numbers of representation between faculty and students, or when Black faculty urged administration to call out campus racism, or when Indigenous students cited they don't feel like they belong, or when Nelsen referred to Indigenous students in the past tense, as if they no longer exist or — most notably — when several Black administrators left the university, marking the "mass exodus."
But the list is longer than just this semester. Forgive us if we don't get them all, there's just been too many. To name a few: Sac State allowed a Black faculty member to be racially profiled on campus with the cops called on him, the university kept economics professor Tim Ford employed despite video documentation of him harassing his Black neighbors and it conducted a mediocre investigation after Black students were attacked with racial slurs during a UNIQUE Programs talent show.
But the racism exhibited does not stop with Nelsen. At Sac State, it runs deeper than just administration and faculty.
Racial profiling was committed by the Sac State Police Department in late October when they sent a warning via email regarding an assault at Hornet Commons. SSPD provided racist descriptions of "three male Hispanic students" involved in the assault.
University police Chief Chet Madison said in a forum the reason for using a "Hispanic" description was because that's what was "provided to us," but what does that say about our police chief not knowing how to sensitively speak to the 11,000 Hispanic students on campus? What does looking "Hispanic" even mean?
Instead of using what was provided to you because it's the easiest way to do your job, why not use critical thinking skills to realize that describing people as "Hispanic" damages the perception of a whole minority community?
This is what happens when you have a university president who does not defend the community he is supposed to serve. It allows racial profiling and much more to happen outside his own cabinet, where students are directly affected.
For Hispanic Heritage Month, Nelsen's acknowledgement for Hispanic students at Sac State was nowhere to be found despite him being president of a Hispanic-Serving Institution. Rather than remembering Hispanic students at Sac State, Nelsen instead promoted his "Homecoming Welcome Back BBQ."
To add insult to injury, in September, Nelsen promoted the progress on the interviews for the candidates of VP for Inclusive Excellence, except he undermined his own tweet with a picture of his cat, "Tati", saying that the cat was reaching out to relax after his long day at the university.
Long day at @Sacstate. Great meeting with Faculty Senate. Unbelievably fantastic candidates for the Vice President for Inclusive Excellence. Moving forward with our Antiracism plan. Tati reached her paw out tonight to relax. All of us need to take care of ourselves. #StingersUp pic.twitter.com/iNxYdtNIle

— Robert S. Nelsen (@PrezNelsen) September 10, 2021
There are, in fact, other colleges and universities who have set an example for the standard of support for students of color.
Just an hour south of Sacramento, San Joaquin Delta College in Stockton not only has high racial diversity demographics across the board but also celebrates on campus with school-organized heritage events, multicultural centers and a diverse administrative board to be a voice for all students.
Creating a welcoming and antiracist environment is not impossible. It's time Sac State realizes that.
It is without a doubt that the racism experienced by his students and faculty has spanned decades, for example, Jerry Blake, who works with the university's Educational Opportunity Program, said Sac State has a "racial bias" against Black males on campus. Blake has been at Sac State for 29 years.
Since his appointment in 2010, racism continues to harm faculty, staff, and most importantly—students.
It's time for this campus to call it what it is: Nelsen is not fit to carry out the role of president of Sac State due to his inaction and his complicity in racism.To fix racist issues on this campus, we need a president who will stand by their words with action that will help students and faculty of color.
It's clear, Robert Nelsen is not capable of such a task.
Signed by:
Jordan Parker, editor in chief
Nijzel Dotson, managing editor
Magaly Muñoz, managing editor
Erick Salgado, spanish language editor
Emma Hall, diversity, equity and inclusion editor
Ayaana Williams, visuals editor
Mercy Sosa, digital editor
Camryn Dadey, news editor
James Fife, multimedia editor
Michael Pacheco, arts and entertainment editor
Isabelle Juarez, newsletter editor
Alex Muegge, copy editor
Mack Ervin III, podcast editor
John Cabales, sports editor
Kaylin Flatland, audience engagement editor