Sac State women's beach volleyball team swept at home opener
San Jose State takes advantage of short-handed Hornets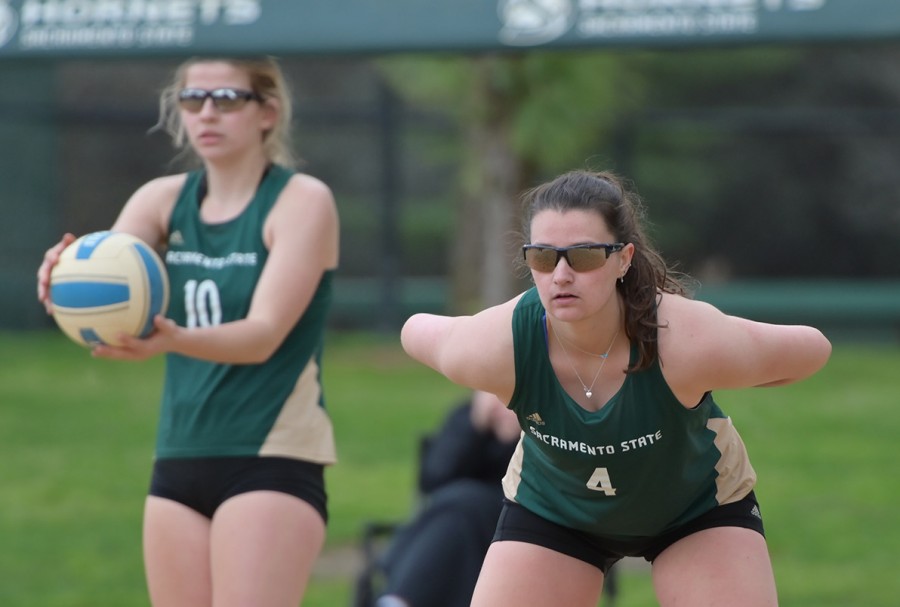 The Sacramento State women's beach volleyball team (0-3) was defeated by San Jose State (5-3) on Friday at Livermore Park in Folsom. The 5-0 loss is the first at home this season.
The Hornets No.1 pair rattled off the first three scores in set one against San Jose. Sac State stayed close the entire set before a kill for San Jose State at 14-10 caused, senior, Mikaela Nocetti to call a timeout. Not only was the score getting out of hand, but Nocetti was overheard from the bench saying she "tweaked" something.
RELATED: Hornet Volleyball Player Mikaela Nocetti proves vital to team's success
Nocetti shook it off, completing a diving pass on game-point. The save allowed Ashtin Olin, sophomore, to be in position defensively, which resulted in a joust between her and the Spartans. The referees called for a replay on game-point.    
Sac State created opportunities to score in the second set, but execution was lacking early on when the team fell behind 6-3. Olin stuffed San Jose State to get the score within two points, then the Spartans responded by scoring three in a row.
With the score 13-8, co-head coach Ed Jackson called a timeout. He made a defensive adjustment so that Nocetti could defend left on serve receive situations.
"My thought was (Nocetti) has more experience and they were serving that way intentionally, so I thought lets flip it," Jackson said.
Saturday marked the first time Nocetti and Olin played in a beach volleyball game together.
"We play indoor together, it's difficult trying to learn how to read behind them," Nocetti said. "But for the most part we're good about it and shouldn't be an excuse for why we don't play consistently."
The Hornet's No. 5 tandem of Kayla Subbert and Paige Calvin, both freshmen, fell short (21-18), in the second set. Hopes of a third set disintegrated after Calvin's failed dig on game-point.
The No. 2 tandem of sophomore Macey Hayden and senior Skyler Takeda proved to be a tough out for San Jose State as well. The Spartans escaped set one with a 21-17 victory. Sac State got up to an early 7-2 lead in the first set, but lost the lead 18-16.
Sac State has been without the services of junior Sarah Davis, due to a pair of herniated disks suffered at practice before the start of the season. Davis is set to return March 15, for a doubleheader against the University of San Francisco and San Jose State.
Davis said that when they play San Jose State again on March 15, that the team's "overall intensity" will be different.
Nocetti said the change in rotation without Davis in the lineup could be a factor.
"It can be a part of it, but in beach you got to be ready to play with anybody, because pairs can switch so frequently," Nocetti said.
Davis differs from Nocetti on the idea of partnership's role in beach volleyball and consistency.
"I think once everyone gets back to their normal partners it's easier to connect when you have been playing with one person for a period of time," Davis said.
Hornet's student assistant coach and senior, Lana Brown, gave advice to her fellow teammates dealing with the difference in beach volleyball compared to indoor.
"Beach is a big game of errors and letting them go," Brown said. "We need to understand that and get over it as fast as you can, then move on to the next point."