Hornets return home, defeat University of Antelope Valley 86-80
Women's basketball team overcomes a fellow high-paced team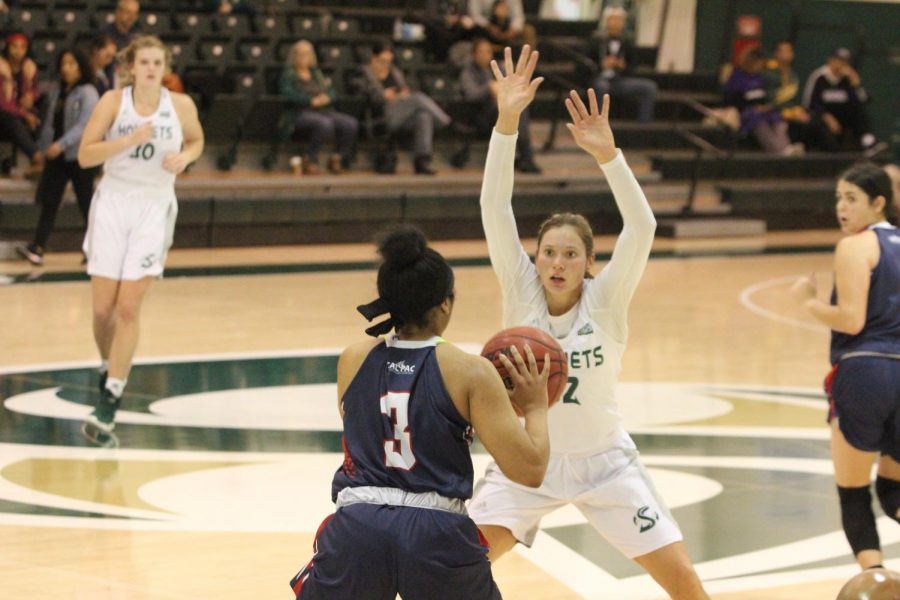 The Sacramento State women's basketball team returned to the Nest Saturday for the first time in nearly three weeks to play against University of Antelope Valley.
Sacramento State [3-1] got the narrow victory over the Pioneers [7-3] by a score of 86-80. The Hornets were led to the win by two juniors, guard Hannah Friend and forward Kennedy Nicholas, who each had a double-double.
The team was scheduled to play Ohio State in a doubleheader with the men on Nov. 16, but both games were canceled due to poor air quality in Sacramento stemming from the Camp Fire in Butte County.
"It was a very unfortunate reason," Nicholas said. "I wish that we could've been able to play and that they felt safe coming out to the west coast. But I'm happy that we didn't have to really play in that quality of air, it was really nasty."
Sac State moved on from the cancelation to play in the ShareSLO Holiday Beach Classic in San Luis Obispo, California to play against Cal Poly, Pepperdine University and the University of Illinois.
The women's team played against Pepperdine Nov. 23 and took its first loss of the season 113-97. Friend and Nicholas each scored 20 points, followed closely by fellow junior guard Tiara Scott who put up 18 points.
Despite this, the team's "Big Three" could not lead Sac State to the win as Pepperdine senior forward Yasmine Robinson-Bacote set a new school record, scoring 47 points while adding 13 rebounds.
"We had a huge team conversation and came out like we have nothing to lose against Illinois and we really [didn't,]" Nicholas said. "Preseason is the time to try and figure out who we are as a team, and I thought that was a big learning step for us."
Sac State came out in the next game and defeated Big Ten school Illinois 109-107 in a close-contested game. Friend had a game-high 33 points and Scott followed with 29 of her own. Nicholas had a double-double with 12 points and 15 rebounds [11 offensive.]
"We made a lot of shots," Sac State women's basketball coach, Bunky Harkleroad said. "I don't know that they were really expecting us, or maybe weren't taking us too seriously. We were aggressive, knocking down shots, attacking the glass, we did a lot of great things against Illinois. It was a great win for us."
Following the big win against a Power five school, the Hornets found themselves leading the nation in several statistical categories after three games.
Three games into the 2018-19 season, the @SacStateWBB team lead the nation in scoring with 98 points per game. Junior guard @hannahfriend32 ranks third in points per game averaging 26 points. https://t.co/dwLwOitkY6@SH_Sports @TheStateHornet @sacstate pic.twitter.com/E6gsymyIuO

— Shaun (@HOLKKO23) November 26, 2018
As of Nov. 30, the Sac State women's basketball team ranked first in the country in scoring [98 PPG,] fewest turnovers [46] and 3 point field goals made per game [13.7.] Friend ranked third in individual scoring at 26 points per game. Nicholas ranked first nationally in free throw percentage [100%] and offensive rebounds per game [7.]
"I'm so proud of these girls, especially Kennedy leading the nation in offensive rebounds," Friend said. "Tiara [is] basically just leading the Big Sky in assists. It's really exciting, especially the transition from this year to last year. I'm very proud of these girls and they deserve it."
Get a sneak peek at this week's @SacStateWBB game notes. The stats are starting to pile up for this squad. #StingersUp #Team54 pic.twitter.com/TzsjKA2g8B

— Sacramento State Women's Basketball (@SacStateWBB) November 28, 2018
The Hornets and their uptempo offense, which the team has nicknamed "Bunky Ball," was matched by the University of Antelope Valley on Saturday. Both teams sprinted up and down the court all game. Pioneers coach Deon Price matched Harkleroad's substitution pattern subbing five players in, five players out every 90 seconds.
With the fast-pace play, mistakes were made causing turnovers, with the Hornets getting 20 and the Pioneers 16.
"We have to eliminate unforced errors," Harkleroad said. "You have to give Antelope Valley credit. They were very aggressive defensively. We made some decisions to pass the ball into the bleachers when we could've held onto it. It was a good game for us because we were tested, have an opportunity to learn a lot, grow a lot and still come out on top."
Sac State and the Pioneers played a back and forth game until it got to crunch time. The Hornets held UAV without a field goal in the final 5:24 of the game and closed the contest on a 9-0 run over the final 4:15 of the game.
Friend and Nicholas led their team to the win, each with a double-double. Friend had 22 points, 15 rebounds and 6 blocks. Nicholas had 19 points and 18 rebounds [7 offensive] to keep up her pace as the nation's leading offensive rebounder.
.@hannahfriend32 continues to fill the stat sheet with today's performance of 22 pts, 15 reb, 6 blk, & 2 stl. Friend talks with @SH_Sports after the game. Through three games, Friend is third in the nation in scoring. pic.twitter.com/LnT61lPYCf

— Shaun (@HOLKKO23) December 2, 2018
The Hornets play their next game on Wednesday at the Nest against the University of San Francisco at 7:05 p.m.