Sac State women's basketball comes into new season nearly unrecognizable
With 8 new players, Hornets look to push the pace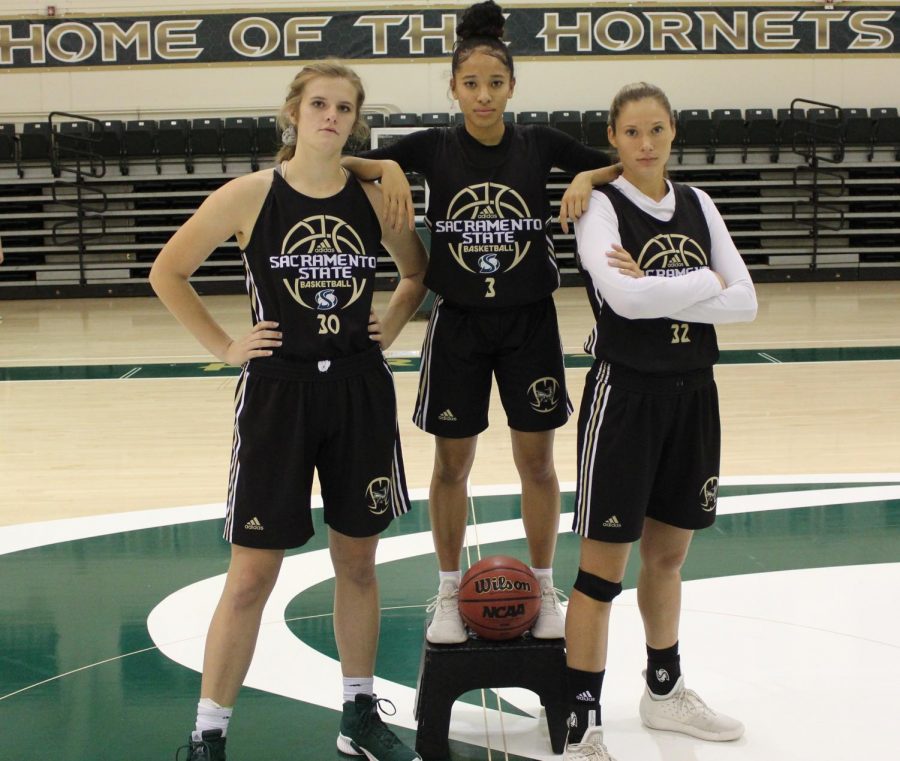 The Sacramento State women's basketball team will go into the 2018-19 season nearly unrecognizable with eight new players running a brand new up-tempo offense.
The Hornets finished the 2017-18 season with a 7-23 overall record and 5-13 in Big Sky Conference play.
Sac State's main struggle last season was staying on the court. Injuries piled up quickly and, at one point in the season, the Hornets were down to only eight active players.
RELATED: Women's basketball team limps into the final stretch of season
The Hornets were briefly forced to play 4-on-5 in a game against Northern Arizona last season, when three players fouled out and junior Raegen Rohn went down with an ankle injury.
Sac State's struggles with roster depth from a season ago are now gone with the addition of eight new players, including two Europeans and a South American. Among the eight, there are players from Germany, France and Brazil.
With a new team comes a new offensive scheme, according to head coach Bunky Harkleroad.
"We're going to play a whole lot faster 一 faster than anybody else," Harkleroad said. "We're going to be aggressive on both ends of the court. We're going to press on makes and misses, try to get to the basket, get the ball inside, get a lot of shots up, be more aggressive on the glass, especially the offensive glass and being a lot more aggressive defensively."
Junior guard Hannah Friend is coming off a season averaging 17.5 points and 6.8 rebounds per game.

"I definitely have to make an even bigger appearance (in the Big Sky)," Friend said. "I'm hoping to be in the 20s (in points per game) this year." pic.twitter.com/xVekhXyB2k

— Shaun (@HOLKKO23) November 9, 2018
Sac State comes into the new season without former team leaders Maranne Johnson and Justyce Dawson, who graduated in the spring, which opens a new door for remaining players to step up and lead the team.
"It definitely hurt us losing them, but I think having 17 people on the team this year really helps us," said junior guard Hannah Friend. "There's a lot of people who have stepped up their game, from the freshman to the seniors. It's a huge accomplishment. It's not a big dip from the first five to the second or third rotation, so it's very balanced."
Although she is relatively new to the team and the city of Sacramento, freshman guard Summer Menke can already identify who are becoming the team leaders.
"Hannah, Kennedy [Nicholas] and Tiara [Scott] take the heaviest leadership roles," Menke said. "I know that last year they tried to focus on being quick and pushing the ball, but they've emphasized over and over that this year we're doing that times ten."
I stopped by practice again on Wednesday to talk to the team about their 106-103 exhibition win against William Jessup Monday.

Nicholas had a game-high 26 points on 11-16 shooting and 12 rebounds (8 offensive) in the win. pic.twitter.com/VEpgf2WPrL

— Shaun (@HOLKKO23) November 9, 2018
The Hornets played an exhibition game against William Jessup University Monday at The Nest, narrowly winning 106-103. Junior forward Kennedy Nicholas had a game-high in scoring with 26 points and 12 rebounds [8 offensive.] Nicholas was followed in the stat sheet by Friend who scored 24 points with 7 rebounds, 6 steals and 3 blocks.
"It was a good first performance for my junior year, I definitely wasn't expecting that," Nicholas said. "Eight of my 12 boards were offensive so a lot of it was just put-backs and doing what I do best on the court, so it wasn't surprising."
Nicholas said her and the rest of the team have set the bar high going into this season.
"We have high expectations this year," Nicholas said. "Of course, our goal is to win the conference tournament. It's our number one goal and always has been. This year, we feel like it is very feasible, due to our new roster size, and all the talent that we have on the team."
When asked what his expectations are for this season, Harkleroad responded with three specific goals.
"That we're the most aggressive team in every game," Harkleroad said. "That we dictate how each game is played. That we have a tremendous amount of energy; unbelievable energy level and focus."
Although with an entirely new offense, Harkleroad will need to continue to adjust the lineups and rotations to best suit his team.
"Our rotations have to be tighter," Friend said. "I think if we were a second quicker into the passing lanes, we would've got a lot more steals and deflections. Just working on the timing of it really helps out and that's what we'll bring this weekend against Cal Poly."
The Hornets open the season Sunday against the Cal Poly Mustangs, 2 p.m. at the Nest.