Women's basketball team limps into the final stretch of season
The Sacramento State women's basketball team has been set back by injuries all season, yet the goal remains the same — winning the Big Sky Tournament.
Due to these injuries, the Hornets (6-21, 4-12 Big Sky Conference) have been playing with only an eight-women rotation as of late. Yet still, this year's team had never faced as much adversity as they did on Thursday against Northern Arizona University.
With 3:46 remaining in the game, sophomore guard Hannah Friend received her fifth and final foul, disqualifying her from the contest. Friend became the third member of her team — along with sophomores Quayonna Harris (guard) and Kennedy Nicholas (forward) — to foul out of the game. This left coach Bunky Harkleroad with only five active players and no other options on his bench.
Sac State continued to fight, but things only got tougher as the game progressed. With a little over one minute remaining in the contest, junior guard Raegen Rohn collapsed to the floor while grasping her ankle. She limped off the floor leaving her team to play four-on-five basketball.
Despite injuring her ankle, Rohn refused to give up and checked back into the game after missing only two possessions.
"We only had five players total, so I knew I had to get back in there and push through the pain for my teammates," Rohn said. "I tried my best and we came up a little short but I tried to give my all for the team."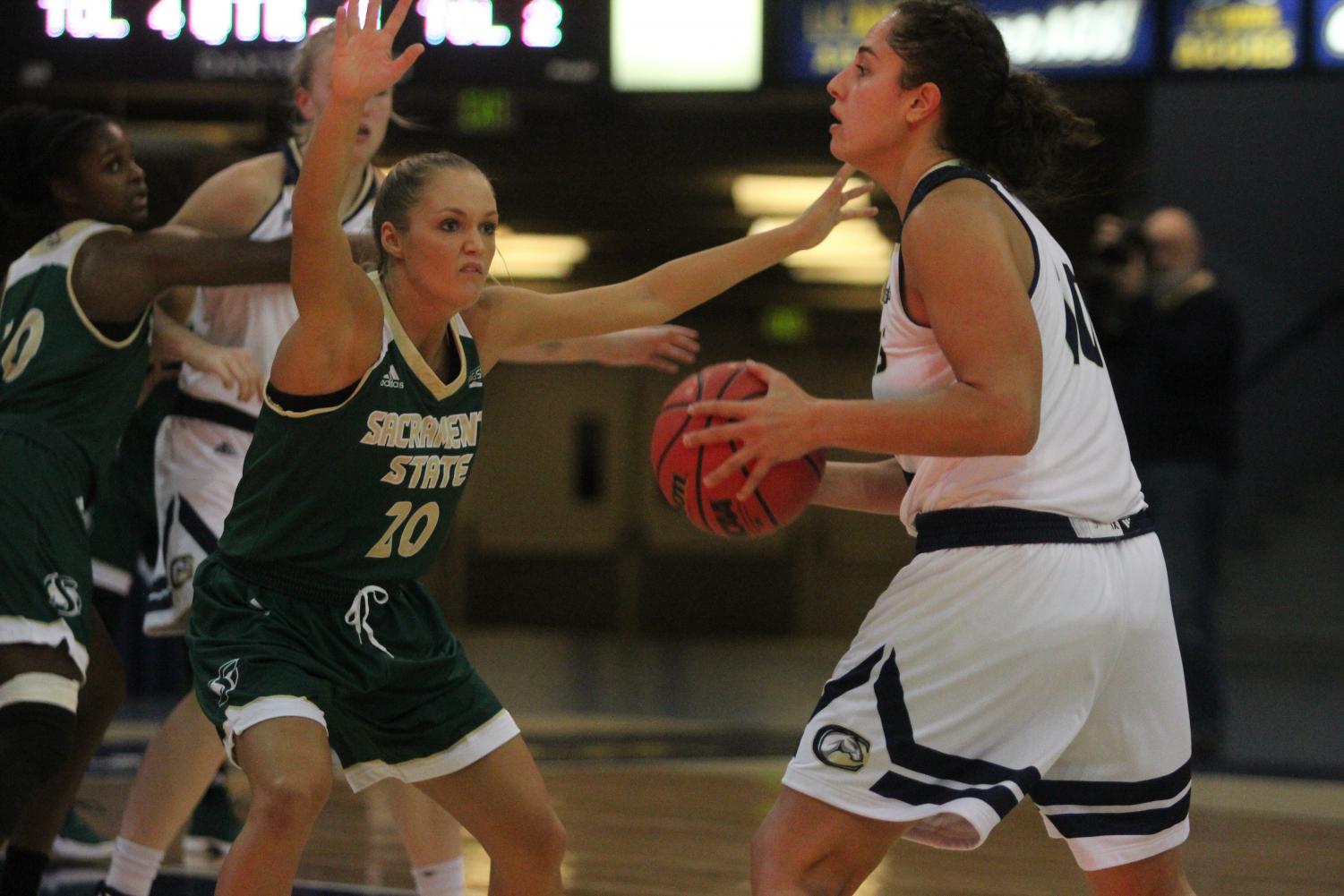 The Hornets continued to fight with only five active players, but ultimately lost to Northern Arizona in overtime 95-90.
Sac State has been hampered by injuries all year, which began before the season even started.
"We started off the season with low numbers too with only 12 (players)," said senior guard Justyce Dawson. "That's the least amount of players that we've ever had since I've been here."
Harkleroad attributes his team's injuries more to bad luck than to the team's fast-paced pace of play.
"We haven't played that fast this season because we've been injured," Harkleroad said. "Two of our players were injured early.
"I think a big part of it was being unlucky. Dana DeGraffenreid's fall was a really goofy fall in practice and wasn't even in a live drill. Skylar (Jackson) and Tiana (Johnson), their injuries, I've never had injuries like that as a coach. I think we had some bad luck, but it goes in cycles."
Harkleroad said he anticipates his rotation to remain at nine going into the last week of the regular season. Senior forward Kyhonta Doughty returned from a knee injury on Saturday after being sidelined for three weeks as she played for 15 minutes on senior day.
The Hornets will close out their regular season on the road for the final two games. They will play at North Dakota on Wednesday at the Betty Engelstad Sioux Center in Grand Forks, North Dakota at 5:05 p.m. The team will then travel to Greeley, Colorado to take on Northern Colorado at the Bank of Colorado Arena on Friday at 6:05 p.m.
Sac State may only have six total wins on the year, but the program has won three of its last six games.
After the regular season concludes, Sac State will play in the Big Sky Tournament in Reno, Nevada beginning on March 5. The seedings for the tournament have yet to be determined.
"I think the Big Sky Tournament is wide-open, I honestly do," Harkleroad said. "In my five seasons in the Big Sky, it's a very interesting and unique league because I have never seen as much parity in the league as there is this year."