Johnson's 41 points not enough as women's basketball falls to Northern Arizona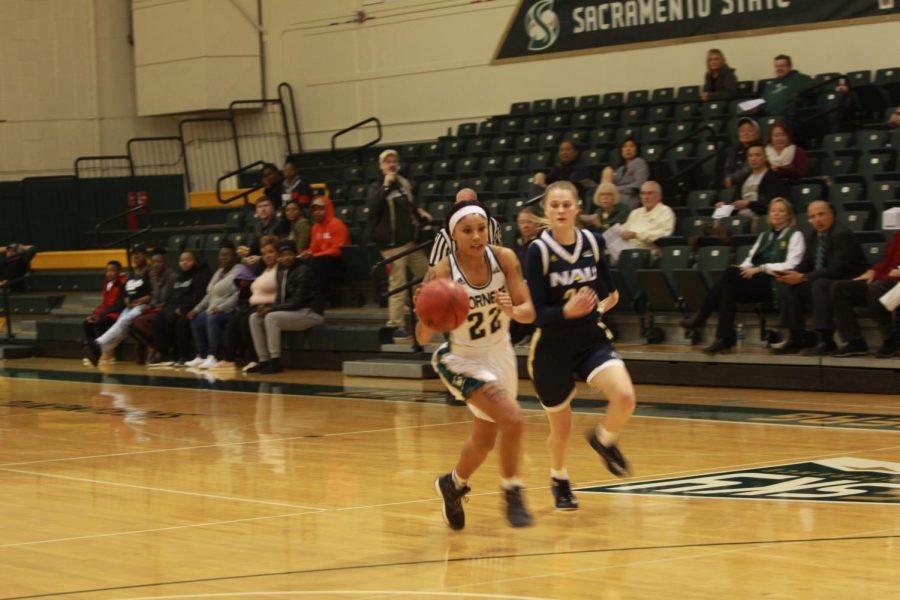 Sacramento State women's basketball senior guard Maranne Johnson scored a career-high 41 points on Thursday, though it wasn't enough as the Hornets lost to Northern Arizona University in overtime 95-90.
Sac State (5-21, 3-12 Big Sky Conference) has now lost three straight games following its first winning streak of the season.
The Hornets played against the Lumberjacks with only eight active players as they have been short-handed all season. The team was then left with only five players after sophomores Kennedy Nicholas, Hannah Friend, and Quayonna Harris all fouled out.
With a little over a minute left in regulation, the Sac State depth chart got even smaller as junior guard Raegen Rohn went down with an ankle injury, leaving the team with only four players. The team played four-on-five basketball for two possessions until Rohn limped back into the game.
"When it got down to it and our backs were against the wall, those five and four that pushed through showed a lot of strength through the adversity," Friend said.
With Rohn back on the floor, the Hornets were able to even the score and send the game into overtime. Johnson looked to play cautiously with four personal fouls, but was able to stay on the floor and continue to lead the team.
"It came down to the wire where we only had five players, so I just had to play smart and when we needed a bucket I just tried to buckle down and get us one," said Johnson after her career-high performance.
Johnson finished with 41 points on 15-of-32 shooting from the field, nine rebounds and six steals in 43 minutes of action. She was followed in the stat sheet by Friend, who had 23 points and eight rebounds.
"It was by far her best game this year," said Sac State coach Bunky Harkleroad after the loss. "Maranne has done a lot of good things for us over the course of her career and that's been reflected in the school record book; tonight was a great performance by her."
Coming into the game, Johnson only needed three points to become the third-most scoring player in Sac State women's basketball history. She now adds that to her list of accomplishments along with being second in program history in career 3-pointers and steals.
"It's always an honor to put on a Hornets' jersey," Johnson said. "Without the team I wouldn't have had the amazing journey that I had here at Sac State."
Northern Arizona was led by its upperclassmen trio. Senior guard Olivia Lucero had a team-high 26 points, 12 rebounds and five assists. Senior forward Kenna McDavis had 18 points and 11 rebounds. Junior forward Kaleigh Paplow had 15 points, 14 rebounds and seven assists before fouling out.
However, Sac State's defense did muster each member of this trio into at least five turnovers each.
"We just haven't figured out how to put four quarters together yet," Harkleroad said. "Let's give Northern Arizona credit for gutting it out.
"We're not going to quit, ever. We showed some toughness tonight and we have to build on that."
Sac State will look to go out on a high note in its final home game on senior day Saturday at the Nest against Southern Utah at 2:05 p.m.