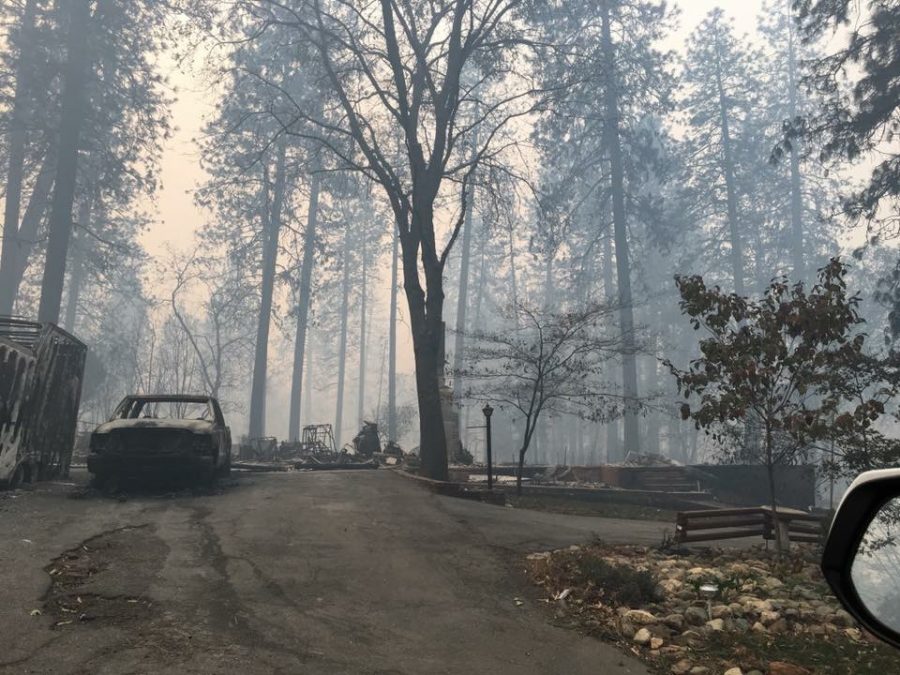 Courtesy of Angelica Philpott
Nearby Camp Fire prompts closures, other action from Sac State
Students among those affected by destruction, displacement
November 12, 2018
Butte County's Camp Fire sparked Nov. 8 and has turned into one of the deadliest wildfires in California's history, killing 71, displacing tens of thousands and burning through an entire city, according to Cal Fire.
The Butte County Sheriff's Department reported that the death toll as a result of the fire increased to 71 people as of Friday night. The Camp Fire surpassed the 1933 Griffith Park Fire, which killed 29 people, for deadliest wildfire in California history.
As of Friday, the fire has burned through 146,000 acres – nearly 230 square miles – and is 50 percent contained, according to Cal Fire's morning incident report. 9,700 residences have been destroyed by the Camp Fire and tens of thousands were forced to evacuate in Paradise, Magalia, Concow, Butte Creek Canyon and Butte Valley.
Story continues below tweets.
Conditions worsen at the American Red Cross evacuation center in Oroville, California. Smoke hangs heavy from the fires as a secondary evacuation warning is placed on the city. #CampFire @TheStateHornet pic.twitter.com/XQ7AuKIoab

— jordyn dollarhide (@jordydollarhide) November 10, 2018
Mechanics and auto body volunteers work on damaged vehicles at the Cal Trans facility in Chico, California. Fire personnel coming from the #CampFire either travel to Cal Trans for repair or the Chico Fairgrounds for debrief and shift change. @TheStateHornet pic.twitter.com/ydJqyF8dzn

— jordyn dollarhide (@jordydollarhide) November 10, 2018
Chico State – which is only 14 miles away from Paradise – has suspended classes until Nov. 26, in the interest of "impacts to our faculty, staff, and students," according to the university. Before its closure, the university provided respirator masks for students, faculty and staff with respiratory issues, according to a news release.
Fires statewide affected several other California State University campuses. Channel Islands and Sonoma State were closed due to the fires and San Francisco State canceled all outside activities Friday, according to their websites.
The fire's close proximity to Sac State has affected many students and has prompted multiple emergency actions from the university.
Air quality prompts campus warnings, closures
Sacramento State has canceled classes through Nov. 26 due to poor air quality in the region caused by the Camp Fire.
While classes are canceled, the university is scheduled to reopen Monday "for normal operations," according to a campus-wide email from Robert Nelsen, Sac State President.
"Students employed on campus should plan to report for their regular shifts starting Monday, Nov. 19," Nelsen said in the email. "Students scheduled to work the week of Nov. 19 should contact their supervisors if they wish to change their schedule."
Campus has been closed due to the air quality since Tuesday – Monday was Veterans Day and no classes were held.
As of 2 p.m. Friday, the air quality index for Sacramento registered at 241, which the Environmental Protection Agency classifies as being "very unhealthy."
Until Nov. 19, all campus buildings — save for residence halls — will remain closed; employees deemed "essential" may be called in to work on specific tasks.
The deadline to drop a fall semester class has been extended to Nov. 21, and professors are not allowed to mandate students to turn in assignments during the campus closure period or assign extra work, according to an email from Nelsen.
According to an email from Peggy Luers, assistant director for housing, student housing payments have been extended to Dec. 1.
Despite the closure of campus, The WELL's Student Health Center, specifically urgent care and pharmacy, are open during the closure from 9 a.m. to 3 p.m.
Daily closure announcements throughout the week came through a series of emails, texts and phone calls made to the campus community, as well as multiple notices from Nelsen. The university also included a FAQ page with answers to questions about class activities, due dates and deadlines.
The 65th annual Causeway Classic was moved to Reno due to concerns over air quality, and two basketball games planned for Friday have been canceled.
Story continues below gallery.
RELATED: Sac State cancels classes through Thanksgiving break
Over the weekend, signs were posted at The WELL that encouraged Sac State students to limit or postpone their workouts until air quality improves.
Melina Maravilla, a building supervisor at The WELL, said the air quality conditions on campus prompted an early closure of the gym's facilities on Saturday.
"We realized it was just way too smoky for people to work out," Maravilla said. "You came in and it was stuffy. You could just see it and smell it in the air."
On Sunday, signs taped to the external front automated sliding doors asked students to use an alternate entrance, which Maravilla says would reduce the amount of smoky air entering the building.
Story continues below Instagram post.
On Saturday, the university cancelled its football game against Northern Arizona due to poor air quality.
The air quality index was recorded at 218 in the East Sacramento area when the game was canceled around 4 p.m. Saturday. According to Associate Athletic Director Brian Berger, the university mandates that if the air quality index is above 200, any athletic event must be canceled.
Sac State sends police officers to Chico State
The Sac State Police Department sent three campus police officers to Chico State as the Camp Fire closed in on the Chico campus on Friday, according to Nelsen.
Three officers, including Mark Iwasa, chief of the Sac State Police Department, were sent to Chico State on Thursday to assist with normal patrols around the campus so resources could be diverted elsewhere during the fires, according to Brian Blomster, director of news and communications at Sac State.
On Friday, the group was replaced by another group of three officers who are continuing to help on Chico State through Sunday, after which the situation will be reassessed.
Nelsen told The State Hornet Friday that Chico State President Gayle Hutchinson was thankful for the extra help.
Fire affects students
Criminal justice major Angelica Philpott's family was one of thousands affected in Paradise – her aunt and uncle's home of 28 years was destroyed.
For Philpott, Paradise has always been a second home. She said that her family members living there had gone through many "fire scares" through the years, but nothing of this extent.
As of Sunday, Philpott said 10 of her immediate family members — and additional extended family members — are now displaced, without a home to go back to.
"They're just all like, 'What do we do now? Where do we go from here?' There's not even a town to go back to," Philpott said. "For them, the place that they called home, where they worked, where they lived, their entire life, is gone."
Philpott said her family living in Paradise described the day the fire started as the scariest day of their lives. What started as a normal day became a race to escape, with some barely making it out alive, she said.
Her aunt and uncle's home contained countless pictures and memories, and even some of the ashes of Philpott's grandparents, who died in the last two years.
This photo gallery shows before and after images of Philpott's cousin's home. Story continues below photo gallery.
Philpott said that at Sac State, her sorority Phi Sigma Sigma has been helpful. After posting on the sorority's Facebook page about her family's circumstances, she said many of her sorority sisters reached out offering to donate essentials.
Megan Boban, fashion merchandising and design major who is also part of Phi Sigma Sigma, was affected by the Camp Fire. Her uncle lost his home in Paradise and is now staying with friends.
"When a close family member loses their home, you don't even know how to help them," Boban said. "You don't know where to start. It's just devastating to not know what to do."
Boban is originally from Cottonwood, California, an area that was affected by the Carr Fire in July and August of this year. She said that seeing friends from her hometown support each other and help the community during that time made her think of what Sac State students can do.
"If you still have your house, lend out your couch or extra towels," Boban said. "Be that kind and open up your heart. The way to get through this is to all unite and become one community."
City hands out masks to students, citizens
As air quality spiked at "very unhealthy" levels in Sacramento County through the weekend, the city is distributed respiratory masks for residents to use.
According to Daniel Bowers, director of emergency management for the city of Sacramento, masks were distributed at all operational fire stations in Sacramento from Monday to Thursday. Station 16 was not distributing masks as it has been closed for maintenance.
On Thursday, the Sacramento County Public Health Officer said in a news release that wearing respirator masks is not recommended for people in the Sacramento area — Eric Skoblar, a Sac State Student Health Center physician, said the recommendation is because any particles in the air are big enough to be filtered out naturally before reaching the bloodstream.
This prompted an end to the distribution of masks by the Sacramento fire stations.
The closest fire station to Sacramento State – Sacramento Fire Station 8 – is located just north of campus on H Street, and students could pick up masks from Sunday to Wednesday.
Community members who picked up masks from the fire stations were shown how to properly use them by a fire officer, Bowers said.
Story continues below photo.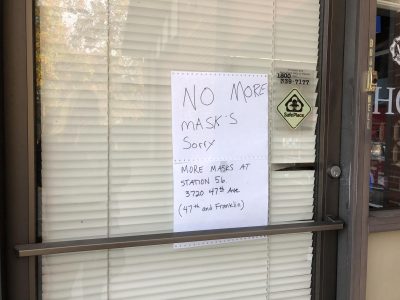 Heather Lee, a Sacramento resident, said that station 7 was the second location she visited to try and receive a mask, amid a distribution slowdown on Amazon, and other locations handing out masks, such as Sacramento City College and the Sacramento Metro Fire District Station, had also run out.
Jordyn Dollarhide contributed to this report from Chico. Cory Jaynes, Margherita Beale, Emily Rabasto, Alex Daniels, Brittney Delgado, Missy Amaya and Claire Morgan contributed to this report from Sacramento.
The State Hornet will continue to update this story.