Sac State cancels classes through Thanksgiving break
UPDATE: Campus will stay closed through Thanksgiving, will reopen Friday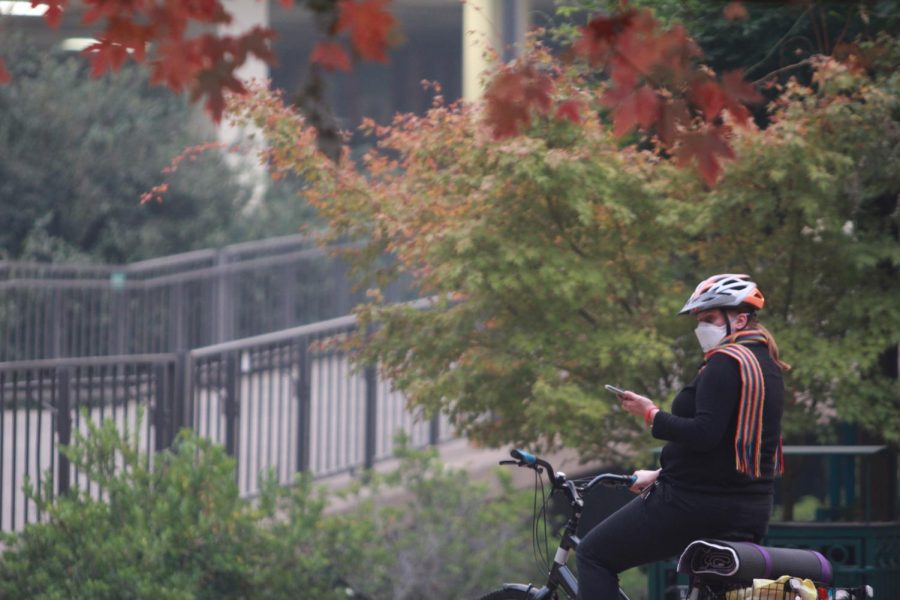 Sacramento State has canceled classes through Nov. 26 due to poor air quality caused by the Camp Fire in Butte County, according to a news release from the university.
The university was scheduled to reopen Monday "for business," according to the release.
Robert Nelsen, president of Sac State, said in a second release Sunday that the campus will remain closed through Thanksgiving, with the campus reopening for business Friday.
"We have made the difficult decision to keep campus closed through the Thanksgiving holiday," Nelsen said. "We had hoped to reopen on Monday, Nov. 19, but with the forecast showing ongoing unhealthy air quality, we believe that it is in the best interest of Hornet Family to continue to encourage people to stay indoors."
Some staff will be called in to perform some essential and timely functions to ensure faculty and staff will be paid on time and that transcripts are distributed to allow for students to apply to graduate school.
Nelsen said that students should not expect to be called into work. The University Library and AIRC will reopen Saturday.
Sac State's dining commons — which stayed open during the campus closure — displayed a sign Saturday morning saying that it would be closed starting Monday until Nov. 25 at 12 p.m. due to the air quality. Nelsen said the Courtyard Market will remain open.
Students will not have any assignments due or given until Monday, Nov. 26.
Campus has been closed due to the air quality since Tuesday – Monday was Veterans Day and no classes were held. The Camp Fire in Butte County started Nov. 8 and winds carried smoke into the region quickly – regular campus activities started being canceled Nov. 10 after school officials postponed a football game against Northern Arizona University.
The 65th annual Causeway Classic was moved to Reno due to concerns over air quality, and two basketball games planned for Friday were been canceled.
The Camp Fire was 60 percent contained having burned 149,500 acres — nearly 234 square miles — and killed 76 people, according to Cal Fire's Sunday morning incident update.
As of 2 p.m. Sunday, the air quality index for Sacramento registered at 189, which the Environmental Protection Agency classifies as being "unhealthy."
Air quality is forecast to be unhealthy through the weekend and into next week but will lower to moderate by Wednesday, according to Sacramento Spare the Air.
"Friday, calm to light northerly winds will transport smoke from the Camp Fire into the Sacramento region," the forecast says. "In addition, winds will be light, limiting smoke dispersion. Furthermore, an upper-level ridge of high pressure will reduce atmospheric mixing, trapping pollutants near the ground. Therefore, particle levels will be Hazardous. Saturday and Sunday, calm to light winds will continue to inhibit mixing, and lingering smoke from the Camp Fire will increase particle levels."
Robert Nelsen, president of Sac State, said at a town hall held Thursday that the university has been meeting daily to discuss whether to keep the campus closed, leading to daily announcements.
"We're talking to everybody that we can, and then come up with an informed decision based upon a guess," Nelsen said. "I wish I said that we had fine science and that we knew how to do it. We're relying on the scientists, but we're trying to make that decision."
Robert Nelsen, president of Sac State, explains the administration's process in deciding whether campus should be open or close. Wants to be able to have campus open for all students. Using the emergency system to contact everyone at once. @TheStateHornet pic.twitter.com/3aPuD6TB8D

— Cory T. Jaynes (@CT_Jaynes) November 15, 2018
Nelsen said at the meeting that he was hesitant to cancel classes through Thanksgiving in case the winds picked up enough to clear the skies.
A previous email from Nelsen regarding the closures said the fall semester deadline to drop classes has been extended to Nov. 21.
The air quality index is expected to stay in the unhealthy range through Tuesday, according to Spare the Air.
This story was updated Sunday, Nov. 18, to include an additional statement by Robert Nelsen that the campus will remain closed through Thanksgiving.
This story was updated Saturday, Nov. 17, to include a statement made by Brian Blomster and information from a sign posted at the Sac State dining commons.