Sac State holds town hall meeting on air quality
President Nelsen said the campus will open when all students, including those with respiratory issues, are able to safely breathe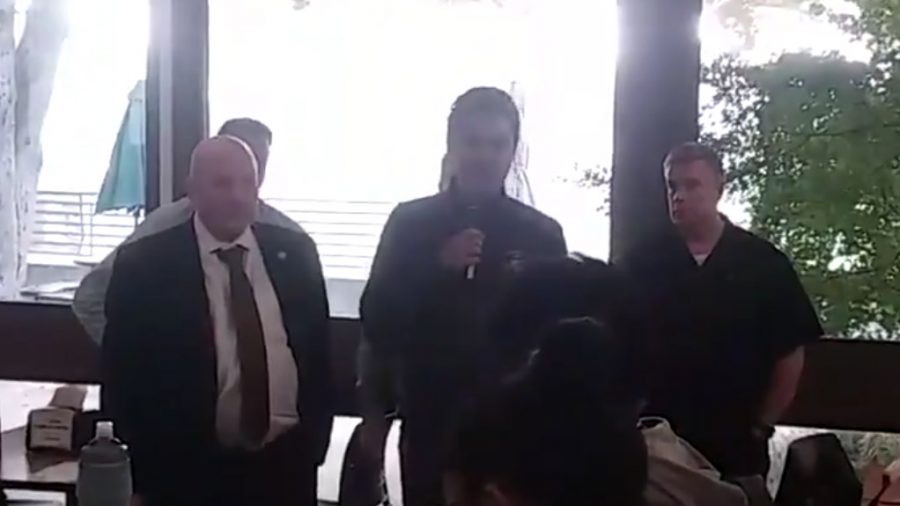 A town hall was held in Sacramento State's dining commons Thursday to address students' concerns about campus closures, which have stemmed from poor air quality as a result of Butte County's Camp Fire.
Sac State has been closed since Tuesday — Monday was Veterans Day and no classes were held — and will continue to remain closed through Friday.
Sac State President Robert Nelsen was at the meeting and answered students' questions regarding the campus closure.
Nelsen began the meeting by explaining the process behind the campus closure, which so far has included a daily 1 p.m. meeting to make a decision.
"We're talking to everybody that we can, and then come up with an informed decision based upon a guess," Nelsen said. "I wish I said that we had fine science and that we knew how to do it. We're relying on the scientists, but we're trying to make that decision."
Nelsen said he heard suggestions that the university should close through Thanksgiving, but that he wanted to give the opportunity for classes to resume if the winds picked up enough to clear the air.
Nelsen said the campus will open when all students, including those with respiratory issues, are able to safely breathe.
RELATED: Sac State campus closure continues into Friday
Steven Uzelac, medical director of Student Health and Counseling Services, and Sac State physician Eric Skoblar provided students with advice as the campus entered its third day of closure.
Uzelac said that the best thing to do under the current conditions is to stay inside with a good, clean air conditioning system. Anyone who drives should turn off their car's air or set it to recycle the air inside of the car.
Anyone that needs to leave their home should limit their time outside, Uzelac said.
"If you want to walk here to the dining commons, that's OK," Uzelac said.
Uzelac added that anyone with asthma or heart conditions should make sure that they're taking their medications and can receive help from the Student Health Center located at The WELL if they are in need of medication.
Currently, it is not recommended for Sacramento area residents to wear N95 masks, according to Uzelac and Skoblar, as any particles in the air would be filtered out naturally before entering the bloodstream. The masks are also not designed for children or men with beards.
The City of Sacramento was handing out N95 masks starting Monday, but have since stopped and have told citizens to stay indoors.
Skoblar said that it would still be recommended for anyone with asthma and other respiratory issues to use a mask.
"People with asthma, people with active airways disease, will start to see that spasms in symptoms well before anything gets into the bloodstream," Skoblar said. "That's another question, what's getting into our lungs, what's getting into our blood, and that's why what we're seeing with the recommendations on the mask is that we're not really exposing ourselves to what could be a bloodborne carcinogen [or] pathogen."
Masks should be avoided for anyone currently sick with a cold or a cough, according to Uzelac.
Uzelac and Skoblar invited anyone showing symptoms from the smoke — even if it feels like a cold or a cough — to visit the Student Health Center.
Skoblar said that the Student Health Center — both urgent care and the pharmacy — will be open from 9 a.m. to 3 p.m. while the campus is closed, and will return to its normal hours when the campus reopens.
Students can call (916) 278-6461 after hours for medical help, or in the case of a medical emergency, go to the Sutter Medical Center or Kaiser Permanente.
The university is using the emergency notification system to announce the closures as Sac Send emails can take three hours to deliver to the entire campus, Nelsen said. Nelsen suggested that everyone should ensure that their contact information is up to date.
Nelsen and Noel Mora, Associated Students, Inc. president, said employees for the state and ASI would receive pay, even for days they have been unable to work due to campus closure. Neither could answer for employees of University Enterprises, Inc.
RELATED: Nearby Camp Fire prompts closures, other action from Sac State