Hornets sprint past Cal Poly to win season opener 88-85
Juniors Friend and Scott lead women's basketball to victory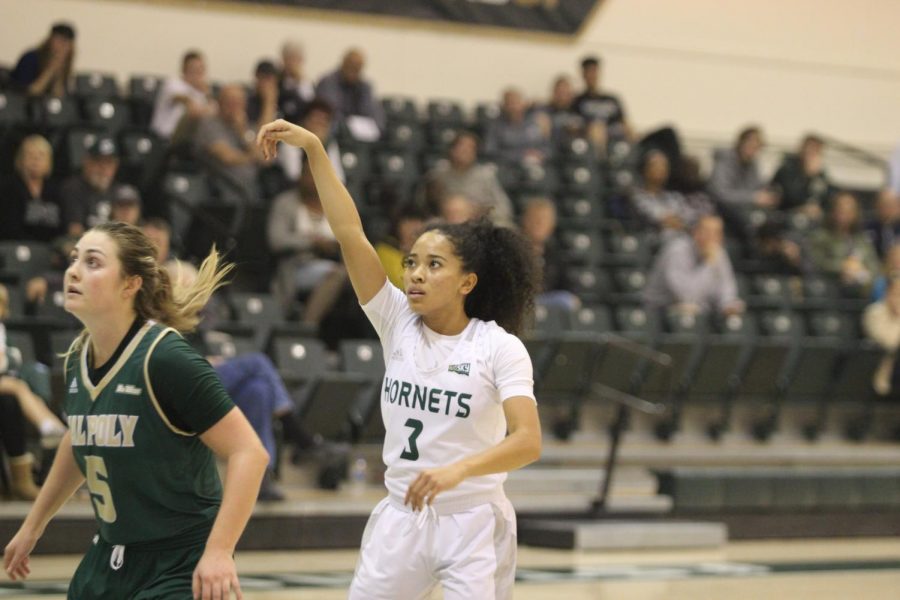 The Sacramento State women's basketball team opened the 2018-19 season with a gritty performance to take the win over the Cal Poly Mustangs 88-85.
The Hornets [1-0] employed a new offensive scheme, which the team calls "Bunky Ball" involving a fast-pace offense with a full-court press defense. In order for this strategy to work, head coach Bunky Harkleroad used group substitutions to keep his players rested and ready to run.
Sac State started the game with juniors Tiara Scott, Hannah Friend and Kennedy Nicholas, senior Raegen Rohn and sophomore Tiana Johnson. They were quickly substituted for about 90 seconds into the game for the second rotation.
The second group was comprised of freshmen Milee Enger, Summer Menke, Sarah Abney and Maesyn Rix with junior guard Quayonna Harris.
Harkleroad repeated the rotation all game to keep players fresh, substituting five players in and five players out frequently. Harkleroad played all 14 of his active players, with sophomores Anna Weibel and Skylar Jackson, freshman Emily Enochs and junior Claire Bady also seeing action.
"We want to be the fastest team in the country and we're a long ways off from that," Harkleroad said. "We want to play a simple style of basketball where we look to pull the trigger first, crash the offensive glass as hard as we can and create opportunities to score."
With 17 players, coach Bunky Harkleroad has gone back to his old ways bringing back what his team calls "Bunky Ball" with a fast pace offense while also pressing on defense. Harkleroad spoke with @SH_Sports after the game to discuss his team's hard-fought win. pic.twitter.com/39kD8EcpPP

— Shaun (@HOLKKO23) November 12, 2018
Sac State and Cal Poly went back-and-forth throughout the first half as the Mustangs took a one point lead into halftime, 48-47.
The Hornets struggled to close out the third quarter shooting 1-10 and trailed 70-66 after three. The team came into the fourth quarter aggressive and opened on a 10-0 run.
"[The coaches] told us we weren't aggressive enough on defense and I completely agree with that," Scott said. "Our defense is intense. It's a lot of pressure on Cal Poly which made it harder for them to get up and down the court and they got tired easily."
The Hornets controlled most of the fourth quarter, but with 2:41 remaining, Cal Poly senior point guard Dye Stahley tied the game at 82 with a jumper. The Hornets responded with a jump-shot of their own from junior guard Friend to take the lead back at 84-82.
Scott iced the game by nailing a 3-pointer with 13.5 seconds left in the game to seal the win for her team.
Here's a video of @tiarasherice_ 3-pointer which sealed the win for the Hornets. @SH_Sports @SacStateWBB @sacstate pic.twitter.com/BMSYjTnCkp

— Shaun (@HOLKKO23) November 12, 2018
Friend had a team-high 25 points and made 9 of her 23 shots from the field while also grabbing 9 rebounds.
Friend's 25 point performance marked the 14th time she has scored more than 20 points during her career at Sac State and her second in a row dating back to last season.
"Hannah [Friend] is always going to get a bucket regardless," Scott said. "We can always look to her to hit a shot at the end when the time is running down."
Friend was followed in the stat sheet by Scott who had 12 points, 5 assists, 5 steals and 4 rebounds. Junior forward Kennedy Nicholas also added 13 points and 8 rebounds.
The Mustangs were led by senior forwards Devin Stanback and Katie Nunnelley who both had double-doubles. Stanback had a game-high 30 points and 11 rebounds. Nunnelley followed with 14 points and a game-high 17 rebounds.
"We controlled the pace of the game when we were on defense," Friend said. "So when we picked it up they started to turn it over, and I think we got them tired with this 'Bunky Ball' style of being super fast with fresh legs gets the other team tired and they aren't prepared for it."
The Hornets next game is Friday, Nov. 16 at the Nest against the defending Big 10 champions, the Ohio State Buckeyes at 8:35 p.m.
"We've gotta be fast-paced and fearless," Harkleroad said. "We have to have a much higher energy level than Ohio State, because they are going to have us in speed, quickness, strength and height. We have to do a great job of playing defense without fouling, being fearless on offense, letting it fly and making an effort to rebound."
RELATED: Sac State women's basketball comes into new season nearly unrecognizable