Disability and Visibility: Sac State Students take on film challenge
A student-led short film features people with disabilities
Sacramento State students joined in on a challenge to write, edit and put together a disability-centered film about LGBTQ+ romance, all in a five-day period, with the chance to win an award at Sony Pictures Studios in Los Angeles.  
Involved students recorded their submissions for the Easterseals Disability film challenge at various locales around downtown Sacramento. People with disabilities were featured at the forefront of the cast and crew over the five days of filming.
Jake Linn, a public policy and administration major and graduate student at Sac State, produced the film and has gathered participants for it since October of 2022. However, the project kept recruiting as the shooting date neared.
"Some people here are very last minute, like, today last minute," Linn said.
Story continues below photo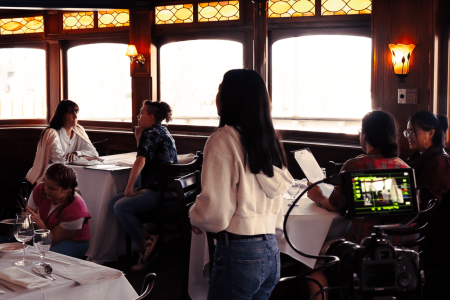 The theme given to the production was romance which led them to include LGBTQ+ individuals in the story. An effort to show inclusive representation, according to Linn. 
"I am LGBTQ+ and I have a disability," Linn said. "So let's make our own representation that's positive."
The film crew had to work against time, they were notified of the theme, usable props and the location that needed to be featured in their video around Sacramento at 11 a.m. on March 28. 
Only then could they start to write and scout places to shoot their entry. 
"The idea is to promote more inclusion and visibility of disabled filmmakers both in front of and behind the camera," Lindsay Terzich, the project's director, said.
Story continues below video
Linn first heard about the Easterseals challenge through Nic Novicki, the Disability Film Challenge founder. Novicki started the challenge in 2013, making this year the 10th anniversary. 
Easterseals, however, has been dedicated to communities with disabilities for more than 60 years and is America's largest nonprofit healthcare organization, serving 1.5 million people.
"I created the Easterseals Disability Film Challenge to help accelerate change within Hollywood and to provide filmmakers and actors with tangible work experience and with an opportunity to tell authentic stories," Novicki said.
Novicki met Linn at a summer internship in Washington D.C. through the American Association of People with Disabilities, where they worked on a final project called "Disabilities in Hollywood." 
Story continues below photo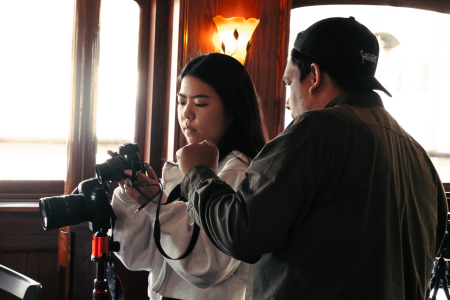 "We were all talking about how representation was really negative and how it impacted us, and we just said enough is enough," Linn said. "We started reaching out to people in the entertainment industry."
The production included experienced amateur filmmakers from Sac State as well. Zane Whitcomb, a sociology major, served as a production assistant, actor and lyricist for the score and worked on the media team.
"The reason why I have so many titles is because I thought 'I'll do anything to help get this pushed forward,'" Whitcomb said. "We got a team to make it easier and it actually made it more professional… It was around 30 people."
Another newcomer to film, foreign relations major Emilie Jocson, said this project sparked their interest in making movies because of the awareness and representation it brought to the table.
"You don't see a lot of representation with disability and dating," Jocson said. "It's a film about disability and queerness and trying to find love."
The winners of the Easterseals challenge will be invited to the awards show on May 5, which will take place at Sony Pictures Studios in Los Angeles, where they'll walk the red carpet and network with actors and producers.