Sacramento native Sienna Jackson has been in and out of homeless shelters due to family issues; however, on Saturday she was in disbelief as she scored the first goal for USA against Finland in the Homeless World Cup's introductory street soccer match hosted by Sacramento State at Hornet Stadium. 
Jackson got involved with the 18th Homeless World Cup through Sac State alumna Lisa Wrightsman, and with others, helped establish the Sacramento chapter of Street Soccer USA. The nonprofit brought the HWC and 40 national teams to the U.S. for the first time from July 8 to July 15.
"The HWC has just provided me more of a sense of mental stability, more of a sense of family, a sense of caring and love," Jackson said. "We all share the same language, which is soccer."
Hi everyone! This is @mercygsosa covering the 2023 @homelesswrldcup taking place @sacstate's Hornet Stadium. From July 8 to July 15, 40 national teams consisting of men and women will play matches in a 4 vs. 4 format. Follow this thread to keep up with the matches. pic.twitter.com/fX8qR9ilNF

— Mercy Giovana Sosa (@MercyGSosa) July 8, 2023
Saturday's tournament consisted of more than 300 players and 30 nations, according to a HWC press release. Sac State's residence halls will also house the players who have experienced or are experiencing homelessness during the tournaments, according to university officials.
RELATED: 'People just need a chance': Street soccer tournament featuring unhoused players comes to Sacramento – The State Hornet 
The national teams consist of 28 men's and 12 women's teams who play fast-paced matches in smaller soccer fields in a 4 v. 4 format. 
The men's tournament will start with four groups of seven teams, according to a press release from the HWC. The teams will then progress to a second group stage featuring 16 title contenders and another 12 teams competing for placement in one of the HWC's consolation brackets.
The top two finishers in each of the four-team and second-stage groups will play for the Nelsen Way award, according to a press release from the HWC. On July 15, the remaining 20 teams will continue competing as they pursue two additional prizes.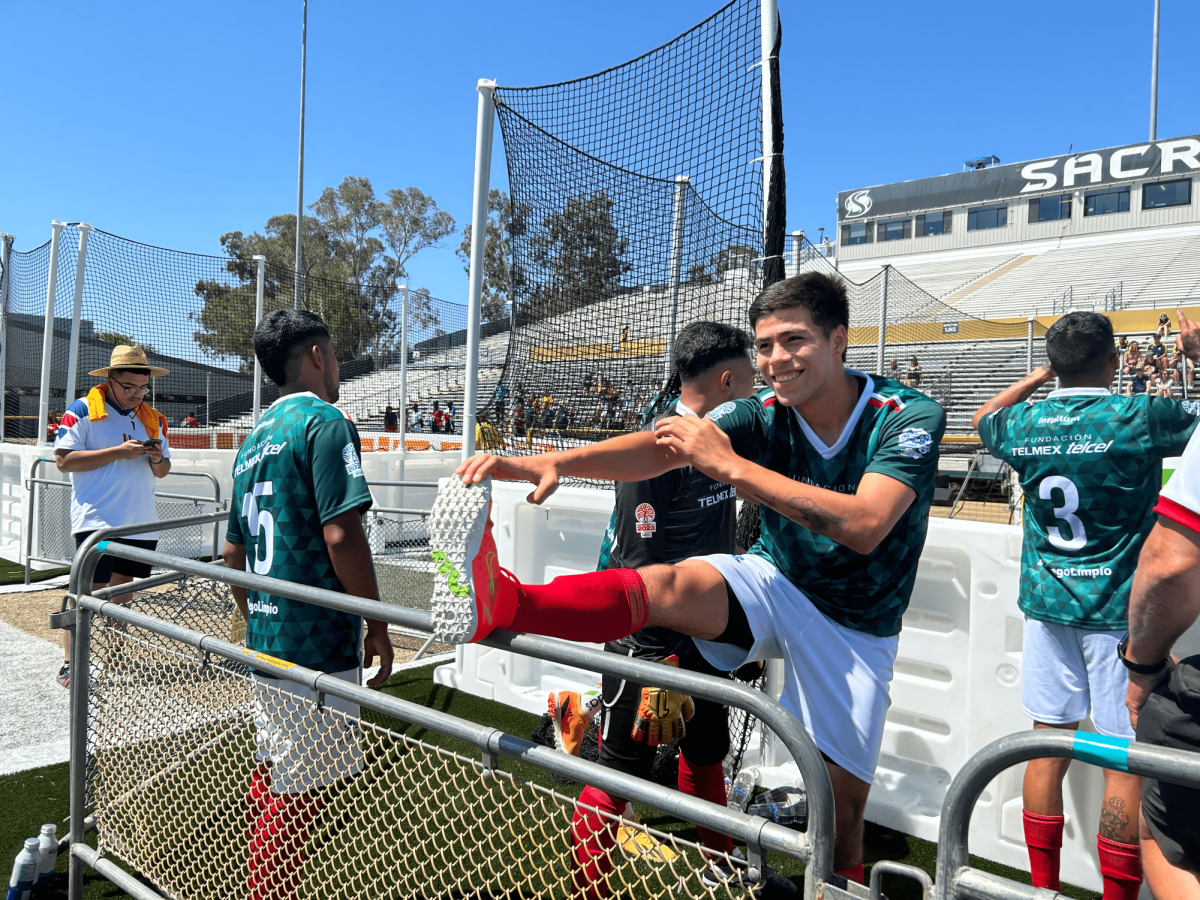 Mexico's team is the two-time defending champion and the most decorated nation in the competition's 20-year history with four titles and four runner-up finishes. 
According to Mexico's head coach Ulises Reva, the women's and men's teams are selected through tournaments in the country's 31 states. Additionally, interviews are done to learn more about the difficulties players face. 
"Unfortunately in Mexico there is a big problem with the vulnerability of people obtaining drugs and people who are homeless," Reva said. "Through the interviews, we create a pipeline so that the kids have an opportunity for a better life."  
Mexico's men's team came prepared for the cup, winning their first match 12-4 against Italy in the Sacramento summer heat.
Roberto Reyes, a player on the Mexico men's team, learned of the world cup in 2019 through Street Soccer Mexico, their slogan being "De la Calle a la Cancha" translated to "From the Street to the Field." 
"I grew up with a mom and dad and I started soccer at 15 years old, but the bad influences will bring difficulties your way," Reyes said. "I grew up in alcoholism, in drugs, with bad company, but the project saved us and here we are striving."
Sac State President Robert Nelsen, who is set to retire in July, attended the world cup showing  his pride for Sac State as approximately 300 student volunteers were present at the tournament. 
"We're here for everyone," Nelsen said. "That's the really great part because these are people who survived. We know that we have people on our streets that aren't surviving. People who live right around our campus who aren't surviving. We need to learn how to help everyone."
Players like Jackson are also provided with essential life skills from the people they are surrounded by at the HWC. 
"I didn't really get a lot of life tools growing up," Jackson said. "It was easy to ask questions and to get lessons on how to navigate through life, how to do your money, how to find an apartment, how to pay rent, all the little simple things."
The 2023 Homeless World Cup live matches and scores will be published on the program's website. The world cup is also free and open to the public at the Hornet Stadium.