'People just need a chance': Street soccer tournament featuring unhoused players comes to Sacramento
Homeless World Cup organizers choose Sac State as first United States location
For the first time in its two-decades-long history, the Homeless World Cup will be held on American soil July 8 through 15.
What's more, the tournament will not only be played in California — not only in Sacramento — but at Sacramento State's Hornet Stadium. 
"Sacramento — specifically Sac State — gives us a rare opportunity to host the Homeless World Cup at an American university campus," said Mel Young, president and co-founder of Homeless World Cup. "American universities and college sports are so iconic; we're delighted to be able to bring our love of sport, specifically street football, to your stadium."
The Homeless World Cup is a street soccer tournament that uses a community element to inspire and demonstrate the power of sport in changing people's lives.
This year, the organization partnered with nonprofit Street Soccer USA to bring the tournament to the states.
The Sacramento chapter of Street Soccer USA was founded by Sac State alumnae and former Hornet women's soccer players Lisa Wrightsman and Tiffany Fraser. 
"Tiffany and Lisa approached Sac State — as they are made at Sac State and have a deep affinity to their alma mater — and wanted to see if [the university] was interested in partnering with Street Soccer USA to bring this incredible opportunity to Sacramento as the first city in the U.S. to host the Homeless World Cup," said Lisa Cardoza, vice president of University Advancement.
Story continues below.
"
It's important to remember that everyone has something to offer, people just need a chance. We hope the Homeless World Cup will remind people of that.
— Mel Young, president and co-founder of Homeless World Cup.
Young said he and other members of the Homeless World Cup committee chose to host the tournament at Sac State because they were impressed with everything the university offered as a venue, not just for the soccer that will be played at Fred Anderson Field but also the accommodation and services available to the players, coaches, officials and volunteers.
Five hundred players from more than 50 nations worldwide who have experienced or are experiencing homelessness  will be housed in Sac State's residence halls during the tournament, according to university officials.
The university also plans to hold an educational summit to discuss homelessness and learn from the guests about what others are doing to address homelessness in their countries, Cardoza said.
Matches will be played on three street soccer style fields set up in Hornet Stadium. The playing areas are smaller than traditional soccer fields and enclosed, leading to fast-paced, continuous action, the university said in a statement.
Story continues below photo.
View this post on Instagram
Young said the Homeless World Cup is a special event for players because it creates an atmosphere where being homeless or socially isolated is not the "elephant in the room."
"When you watch the matches, we guarantee you'll get caught up in the action and think 'That number 10 from Brazil has an incredible left foot,' or 'Did you just see that Austrian goalkeeper's save?'" Young said. "Forgetting that people were homeless or socially isolated and then remembering again — and being surprised you forgot — is key to learning that being homeless or socially isolated is not something that defines people. 
Sac State junior midfielder Francisco Magaña started playing soccer when he was 9 years old. Magaña said playing the sport achieves a feeling of self worth because it gives players an opportunity to be a part of something bigger than themselves and build meaningful relationships.
"You're on your own, but you step on the field and it's 10 others, or in this case four to five others, that you have to play with and try to achieve the goal of winning together," Magaña said. "When you fail once, you try again and again until you overcome that challenge, and that building of perseverance helps you in life."
Story continues below photo.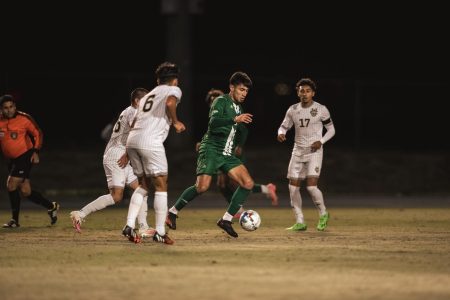 Magana said Soccer is a great way of improving mental health, adding that when things are going south, playing the game helps relieve the mind and allows players to put all of their problems to the side for the duration of the game.
"They're going to have an opportunity to go out there and just play the game," Magaña said. "No worries about where they're going to stay, what they're going to eat, what they're going to encounter. They're joining to be able to just play, have fun and compete."
Young said by seeing 500 people who have all previously been homeless in the last two years in one collective space and celebrating them, we are seeing the individuals, rather than seeing people as part of an issue.
"It's important to remember that everyone has something to offer, people just need a chance," Young said. "We hope the Homeless World Cup will remind people of that."