Gyro 2 Go voted 2019 'Best Food on Campus' at Sac State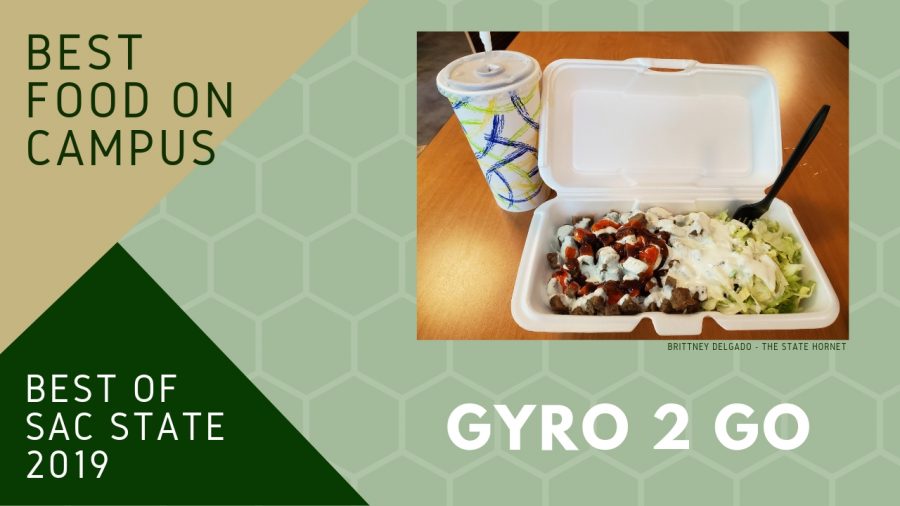 Sacramento State students voted Gyro 2 Go as "Best Food on Campus" in The State Hornet's third annual Best of Sac State poll.
Gyro 2 Go beat out places such as Panda Express, Baja Fresh and last year's winner Round Table Pizza.
Gyro 2 Go is located in the Riverfront Center and is open Monday through Thursday from 10 a.m. to 5 p.m. and on Friday from 10 a.m. to 2 p.m. Long lines often extend from the eatery's counter through the center of the building around lunchtime.
The restaurant offers a simple-to-follow menu with a variety of options to choose from. For example, if you choose to get a wrap, your choices of meat are chicken, beef, falafel or a mix, that come with a "perfectly seasoned wrap served with lettuce, onion, cabbage, cucumber and your choice of sauce which are hot, white or BBQ sauce," according to their menu.
The other main choice they have on the menu is a platter that is served with your choice of rice, salad or fries. The meat options are the same as the wraps and the platter can also be served with a side salad and a sauce of choice.
Both of these menu items come with a complimentary drink and any sides or extras can be added on for under $4.
Tajh Elliot, a communications major, said Gyro 2 Go is a good option for those trying to be healthy.
"If you're a person who goes to the gym and tries their best to eat pretty healthy and have no meal prep, Gyro is the place to go," Elliot said. "It comes with a choice of protein like chicken, and you could be even more healthy by getting all salad or even get salad and rice, which is probably the best combination to me."
Elliot likes the price as well as the food itself.
"I also like how its a pretty good deal for a college student with the free drink you get and it's a good amount of food for lunch that can be fulfilling," Elliot said. "It is a good price with everything basically being under $10."
Gyro 2 Go is a family-run business which was founded in Sacramento in 2009 by siblings Abdul and Wahida Kakar. The restaurant was first opened at Sac State in 2011 and has experienced great success ever since.
"If you're in a rush in between classes, Gyro is a great place to go because even though they tend to have long lines during their peak hours, the workers clearly try to work pretty fast," Sac State business major Mariya Medeiros said. "They have pretty good customer service as well, which makes them a good place to eat at."
For a full list of 2019 Best of Sac State results, click here.