Sac State hosts first-ever Asian Pacific Islander College Day
About 800 students from the Sacramento region attended
Around 800 high school and community college students visited Sacramento State for the first-ever Asian Pacific Islander College Day in the University Union Ballroom Friday.
Flyers were handed out by Student Academic Success and Educational Equity Programs at the beginning of the event, describing it as a way to promote early awareness of college entry to Asian Pacific Islander students and families.
The visiting students from the Sacramento region attended a variety of presentations and workshops about how to get to college, how to prepare for college and how to make sure students can be successful when they get to the 4-year university level.
Story continues below tweet.
Hundreds of students are visiting @sacstate to attend the first Asian Pacific Islander College Day. This event promotes early awareness of college preparation, selection, admissions, financial aid & other critical steps for college entry to API students/families @TheStateHornet pic.twitter.com/mMUn06XCG9

— Milan (@milancabebe) March 29, 2019
Presentations discussed how students can apply for free financial aid through the Free Application for Federal Student Aid the Federal Work Study Program, FAFSA, as well as scholarships and grants made available.
Tips and information were exchanged in order to help students understand the steps involved in applying to different universities.
Presentations were prepared by members of the Center for College and Career Readiness and Student Services.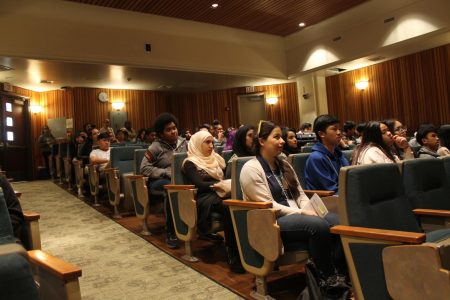 Dominic Robey, student assistant and volunteer for API Committee Leads, talked about why events like these are important.
"I think it's cool to have students come to the campus and learn more about Sac State," Robey said. "A lot of high schoolers don't necessarily know how to apply for college or all of the free money that's available to them."
Sac State students, organizations and departments set up tables to show visitors what the university has to offer and the resources that are available.
Jose Gallegos, a program assistant for the Serna Center, was tabling at the event and telling college-bound hopefuls about why it is important to attend events like API College Day.
"If you come to Sac State and explore the different resources that we have, it will be so much easier for you to transition from high school to college because you will be more familiarized with these resources that we have for you when you get here," Gallegos said.
Students are learning about being eligible for college & preparing for what's to come post high school graduation. @TheStateHornet pic.twitter.com/t1dAGx5TeN

— Ronaldo Gomez (@ronaldogomezss) March 29, 2019
The event provided students the opportunity to interact with people that want to help them achieve success at a university level.
Workshops were held by members of Student Health and Counseling Services and The WELL and addressed topics like mental and physical health and expanding your knowledge by making creative choices such as attending events and using social media.
The next Asian Pacific Islander College Day is scheduled to take place on March 6, 2020.
Milan Cabebe contributed to this report.