'We are the product of everyone who has supported us'
Meet Sac State's first Asian Pacific Islander Desi American Center Coordinator
The eldest of seven children and a first-generation Hmong-American, the only thing on Andrew Yang's mind was to get a job, make money and take care of his family. 
Growing up in South Sacramento, Yang didn't yearn to pursue further education after graduating high school — his family had other plans for him. 
"They just wanted me to pursue college because they know that, if I work right out of high school, I'm giving up so much potential," Yang said. 
The eight years since Yang left Sacramento State led him to becoming the first Asian Pacific Islander Desi American Center Coordinator at the university.
The center had its grand opening Feb. 28 in Lassen Hall. 
Dr. Chao Vang, Director of Educational Equity Access and Equity Strategist, has known Yang since Yang began at Sac State as an undergraduate student.
"It is very heartwarming," Vang said. "It also gives me a sense of calm and a sense of pride that I'm able to be part of that journey with him." 
When he was a career counselor at the Career Center, Vang recalls Yang visiting him.
 "He didn't know what he wanted to do next, but he did tell me, 'Although I don't know what I'm gonna do next, I'm gonna make my parents proud,'" Vang said.
When Yang first began his time at Sac State, he said that he felt lost and wound up on Academic Probation twice.
"I felt isolated and I felt like there wasn't anything that could help me on campus because I felt lost," he said. "I didn't know who I was." 
When it felt like all was lost, Vang presented Yang with an opportunity to work closely with him as a project assistant for a new initiative called, Project Hmong.
Yang graduated fall 2020 and is working to obtain his master's degree this spring. He attributes this success to his late grandmother, Chai Vue, who died fall 2020. 
"She was one of my biggest motivators," Yang said. "One thing that she always wanted me to do was pursue my master's degree." 
When Yang had finished all of his courses for his bachelor's degree, he was unable to share the news with his grandmother prior to her death. 
Yang said that his grandmother always saw great potential in him. While he didn't see it back then, he sees it now. "I'm pretty sure she'll be proud of who I am today, and I wouldn't be who I am without her today," Yang said.
Vang said that he reminds Yang about the importance of being a generous and giving community member. 
"While we pay it forward, we're grounded in knowing that there are folks that came before us to allow us to pay forward," Vang said.
 RELATED: Celebrating community: Sac State APIDA Center opens, MLK Center expands
"If the APIDA center was here back then, I think it would've made a big difference," Yang said.
When Yang was attending Sac State as an undergraduate student, there wasn't a center for APIDA students and not many APIDA staff. He expressed his desire for the center to be a welcoming place for students. He hopes that APIDA organizations and student clubs can utilize the space.
Story continues below photo.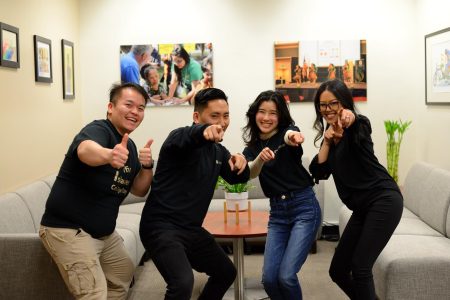 Vang said the APIDA Center can help Sac State fulfill its commitment to advancing social justice on campus.
 "I want the center to be a beacon of hope for our community," Vang said. "But also elevating, amplifying Asian American voices."
Grace Matayoshi, a third-year double-majoring in Asian Studies with an emphasis on Japanese and Social work, is one of the APIDA Center student leads. 
"I've just been overwhelmed by the passion that everyone has here to create a community space," Matayoshi said. "He's definitely a mentor to all of us. He is somebody that we all look up to."
Vang said that Yang's experience as a first-generation college student gives him more tools for advising students. 
"He's more culturally responsive and more culturally receptive when he's counseling a student," Vang said. 
RELATED: Sac State launching two student centers in dedication to educational equality
With this APIDA Center being the first at Sac State and the sixth in the CSU system, Vang said it was crucial for the APIDA Center coordinator to understand the importance of this. 
He said that Yang's ability and aptitude to work with Asian American students, first-generation college students and underrepresented minority students made him the ideal and qualified candidate for the APIDA Center coordinator position. 
Dr. Marcellene Watson-Derbigny, Associate Vice President of Student Retention called Yang a nurturer of student success. Yang looked at Watson-Derbigny as a mentor.
"Andrew Yang is a force for change on campus," Watson-Derbigny, said. "As a proud member of the SASEEP team, Andrew embodies a passion to work hard and to achieve to the highest level… He is blazing a trail of excellence in his community and beyond."
Vice President for Student Affairs and Chief Enrollment Officer Ed Mills, another mentor to Yang, said he admired the coordinator's dedication to family, friends and his education.
"Andrew Yang is the perfect individual to serve as the inaugural coordinator," Mills said. "Andrew is passionate about his work and mentoring students."
Yang said that he wants students to take advantage of the center and their services, like general advising and career advising. He said that he wants the center to be the main hub for students.
"I'm serious about helping our students here because I was one of those students before," he said.