Community gathers to commemorate Native American Culture Week
Despite Native center still not being open, Sac State's Native community comes together
Sacramento State students, faculty and community members attended numerous gatherings to commemorate Native American Culture Week. 
The gatherings allowed members of the Native community to share stories and form connections with each other through food, icebreakers and sacred spaces. 
Native American Culture Week concluded with the Sacred Spaces event, where students shared personal information in a confidential space to find connections on a campus with a small native community. The event was held in the Engrained Restaurant on Thursday, the day before and was a casual event for the community to gather and celebrate. 
Estela Cuevas, from the North Fork Mono and Yokut of the Chukchansi band and student assistant for the planned Esaktima Center, read the Sacramento State Land acknowledgment  recognizing the history of indigenous peoples during the community gathering.
"The larger Sacramento area and its rivers serve as a gathering place for many local tribes from these surrounding valleys and foothills. We recognize these lands and riverways as unceded traditional territories of the native people. We further recognize these California native nations and respect their sovereignty," Cuevas said.
Story continues below photo.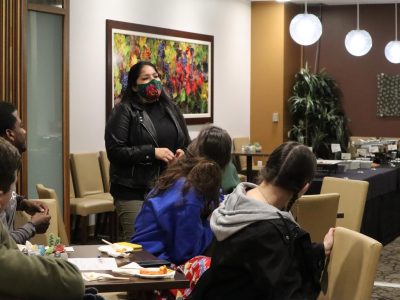 Students and staff then offered their prayers and sang a blessings song for protection and to show gratitude and appreciation.
"Native American students often experience solitude and alienation in university spaces," first-year political science major Lilian Weese said. "Having these community gatherings, events or clubs helps students feel a sense of inclusion and belongingness at university." 
Weese is Wukchumni and a member of the Ensuring Native Indian Traditions club.
"Our community cares a lot about each other. We know each other, and we treat each other like family. It's really important to us to keep our sense of community," Weese said. 
As of the publishing of this story, Sac State does not have a community center for native students with plans for the opening of the Esaktima Center delayed to sometime in the spring of 2023.  
Jose Mejia, senior lead for The Educational Opportunity Program, said the opening of a Native American Center at Sac State would serve the future of Native students attending the university.
"We are reaching out to high-school students. We are reaching out to community college students who have applied for fall 2023," Mejia said. "Since they are going to be the first group at our center, we are building these pathways for our students so they could be here for the grand opening." 
For students like Keeley Ciccarelli, a communications graduate of Sac State currently enrolled in the Master's program, finding a sense of community is important. According to Ciccarelli, having a Native student center will help students stop feeling displaced at Sac State. 
"I know we don't have a lot of Native American students, faculty, here on campus — very minimal. So maybe that's why we're on the back burner," Ciccarelli said. "We don't have the populace for it." 
Nia Gregory, Cherokee and Yuchi, and an Ethnic Studies professor specializing in Native American studies, attended the community gathering.
"It's important to have representation of our people so that students and faculty can feel a sense of space," Gregory said. "It's a way for us to create programming that honors this space by bringing blessings and speakers who are of this land."  
Gregory said she feels inspired by Mary Tarango, a renowned Native activist who was a speaker at one of the Native American Culture Week events held Tuesday.
"It was very important for Mary Tarango to be here on Tuesday. She was somebody who has spent her career dedicated to this place," Gregory said. "She is a hero to me. She is a living hero for the Native community." 
Professor Gregory said the Native American faculty feels as if it's their responsibility to help indigenous students find a sense of community.
"Going to college is sometimes a very lonely place for Native students. Especially when we come from different cultures and communities," Gregory said. "We feel like a little fish in a big pond. Events like this help us find out where our students are and form connections with them."