Sacramento State partnered with Aramark to host the inaugural Hornet Harvest Gathering event near the Library Quad on Wednesday.
The event was focused on providing free grocery kits to students and providing information on campus resources. Multiple Sac State offices tabled at the event, including Crisis Assistance & Resource Education Support, Nutrition and Food Dietetics, Sustainability and Hornet Hospitality. The campus CalFresh staff was also there to help serve students.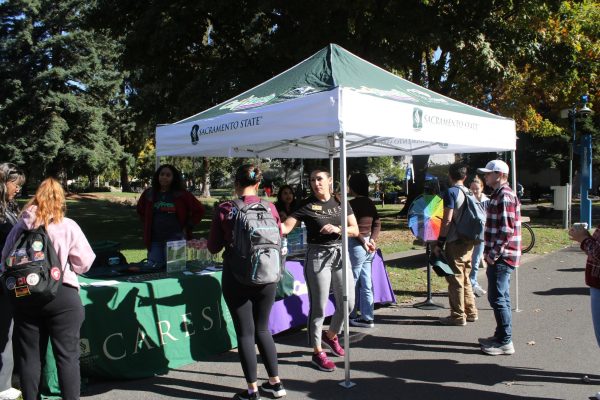 RELATED: Vegan tacos on menu at The WELL

Jenna Brott, the regional dietitian for Aramark and organizer of the event, revealed this was the second time Aramark had partnered with the California State University system to hand out food packages to food-insecure students.
"We actually piloted it at Dominguez Hills, this is a much larger event here," Brott said. "We're hoping to give away about 500 of the kits today."
Brott said there is a large percentage of students on campus who experience food insecurity.
"We know that there's about 40% of Sac State undergrad students are considered food insecure," Brott said. "We want to do our part and provide these kits to students."
The kits contained a variety of healthy foods meant to supplement a student's diet.
"I wanted to make sure that there's protein, there's grains, there's vegetables and then I also wanted to make sure that it would stay fresh long enough," Brott said. "There's a lot of produce items that could go bad right away, the items that we chose are gonna stay longer."
The kits also contained a small booklet containing recipes, nutrition information and local resources, in addition to QR codes with links to more detailed information.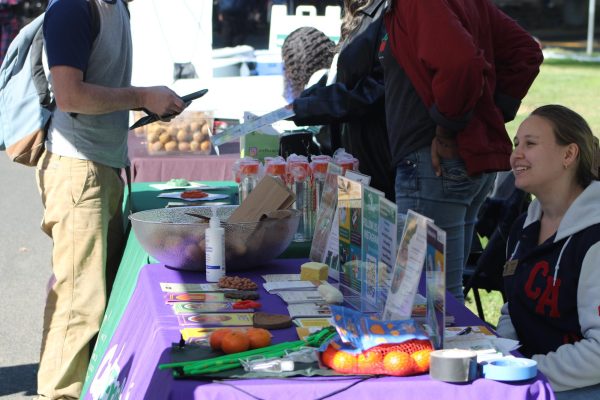 Volunteers offered the kits to students as they walked through the quad, with many choosing to accept them. Anthony Garcia, a senior economics major, spoke about how he appreciated the kits having healthy food.
"I know they're gonna give foods that are healthy and something that's nutritious as well," Garcia said. "This I know for sure is going to be something beneficial to that which in turn can help with my studies because I'm getting the right nutrients to get through the day."
Olivia Droen, a graduate student in the teaching credential program, also appreciated that the kit included healthy food options.
"I actually haven't gone grocery shopping in like a month and a half so having fresh fruits and vegetables will be really helpful for like meal prepping and stuff like that," Droen said.
Sophomore computer science major Cristian Para said he wasn't food insecure himself, but he would be bringing the rest of the kit home to share with his community.
"For my family, we like to cook for a lot of people, we also like to cook extra. We give it to our neighbors and other family members," Para said. "Just leftovers. It extends for a couple of days."
Garcia also said he didn't feel like he was food insecure but was worried about the increasing costs of living expenses and how they would affect his financial future.
"I just go more into debt, it does help the food budget," Garcia said. "Even if it's just that little bit for the week. That's a great help."
Garcia said he knew about campus services and was looking to take better advantage of the resources the campus offers, such as the ASI food pantry.
"I have never visited them once this whole year and I think it's about time, at some point this year that I have to go check it out," Garcia said.