Cross Class crosses social conscience with hardcore punk
When English major Ian Kappos approached the then 35-year-old California Labor Federation lobbyist Mitch Seaman in 2013 to form a band, the typical alternative, pop or classic rock genres were nowhere near what they had in mind for their sound.
Instead, hardcore punk was the ultimate choice and Cross Class was born. At the time, the pair was inspired by Coke Bust, a D.C.-based hardcore band that both Kappos and Seaman were interested in.
"I see Mitch as this punk who actually went and got a degree and he's like really doing it," Kappos said. "I think his career is very punk to me. He's really trying to enact social change and that's really inspiring to me."
Members of the now four-piece Cross Class, which consists of Kappos as lead vocalist, Seaman as guitarist, Ian Boalt on bass and Craig Hancock on drums, attend schools and work at their jobs by day. But by night, they perform at some of Sacramento's hottest hardcore punk venues like The Colony, The Press Club and The Starlite Lounge.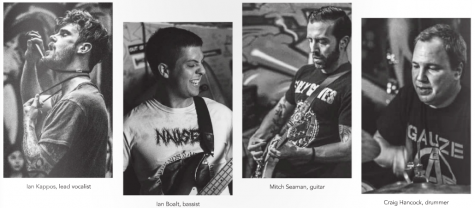 "The name 'Cross Class' represents our overall political beliefs," Boalt said. "We believe that there really shouldn't be any kind of class distinction and ultimately we're trying to cross those lines."
Kappos, now a senior at Sacramento State, said he finds inspiration for the band's lyrics by making observations in his daily life and applying what he learned in literature classes about social issues, history and politics.
The lyricist described the musical style of Cross Class as fast, angry and usually very aggressive —almost violent-sounding. Kappos said it's also characterized by some socio-political subjects.
"We have one song called 'Eve of Contact' and that's basically about Manifest Destiny, about Andrew Jackson being a piece of shit and mass murdering indigenous people," Kappos said. "There's also a song called 'Deer Crossing', which is against deforestation and contractors building suburbs who basically ruin wildlife so they can expand."
For bassist Boalt, a religious studies major at Sacramento City College, he said that having a social life that overlaps with the band makes it easier to balance school, work and his passion for music.
"Friends and band are like the same thing, so my social time is the band that I'm in," Boalt said. "Then comes work, school and hopefully being able to see my parents."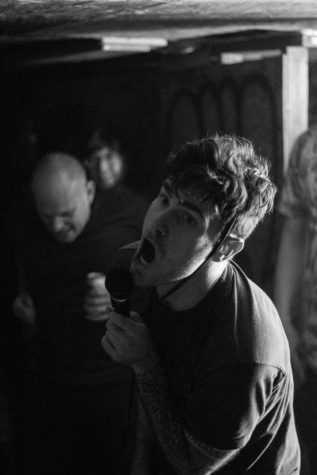 Cross Class has received mixed reviews from each member's family who says that the loud music isn't to their taste, but most are supportive of the quartet's common hobby, just like how the city has also been treating the foursome since the band's inception.
"Sacramento has that small but pretty close knit music scene," Hancock said. "There are lots of different kinds of music and every type of punk you could imagine."
For Kappos, this genre runs deeper for him than the other three members. His parents were also punk rockers in their heydays, and as a result his mother enjoys listening to his music.
His father, however, died before Kappos was born. Still, his love for music was passed on to Kappos.
"I think it's kind of cool that I'm doing the same thing as (my dad)," Kappos said. "It makes me feel kind of connected to him."
Cross Class uses Bandcamp to distribute its music for free, but cassette tape copies can also be ordered online. According to Seaman, Cross Class' music sounds better on cassette tapes than it does in other formats.
"Tapes have this specific muddy sound, and so it works to our advantage for a band like us who isn't going for a clean, sharp sound," Seaman said. "We want to be loud and noisy and abrasive. Plus, (our songs) are really short, really loud and really angry because we have short attention spans so we don't like long songs."
Cross Class released an EP, "Minimum Rage", in June 2016. The band is also currently working on new material to go into its first full-length album, slated for release on vinyl by 2017, when Kappos plans to move for graduate school.