Women's basketball trails before clinching the lead against USF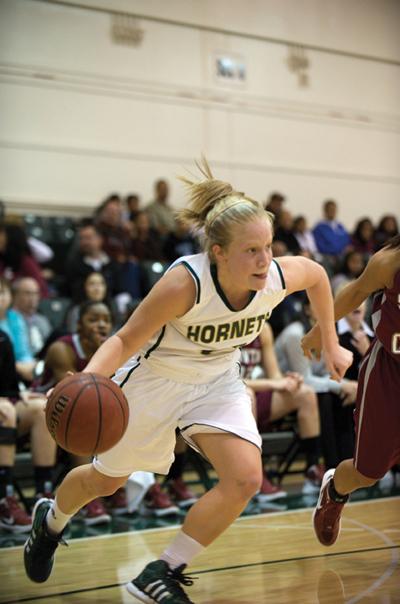 State Hornet Staff
November 29, 2012
Sacramento State head coach Jamie Craighead's biggest adjustment coming out of halftime was turning up defensive pressure.
The Hornets' women's basketball team found themselves trailing against the University of San Francisco by nine points, but forced 20 turnovers in the second half to finish with a 68-60 win at The Nest.
"This was a big win," said senior forward Kylie Kuhns. "We got embarrassed last year and we needed to secure the home court advantage."
While Sac State's defensive style has always been full court pressure for the entire 40 minutes, the Hornets' full court man-to-man pressure forced eight steals in the first two minutes of the second half.
"That is Hornet basketball and something we should be doing all the time," said junior guard Alle Moreno. "We call it 'the swarm' because hornets swarm and we just knew we had to come back in the second half."
Sac State struggled for its second straight game with outside shooting. After the Hornets took a 9-7 lead on a basket by center Megan Kritscher with 13:54 left in the half, San Francisco rallied to take the lead and extended it to 13 points when Taj Winston hit a 3-pointer with 2:03 left in the first half.
A pair of layups by Kuhns and forward Sadie Clements sent the Hornets into halftime trailing 31-22.
While the Hornets' defense came alive in the second half, so did the offense. Kuhns came into the game averaging 13 points and 12 rebounds, scored 12 of her 21 points in the second half and also finished with 18 rebounds.
In her three games against San Francisco since arriving at Sac State in 2009, she has a total of 62 points and 51 rebounds.
"I knew coming into the game that I had an opportunity to have a big game," Kuhns said. "Our coaches have kept saying we need to have 40 points out of our forwards and I just knew what I was capable of."
Sac State started to pull away during the final 2:33 when forward Se'nyce Parish hit a three pointer to take the lead. The Hornets secured the lead and the win, hitting nine of their 10 free throws.
The Hornets will travel for most of December, playing five straight road games until Dec. 30 when they return to play Causeway rival UC Davis. Craighead said she is not worried about the road trip for the game against Oregon State that starts on Saturday at 4:30 p.m.
"At that level they are usually bigger and stronger and they will play a zone." Craighead said. "We will have to be ready to go and knock some shots down at their place."
Oregon State comes in with a record of 3-2 and the game can be viewed on pac-12.com.
Ryan Kuhn can be reached on Twitter @rskuhn