Confirmed shooting behind off-campus apartment complex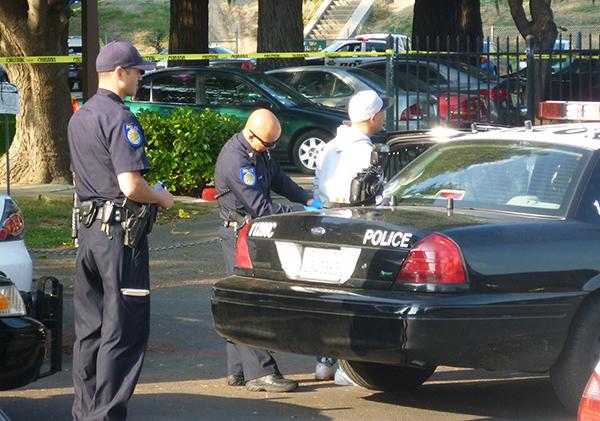 Robert Linggi and Mitchell Wilson
November 14, 2011
A shooting near the University Village apartment complex around 2 p.m. today left one man with a gunshot wound to the arm.
The complex is located less than a mile from the Sacramento State campus on College Town Drive across from Chevron and McDonald's.
The victim was described only as male and was shot at the top of a staircase leading up to a levee along the American River.
"We've recovered a loaded magazine on a trail and a loaded gun in a car," said Sgt. Michael Lommori of the Sacramento Police Department.
Police detained three men who were seen fleeing the scene, one in the University Village parking lot and two in the College Town apartment complex parking lot.
"I'm pissed off that this kind of s— is going on in my apartment complex," said Will Parrott, who, along with most tenants at University Village, is a Sacramento State student.
Parrott was going to class and noticed an unusual amount of people on the levy when he heard four gun shots, saw the victim walking down the stairs and a man with a gun run away.
Officers and from the Sacramento Police and University Police responded to the shooting, along with a K-9 unit and a crime scene unit whose officers cleaned up blood with bleach and other materials. Marijuana and other items were confiscated from the detainees.
Robert Linggi and Mitchell Wilson can be reached at [email protected]