The Male Empowerment Collaborative tackles Sac State's low minority graduation rates
Annual Black professional speed mixer held in Union Tuesday
The Male Empowerment Collaborative put on its annual African-American Black professional speed mixer Tuesday at the University Union. 
Martinique Baker, the strategic student success analyst for the Division of Student Affairs, and Jerry L. Blake, the educational opportunity program lead,  organized the event. The mixers provide new opportunities and awareness of a variety of diverse career choices for students, according to Blake. 
Various Black professionals from the Sacramento community were in attendance, including Sacramento State Police Chief Chet Madison Jr. 
Story continues below photo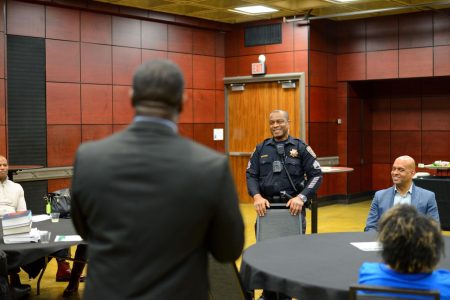 The African-American Black Professional speed mixer offers an environment for various professionals to have a fast-paced round table discussion to share about their career, experiences, education and possible next steps towards success. 
"The professional mixer provided opportunities for the community and campus individuals to collaborate and come up with ideas to enhance the success of male students on campus,"  Blake said. 
Blake referenced Ed Jones, who brought the concept of the Male Empowerment Collaborative to Sac State. 
"At the time, African American males needed a push for graduation and to decrease the achievement gap and increase the retention rate," said Blake while quoting Ed. Jones. 
Speakers elaborated on how statistics show a lower graduation percentage for African American students, with male African American students underperforming compared to their female counterparts.  
According to Blake, currently 849 women are enrolled in the Educational Opportunity Program compared to the 212 men. 
"If you look at the female and male students, females are surpassing males, period," Blake said. 
Two years ago, half of the nearly 17,000 students in the program utilized some form of academic recovery, probation or dismissal, according to Blake. .
Baker said a part of the Male Empowerment Collaborative is to help connect these students to a positive support network towards graduation.
Story continues below photo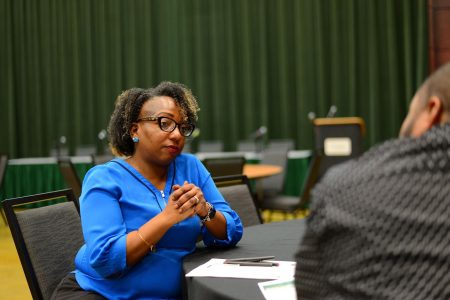 The Male Empowerment Collaborative is structured to work in tandem with existing support programs and initiatives rather than compete with or supersede them.
According to its website, the goals of the Male Empowerment Collaborative are to increase retention and graduation rates of all males on campus by connecting with Black professionals. 
Professionals like Chief Madison help bridge the gap for Black students searching for administrators that look like them, according to Sac State Police Department Sergeant Orrlando Mayes.
Helping African American male students see there is success when you trust the process and keep doing the next right thing is what the Male Empowerment Collaborative is achieving. 
The speed mixer provided an environment where students can come and have healthy conversations with professionals that look like them and want to see them succeed.
"I think we have a lot of power in this room. I like that," Chief Madison said when highlighting the importance of black leadership on campus. "I think it starts with all of us here."