Shirley Weber advocates for reparations at Sac State
Public forum highlighted Assembly Bill 3121
Shirley Weber, the California Secretary of State, visited Sacramento State Tuesday to discuss reparations as part of the Green and Gold series in the University Union Ballroom.  
Organized by the Division of Inclusive Excellence and the Martin Luther King Jr. Center, Weber discussed Assembly Bill 3121, which focuses on reparations and giving back to Black Americans who were impacted by intergenerational trauma from slavery. Advocating for reparations is even more difficult when no one with power looks like you, Weber said.
"I don't have a glass ceiling, I have a steel ceiling, " Weber said. "I can't see what the people at the top are doing because there is no one who looks like me."
Weber emphasized the importance of reparations in California. Although not a "slave state," slaves were still transported into California where they worked for free, Weber said. 
"These people have descendants who are still suffering till this day, whether it is redlining or having a poor school system," Weber said.
Story continues below photo.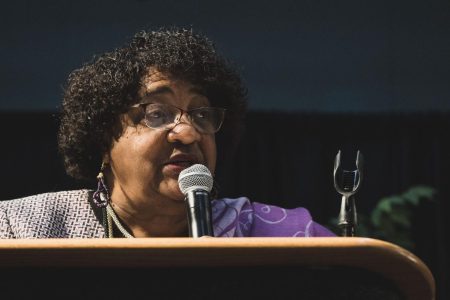 Weber talked about how it is not easy to pass laws or break barriers, but someone has to do it. "Reparations would expand a base of support for "creating equality and fairness," according to Weber.  
In addressing the point that while some believe reparations means the loss of resources, Weber emphasized the principle of equity for everyone. 
"Some people think if you have a sandwich and you share it, you won't have enough, but there is plenty of bread and PB&J for everyone," she said.
Weber explained representation in politics is important because then you can see someone who looks like you advocating and fighting on your behalf. 
As a member of the California legislature, Weber passed Assembly Bill 101, which mandates every student at a California State University to take an ethnic studies class.
"If African Americans helped build almost every monument, it won't take too much to give back for all that work that was done," she said.
Story continues below photo.
Jasmine Owens, a fourth-year sociology major who attended the event, said she believes having a woman like Weber visit Sac State, especially when speaking about reparations, is an inspiration. 
"It shows me I can achieve anything that I put my mind to," Owens said. "Acknowledgement is very important as a part of reparations because action without apology means nothing."
Xavier Rem, a political science major, relayed the importance of reparations, especially for Black Americans who he said have gotten the short end of the stick.
"People need to know that we are not a group to be left out," Rem said. "Reparations has been going on for almost two decades for other races and it is not fair that African Americans are still waiting."