Black engineering students create a space for themselves at Sac State
NSBE members speak on their struggles to pursue their passion.
As a young girl, Aissatou Fall was fascinated by her aunt's work. 
Fall would visit her aunt at a construction site and marvel at her vest, helmet, and at architectural designs sketched out before her. Although she did not understand what the drawings meant, she had fun trying to figure out how a sketch could lead to the creation of a looming building. 
More than anything, Fall was inspired by how confident her aunt was and how she seemed to operate with ease, knowing exactly what to do and how to do it. 
As Fall entered adulthood, the childhood fantasy of wanting to create and build became a reality. She began at Sacramento State as an undeclared major and later attended a seminar where engineers spoke about the ups and downs of the field. It was then she decided to become an engineering major to explore the creativity that career path offered.
"You get to be creative in your own world," Fall said. "It's really just being creative and bringing something to life."
Now, Fall is a fourth-year civil engineering major and president of The National Society of Black Engineers,  an organization that provides resources to Black engineering students. Fall said NSBE seeks to level the playing field between Black and non-black engineers. 
Some of these resources include job and internship opportunities, scholarships, mentors and a place to network with other engineers, Fall said. 
These opportunities inspired third-year electrical engineering major Obinna Eze to join NSBE. As a Black engineer, he said he has to deal with the fact no one looks like him, making it difficult to succeed.
"I'm going to have to ask for help from outside sources," Eze said. "I really have to hold myself accountable because, at the end of the day, there's no one in my area that's really trying to push themselves in STEM majors." 
Story continues below photo.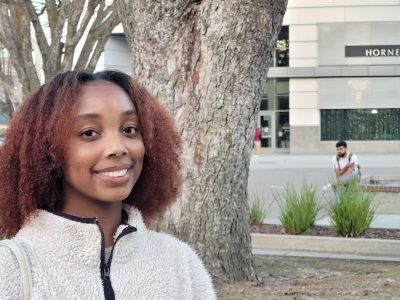 Networking is an important aspect of the engineering field, according to Fall. She said many students who aren't people of color tend to come from backgrounds in engineering. Because of familial ties, these students easily gain connections in the field. 
"So many people have engineering backgrounds, whereas a lot of Black students don't," Fall said. "It's so important to have these resources, make connections, know how to maintain a connection."
Although Fall does not come from an engineering background, she and her sister, Aminata Fall are pursuing the major. Aminata is a first-year civil engineering major and treasurer of NSBE. 
Aminata said, since so many engineering students from backgrounds other than her own have this established network built in, it can impact the way professors teach their classes. She believes many professors assume students have prior knowledge on certain topics, even though it's not required for a course.
"You go to the class and automatically, they know what to do and you're just looking around like, 'did I miss something?'" Aminata Fall said. "I haven't missed a class. I didn't miss anything, but it's still not clicking yet."
Aissatou said the lack of Black students in her classes caused her to feel uncomfortable despite being a naturally confident person because she was often the only Black woman in her classes. 
Growing up in Senegal, she said she was used to being around other Black people. Aissatou said she thought about dropping out as a freshman because of how insecure classes made her feel. 
"It definitely did mess up my confidence a little," Aissatou said. "Sometimes I didn't feel comfortable enough to ask a question. I didn't want the attention to be brought on me or be like, 'Oh, the only Black woman here asks too many questions."
Story continues below photo.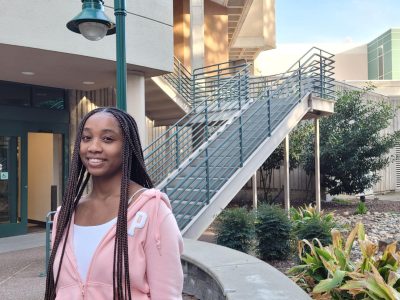 Eze said he also struggled to ask questions in class, adding that he was embarrassed, feeling like he wasn't the smartest person in the room. 
However, Aissatou said NSBE has allowed her to become more confident in her decision. She added that, aside from academic benefits like scholarships and internships with the society, there is also the social benefit to making friends and feeling a sense of unity. 
"You see people around you that look like you doing what you're doing," Aissatou said. "It just gives me a little more boost of confidence. I really feel a lot safer in NSBE." 
Aminata said seeing her sister and other NSBE students pursue engineering motivated her to continue. 
"NSBE is a way to create a bond outside of our classroom," Aminata said. "It's a way to help each other outside of the classroom and make us feel more comfortable being an engineer. Personally, the more comfortable you are, the more confident you are."
Story continues below photo.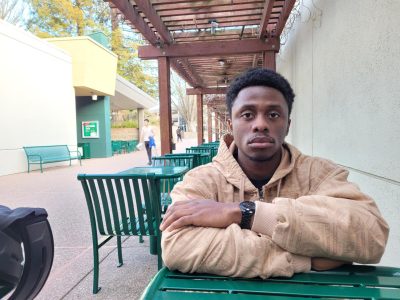 Eze said he hopes his work can pave the way for others to pursue a nontraditional route. He said his refusal to change his major inspired his cousins and brother to seek out engineering. 
"I feel like that's a step forward for other engineers," Eze said. "I don't expect to do everything, but if I can just change one person's perspective on this whole STEM major stuff, then I feel like I've done my part."