'Enough is enough': Sac State softball coach facing allegations
Former players accuse coach of emotional and verbal abuse
Sacramento State softball coach Lori Perez is facing allegations of verbal abuse and misconduct from former players. 
The allegations against Perez, who is entering her 10th season as the Hornets head coach, initially surfaced via TikTok with former softball player Brianna Bowers sounding off on Perez– alleging multiple forms of misconduct and bullying. 
Bowers, who played for the Hornets in 2019-2021, alleged in the TikTok that Perez was "mentally and emotionally abusive." 
"This woman would call us fat and out of shape and belittled us about anything," Bowers said in the video.
Former Sac State softball player Suzy Brookshire, who played from 2017-2019, alleged in an interview with The State Hornet that she faced similar bullying hardships coming from Perez.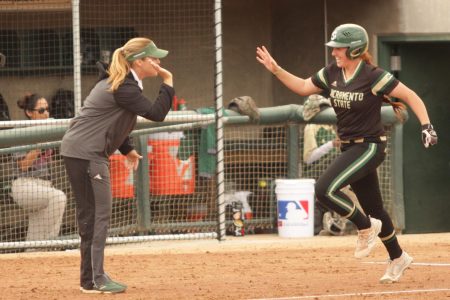 Brookshire alleged Perez said that the team's losses would "cause Perez to lose her job as the softball coach," therefore "leaving her kids without insurance." 
"I think she thinks that she was motivating us; I don't know," Brookshire said. "Obviously that's so inappropriate."
Brookshire, who was named Big Sky Conference MVP and was a unanimous first team all-conference selection, entered the transfer portal following the 2019 season. 
Prior to her official departure from the school, Brookshire said she met with Athletic Director Mark Orr to talk about her grievances with the program.
"
We didn't matter as individuals; we mattered as softball players."
— Suzy Brookshire
In 2019, after Brookshire's meeting with Orr, Perez signed a five-year contract extension to remain the Hornets' softball coach. 
"I thought if I had left– and I had made a statement about leaving– that a change would happen, so I talked to Mark Orr," Brookshire said, "Then [Perez's] contract was extended."
Assistant Media Relations Director Ryan Bjork told The State Hornet Orr was not available for comment regarding Brookshire's allegations.
When Brookshire's team's therapist recommended a test to see if she had ADHD, Brookshire alleges Perez didn't support the therapist's decision to test her.
"The therapist would kind of express this push back coming from the coaching staff," Brookshire said. "There was definitely some tension between them."

Brookshire alleged that Perez had a "disregard" towards the therapist's advice for Brookshire and other players on the team. 
Brookshire said her experience made her feel as if she and other players weren't at Sac State for "any reason other than softball." 
"We didn't matter as individuals; we mattered as softball players," Brookshire said.
Kailey Robinson (previously Olcott), a Sac State softball player during the 2016 season, told The State Hornet that Perez insulted Jessica Scott, one of her former teammates, in reference to Scott's diabetic condition. 
Robinson said that Scott, who became aware she was diabetic at the age of 16, was always accompanied by her mom– who traveled with Scott to monitor her daughter's condition.
During a game where Scott wasn't feeling well, Robinson alleges that Perez responded to her teammate's play by telling Scott to "figure it out."
"[Jessica] wasn't playing well, but she also wasn't feeling well," Robinson said. "I remember [Perez] saying 'you're a Division I athlete; figure it out. Your mommy can't save you now.'"
In an interview with The State Hornet, Bowers also alleged that– upon finding out she was pregnant in February of 2021– she was met with mixed emotions and mental turmoil. Robinson said she ultimately decided to terminate the pregnancy.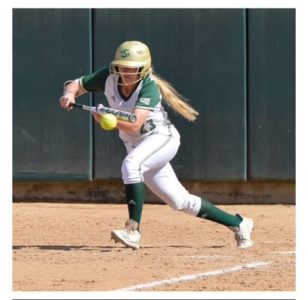 In a practice following Bowers' decision to terminate, Bowers said she was struggling and the coaching staff — including Perez — noticed. 
"I was sobbing at the end of practice; I just couldn't make it through," Bowers said. Bowers said she "didn't know how [she] got pregnant" since she was on birth control since the age of 13. 
Bowers alleged that Perez responded by scoffing and telling Bowers, "well, that's not how that works."
"That was just super, super tough to not get that support from my coach," Bowers said.
In June 2018, Robinson also became pregnant while she was on the team. Robinson said she told her boss of her pregnancy, who then told an assistant coach of the softball team.
"Perez called me and left me a voicemail saying, 'I found out you're pregnant; you need to call me,'" Robinson said. "I got that and my stomach sank."
"
"If I kept the baby, I'd be off the team, and if I got an abortion, I'd never want to face [Perez], so I'd be off the team."
— Kailey Robinson
Robinson said the two then met in Perez's office. She said she broke out into hysterics during the meeting. 
"The first thing she said was 'so, it's true?'" Robinson said.
Robinson said she told Perez that she and her boyfriend were still "weighing their options" with the pregnancy.
Robinson alleged that Perez told her, "It's not too late; you can still terminate– even if I know."
She alleged that Perez then had her sign a paper releasing her from the team and forfeiting her scholarship. 
Robinson said she signed the form despite not knowing what was on the paper– even signing the wrong line amidst her distress. She said she ultimately decided to keep the baby.
"If I kept the baby, I'd be off the team," Robinson said. "And if I got an abortion, I'd never want to face [Perez], so I'd be off the team.
After being dropped from the team, Robinson said she returned to campus in the fall hoping to continue her academic career. After viewing her Student Center, Robinson said she realized she had been dropped from all of her courses after her scholarship was revoked. 
Robinson said she went to the Athletics Compliance Office after a friend told her that it violated her NCAA rights as a student-athlete.
She said she met with former Assistant Athletics Director of Compliance Jean Pryor to talk about her grievances. 
"
Enough is enough, this is not okay."
— Kailey Robinson
Robinson said Pryor explained Robinson's rights and referred her to Title IX Coordinator William 'Skip' Bishop.
RELATED: '[Don't] walk away': Former administrator's return to Sac State receives mixed emotions
"I was deeply touched to hear that I did help her in the referral," Pryor told The State Hornet in an email.
Robinson alleged Bishop conducted an interview, but found Perez free of any wrongdoing without ever receiving an official statement from Robinson. 
Throughout this process, Robinson said she realized she could have had her child and still played her senior season. She alleged that it wasn't explained to her by any coaches until she met with Pryor.
According to the NCAA Sports Medicine Handbook in Section 3b, NCAA rules permit a one-year extension of the five-year period of eligibility for a female student-athlete for reasons of pregnancy. 
Despite Robinson's issues with the softball program, she said she was "incredibly grateful" for her time spent with Sac State football. Her (now) husband, Alexis Robinson, played for the football team from 2015-2018.
Robinson said she felt the difference in her treatment with the football program and the softball team paralleled a dynamic within men's and women's sports in regard to how student-athletes who became parents are treated.
"There was just something so different about how the football team handled the situation than the softball team," Robinson said.
Robinson said she hopes her situation breathes a new sense of air into the conversation regarding the treatment of student-athletes and the handling of their well-being. 
"Enough is enough," Robinson said. "This is not okay."
Lori Perez's statement regarding the allegations is as follows: 
For over 22 years, I have coached collegiate softball because of my passion for working with young women in a competitive team environment. I absolutely love and cherish the program we have built at Sacramento State, and I believe that our University and greater community are proud of our team. It's the players and their growth over the years that make the coaching experience so rewarding.
I am aware of some comments that have been made about me by some former players. These allegations make me sad – in part because they are not true, and in part because that remains the perception of their experience. Out of respect for their privacy, I will not address any of the specific concerns or situations raised. I will say that I am not a coach who bullies or verbally abuses players. My coaching philosophy is to teach and care for my student-athletes, while also pushing them to be their best. I want my student-athletes to love the sport and their teammates, while also realizing they are strong, resilient, and ambitious young women who can do anything they put their minds and hearts into.
My focus now remains on our team and helping them prepare for the upcoming season. They are an amazing group of young women. I am grateful for the support of my athletic administration, our coaching staff, the University, my family, and so many alums and their families.