'[Don't] walk away': Former administrator's return to Sac State receives mixed emotions
Faculty and students have expectations for William "Skip" Bishop's return
This fall, Sacramento State sees the return of William "Skip" Bishop as the director of the Office of Equal Opportunity (OEO) and Title IX coordinator after leaving Sac State in Oct. 2021.
Bishop previously worked at Sac State as the OEO director. At the time he left, he was also serving as the interim vice-president of Inclusive Excellence.
"I'm excited to be back at Sac State," Bishop said. "April 2013 was when I first started at Sac State and it's just amazing where we've come from that time. Now we have an antiracism and inclusive campus plan."
Bishop said the university was dedicated to the work done in the Office of Equal Opportunity. He said his office and the Division of Inclusive Excellence are both growing.
"This is the place that has the values that I believe in," Bishop said. "It's a synergy; it just fits."
Bishop was one of four Black administrators to leave Sac State in 2021 while the university was forming its anti-racism plan. Comments made by Bishop in a May 2019 email to the Black Faculty and Staff Association were published in a December 2020 article by Mother Jones.
"I apologize in advance, but I am no longer interested in doing anything for this university other than what I'm paid to do," Bishop was quoted by Mother Jones. "The administration has made it clear to me that diversity and inclusion means nothing unless it is for their benefit. Going forward, I hope this group really takes a hard look at how African-Americans are treated on this campus."
Bishop said there was tangible work the university was working towards citing the expansion of the OEO from two people to five in his time there. He also said they were looking to hire a new chief complaint resolution officer to help with investigations.
"There's really no story there," Bishop said. "It's all about what we're doing. When I first started, we didn't have a division of inclusive excellence, and [now,] it's growing like crazy."
Bishop said policies at Sac State were driven by state and federal laws and regulations. According to him, the office itself is not influenced by federal or state law, but internally evaluates the effectiveness of programs and protocols to initiate a proper response if someone makes a report.
"We want to make sure we're giving the supportive measures that anyone who comes in our office may need," Bishop said. "We're making sure they understand their rights and options. These are things we're constantly looking at to make sure we're doing it in the most effective way and compassionate way for our campus community."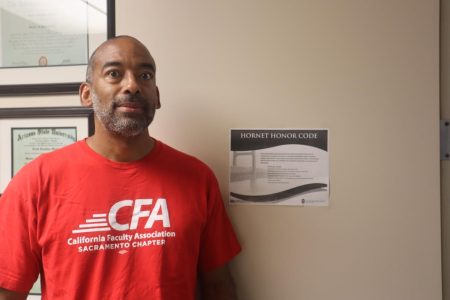 Finance professor David Moore went through the reporting process with the OEO after fellow professor Sanjay Varshnay called campus police on Moore during a meeting for the Sacramento State Student's Investment Fund- a class/club hybrid that Moore had helped develop the trading strategy for and served as a faculty mentor of. 
Moore said he had brought the issue to the OEO, which Moore was quoted in the Mother Jones article claiming was an act of racism, but it was determined by the administration to be a personal issue and not one of discrimination. 
Moore said, during the grievance process, he learned through the university's final report that Varshney had spoken to faculty supervisor Marty Wilson before the incident about calling the police and was given permission to do so, leading Moore to believe it was pre-planned.   
"
Well now, you can't say it's just a personal issue. You got multiple people planning — and pardon me for being dramatic — a modern day lynching in front of students.
— David Moore
Moore said he felt that if Mother Jones hadn't published their story, the situation could only escalate. He said he hoped the prospect of litigation and media coverage would abate further attacks on him or other faculty.
"Do I see Skip Bishop as the person to ensure those attacks don't happen and the broader campus follows the honor code?" Moore said. "No– that's not his job."
Bishop said that, by law, he is not able to speak on personnel matters. He said that his office wanted everyone to report issues and have resources to support them.
"We want to make sure the person making the complaint has their agency– that they're involved in the decision making process," Bishop said.
While Moore said his personal experiences don't inspire confidence in Bishop's ability to prevent similar incidents in the future, Sac State students felt a bit more optimistic.
Gabriel Canejo, a first-year history major, said he thought Bishop's willingness to speak about campus issues was important.
"I think him being very candid in that email is also helpful because it's really calling out the issues that exist," Canejo said.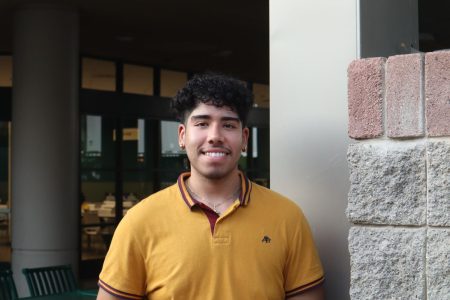 Another student to see Bishop's return as a positive was first-year social work major Jessica Harden. 
"I think it's a good thing he's returning," Harden said. "And maybe he thought about returning because he wants to put in some new implements regarding the African American community and how things are handled."
During his initial tenure as the OEO director, Bishop created Sac State's Title IX program and prepared the annual affirmative action plan, according to Nelsen's email.
"The Sac State Office for Equal Opportunity (OEO) team, with assistance from the Sac State campus community, has done great work during my almost nine years at Sac State," Bishop said in a statement shared with Nelsen on Oct. 6, 2021. "We started with a few random policies and no structure and created the CSU's preeminent Title IX program."
When it came to what plans and policies Bishop had for his office, some students had certain things they wanted to be addressed.
First-year civil engineering major Jasmine Williams said Bishop should look into policies dealing with the issues he expressed in the 2019 email.
"
I would like to see him try to get more policies in place for those things that he felt were wrong. You know, try to do something about it if you have such an issue, not walk away.
— Jasmine Williams
Moore noted that, despite 30% of students at Sac State being Latinx, there were only one or two Latinx professors out of 60 in the College of Business. 
"You hear and see a lot of diversity, equity and inclusion positions and offices and officers; that's great," Moore said. "But until we start hiring more faculty and administration on par with the student body, all that other stuff seems performative."
Moore said discrimination was not just an issue with Sac State, but with the country as a whole, citing a 2020 study by Citigroup an investment banking company. The study showed that the U.S. economy had lost $16 trillion due to discrimination against African Americans.
"
I get tired of saying 'start the dialogue.' We've been starting the dialogue for hundreds of years in this country.
— David Moore
Bishop said hiring of faculty didn't necessarily fall under his office but said that the inclusive excellence division was for the entire community, not just one aspect of the campus.
When asked to speak on Bishop's return and possible plans for his office, President Nelsen said via email he would defer to Bishop and Vice President of Inclusive Excellence Mia Settles-Tidwell for interviews on the subject. Settles-Tidwell did not respond for comment by the publish date.