Sac State women's basketball team loses to Eastern Washington 71-62
Hannah Friend reaches 1,000 points scored at Sac State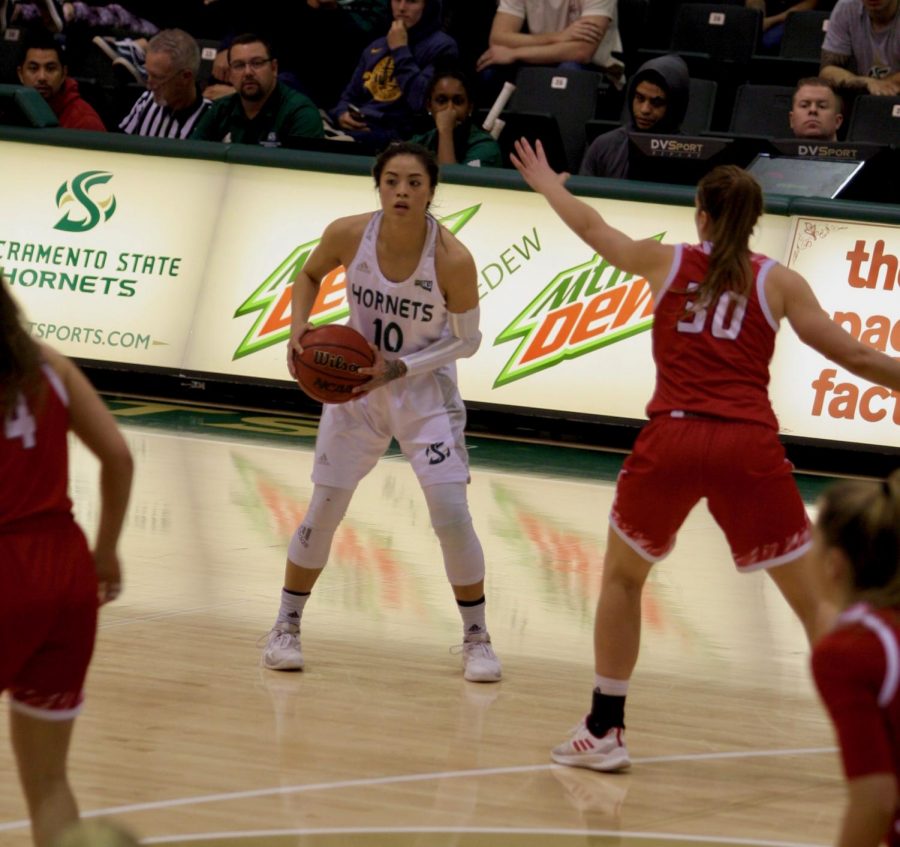 Sacramento State junior guard Hannah Friend reached 1,000 points scored as a Hornet in a 71-62 loss to the Eastern Washington University Eagles at the Nest Thursday.
The Hornets (10-15, 6-11 Big Sky) came into the game looking to sweep the season series with the Eagles (10-16, 9-8 Big Sky) after defeating Eastern Washington in Cheney on Jan. 26, 73-70.
Sac State and Eastern Washington both struggled shooting early in the first quarter as the Hornets led 5-4 halfway through the first period. Both teams started to make their shots as Sac State held a slim one-point lead after the first period at 18-17.
Junior guard Gabi Bade came off the bench and gave the Hornets a much-needed spark in the first quarter as she knocked down 3 out of 4 three-pointers, scoring half her team's points in the first quarter.
Eastern Washington outscored Sac State in the second quarter 14-9 to take a 31-27 lead into halftime.
The difference in the game came between the second and third quarters, as the Eagles went nearly seven minutes without scoring a field goal. Between the 3:16 mark in the second period to 6:20 left in the third quarter, Eastern Washington did not make a basket.
In that seven-minute window, Sac State made two field goals and two free throws for six points. The Hornets' chances for a comeback dropped significantly after failing to take advantage of the Eagles' scoring drought.
Eastern Washington started to knock down their shots as they outscored Sac State 21-12 in the third quarter, taking a 13 point lead into the final period.
The Hornets played with urgency as they began the fourth quarter and were able to cut the Eagles' lead to three points with seven minutes remaining.
With 4:32 remaining in the game, Friend went to the free throw line two shots away from reaching 1,000 points scored at Sac State. She knocked down both free throws, cementing her place in the record books.
.@hannahfriend32 knocks down both free throws to reach 1,000 points scored as a Hornet.

Eagles lead 62-55 with 3:08 left in the game. @SH_Sports @TheStateHornet @SacStateWBB @sacstate @hornetsports @SacBee_JoeD pic.twitter.com/P2iaZweI0a

— Shaun (@Holkko23) March 1, 2019
Friend needed 15 points coming into Thursday to reach 1,000 points scored at Sac State. She achieved 1,000 overall career points over two weeks ago on Feb. 11 in a loss to Northern Colorado. Friend scored 104 points at Delaware in her freshman season before becoming a Hornet.
"[The accomplishment] is great, I'm really proud of myself," Friend said. "It would've been much better to get the win and then celebrate this. So maybe next time."
Friend became the 14th player in program history to achieve the milestone. She is also the fastest to achieve the feat and is the first player to do so in her first two seasons at Sac State.
RELATED: Sac State women's basketball loses to Northern Colorado
The Hornets were unable to achieve a comeback as the Eagles held them off to secure the nine point win at 71-62.
"At moments I thought we were in the game but at the end we let them get the shots they wanted to take," Friend said. "Our defense came down a little bit.
"We kinda gave up at the end 一 and that can't happen."
Bade had a game-high 23 points on 8-14 from the field (6-10 from three) in 28 minutes of action off the bench.
.@g_baaade had a game-high 23 points on 8-14 from the field (6-10 from three) in 28 minutes. Hear from Bade after the game as she talks with @SH_Sports. pic.twitter.com/iTVy3aBFHk

— Shaun (@Holkko23) March 1, 2019
Friend followed closely behind with 19 points and four rebounds. Junior forward Kennedy Nicholas struggled shooting with only three points but had a team-high 14 rebounds (five offensive) and five blocks.
"We could've done better today," Bade said. "I thought we fought hard in the first half but Eastern Washington was just shooting really well. They were working harder than us, got more loose balls and when it came down to the end, they just wanted it more."
The Eagles were led to the win by senior guard Violet Kapri Morrow, who had a team-high 21 points on 8-16 from the field with four rebounds. Freshman center Bella Cravens added seven points and a game-high 15 rebounds (five offensive).
Sac State head coach Bunky Harkleroad was unavailable for comment following the loss.
"Eastern [Washington] did a great job of knocking down shots and dominating us inside defensively," Harkleroad said via text message.
Sac State has been bit by the injury bug again this season as five players have gone down with ACL injuries. Redshirt freshman guard Skylar Jackson and junior guard Quayonna Harris have each missed most of the season because of their respective injuries.
RELATED: Women's basketball team limps into the final stretch of season
In the past month, the Hornets have lost three more players to ACL injuries including starting point guard, junior Tiara Scott, as she went down with a non-contact injury Feb. 14 at Southern Utah. Freshman guard Sarah Abney and freshman forward Maesyn Rix have also been lost to injury in recent weeks.
Sac State will be honoring lone senior guard Raegan Rohn Saturday as they play their final home game of the season against the University of Idaho Vandals (17-9, 14-3 Big Sky) at the Nest at 2:05 p.m.