The most Instagram-worthy food trends of 2017
(Go to StateHornet.com/TheFoodIssue for more food-related stories)
If there's one thing we all have in common, it's food. We enjoy it, we consume it and sometimes, we're shook by it. Edible creations of whimsical absurdity have captivated the interests of social media users everywhere. After all, if it looks cool on Instagram, isn't that what really matters? 2017 has brought no shortage of ridiculous foods that spark our curiosity, so we've compiled a list of trendy foods that had people lining up to try.
Dragon's Breath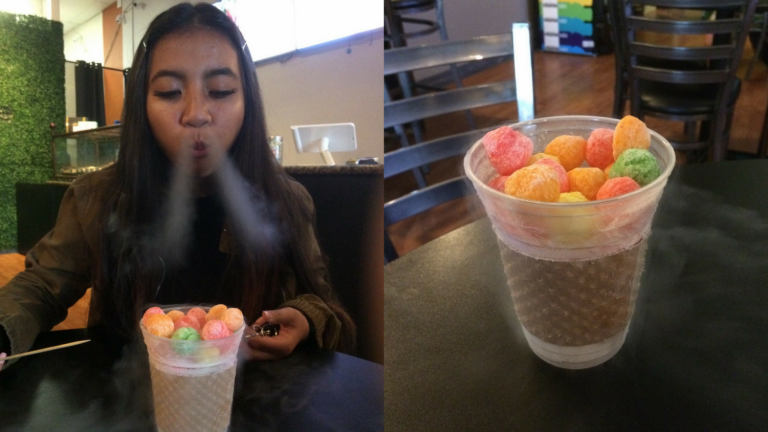 These colorful, fruity cereal puffs are flash-frozen in liquid nitrogen and served in a cup where it produces a thick fog similar to dry ice. As you exhale while consuming this tasty treat, an icy smoke will make its way out of your mouth and nostrils, mimicking a dragon's smokey breath. For added flavor, some places offer different dipping sauces like chocolate, vanilla and strawberry.
While this dessert may look fun, it also comes with a danger warning because of the liquid nitrogen at the bottom of the cup that keeps the puffs cold. Nitrogen is safe to prepare food with, and it will eventually evaporate, but is unsafe for direct consumption. So, make sure there is no liquid on your cereal before you eat it.
Dragon's Breath is available at Bombolone Cafe in Arden Fair Mall or at Vampire Penguin on Stockton Boulevard.
Rainbow unicorn foods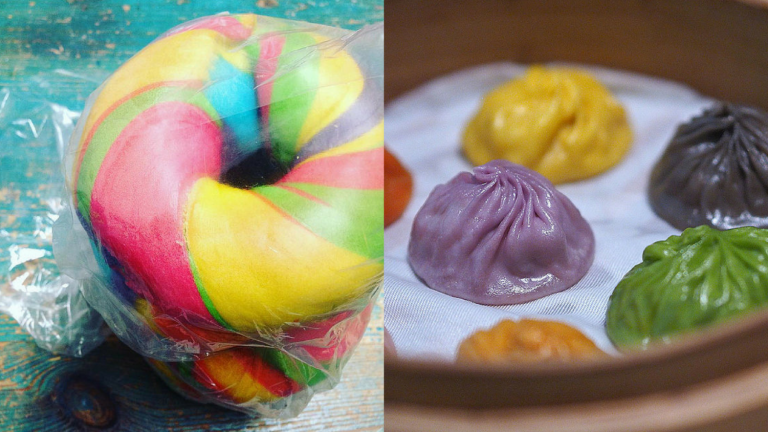 It seems like the era of the unicorn has taken over Instagram feeds with classic foods seen being mixed with the bright, pastel colors of a rainbow. Other toppings may include (but are not limited to) an overwhelming amount of marshmallows, cute sprinkles and edible glitter.
Earlier this year, Starbucks shook the world with it's infamous Unicorn Frappuccino, which skyrocketed the unicorn trend on social media feeds everywhere. The unicorn trend has also made its way into a variety of cuisines including bagels, grilled cheese, ice cream, noodles, cookies and even macaroni and cheese.
Sushi fusions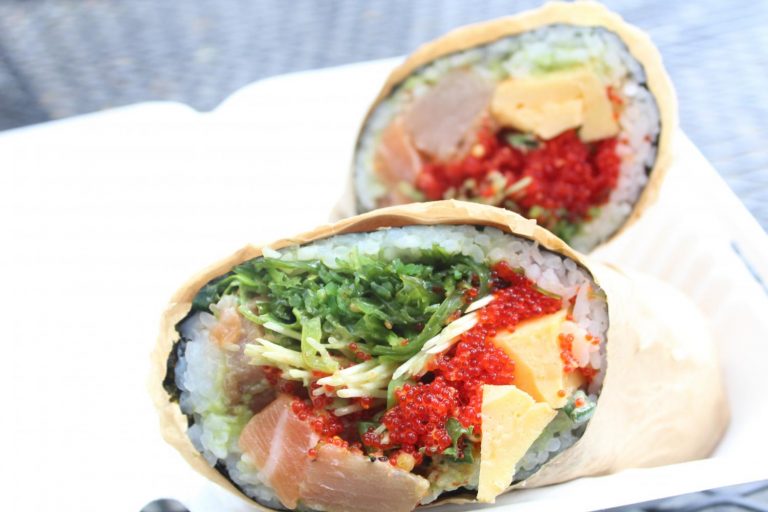 Food mashups aren't a new thing. There have been a number of food fusions, like Tex-Mex for example, that bring two worlds together. Lately, sushi has joined the bandwagon and has taken the form of burgers, burritos and donuts.
Sushi burritos, or "Sushirittos," take on a similar fashion, posing as larger versions of sushi rolls. Seasoned rice is spread over a full sheet of roasted seaweed and rolled with seafood and vegetables inside.
Sushi burgers are created by molding rice into two bun shapes. It's then sandwiched together with your choice of fish, imitation crab meat and assorted vegetables. A sprinkle of sesame seed goes on top for the finishing touch.
Out of all the crazy combinations, sushi donuts take the cake. White rice is molded into a donut shape and topped with traditional sushi ingredients like sashimi, cucumber, avocado and fish roe. The donut sits on a sheet of seaweed paper, making it easier to hold.
Only the sushi burrito can be found in Sacramento at Make Fish Poke & Sushi Burrito on L Street.
Charcoal ice cream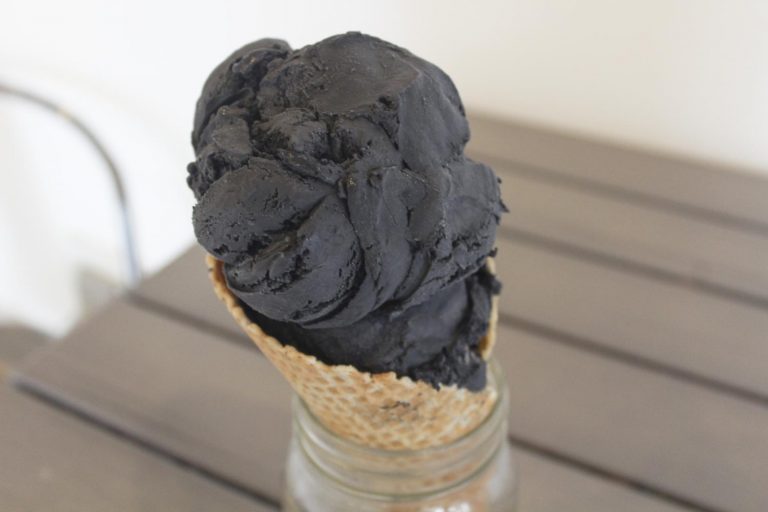 Following the rainbow unicorn trend, charcoal-infused ice cream (dubbed "goth ice cream" by social media users) came as a retaliation to colorful foods everywhere.
The Parlor Ice Cream in Arden-Arcade recently got on board with this trend by serving a limited edition ice cream flavor called "Cosmic Dark Matter." The rich, black color of the dessert comes from activated charcoal, and although it looks intense, the flavor is surprisingly fruity with a hint of lemon.
"Cosmic Dark Matter" can even be served in a black, charcoal-infused sugar cone while supplies last. You can also dress up your ice cream with brightly-colored toppings if that's your thing, but let's face it, it probably isn't. There is one downside to this dessert though: your pearly white teeth will be tainted black.
Freakshakes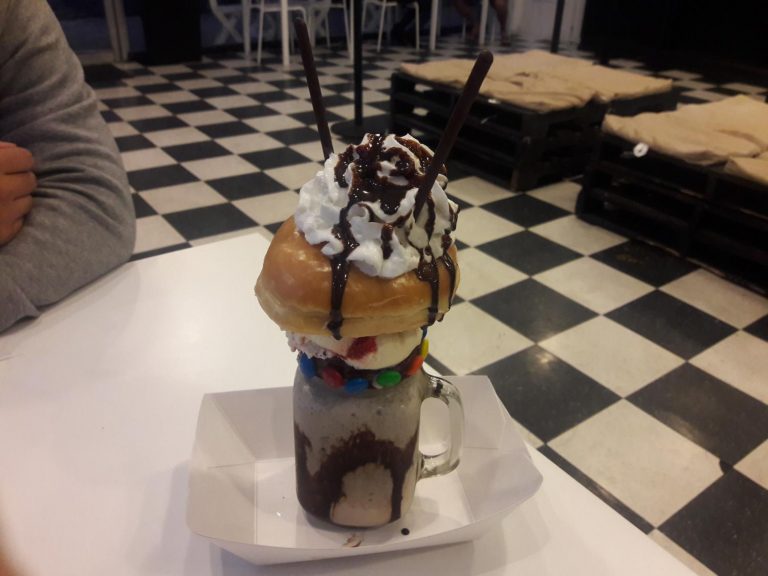 Sometimes you want a cookie, sometimes you want candy, sometimes you want a milkshake and sometimes you want all three at once. Overloaded milkshakes, also known as "Freakshakes," began in Australia, made their way to England and then across the pond to the United States, where everything is done up in ridiculously large proportions.
Here in Sacramento, The Parlor Ice Cream serves up a concoction called "THE WORKS," a milkshake topped with a warm, Nutella-filled donut covered with a generous helping of whipped cream. It also comes with your pick of unlimited toppings and drizzled with your choice of syrups.