Sac State wins WAC title, advances to play Stanford in NCAA Regional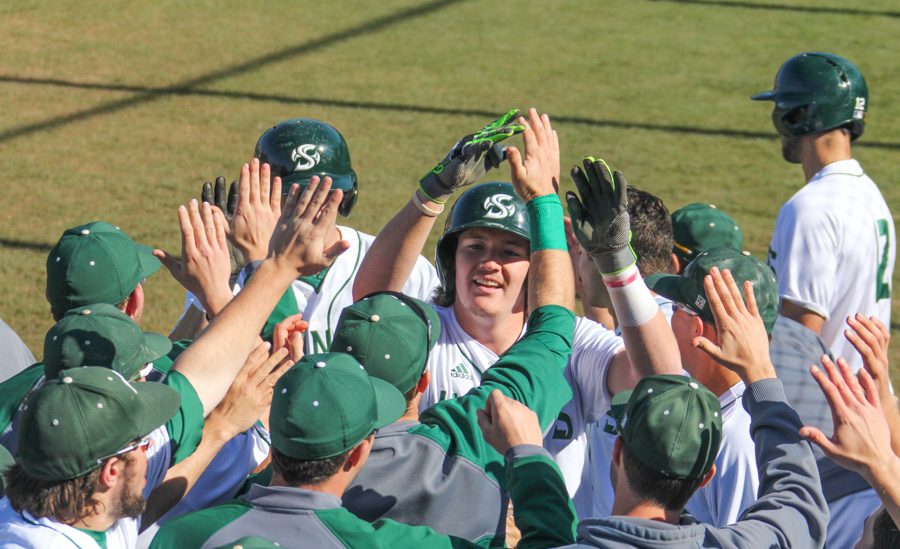 After capturing the Western Athletic Conference championship in the conference tournament at Hohokam Stadium from May 24-27, the Sacramento State baseball team will play Stanford University on Thursday in the first round of the NCAA Regional.  
The 2017 WAC title is the program's first since 2014, crossing the 30-win season threshold for their sixth consecutive season. The conference crown earned in Mesa, Arizona also guaranteed the Hornets (32-27, 16-12 WAC) an automatic qualification to the NCAA Division I Tournament.
"About six weeks ago, we were not in a good spot," Sac State coach Reggie Christiansen told WAC Sports before being drenched in Gatorade following their championship win and eight game winning streak. "This is a great group of kids. Seniors Trent Goodrich and Kody Reynolds carried us down the stretch, and I am really proud of this team. It's unbelievable."
Just two weeks prior to the conference title win, the Hornets had a 24-27 record following three straight losses on May 13. Sac State turned around by earning a victory over San Diego and a three-game sweep of UT Rio Grande Valley — its first home series win since February — to secure a No. 3 seed in the WAC Tournament.
With the top two seeds earning a first round bye, Sac State first played Wednesday against Seattle, where the Hornets won 11-1 in seven innings due to the WAC 10-run mercy rule. Senior pitcher Justin Dillon (5-7, 3.12 ERA) pitched all seven innings, earning the win after giving up only one run on five hits.
The Hornets advanced to play CSU Bakersfield on Thursday, who took two of three against them at home from April 7-9. With Sac State holding only a one-run lead after six innings, a solo home run from senior Kody Reynolds in the seventh inning followed by a three-run rally in the eighth inning earned them a 10-6 win and sent them to the semifinal. Freshman pitcher Parker Brahms (8-3, 3.01 ERA) took the win after five and one-third innings pitched, striking out two batters.
Sac State advanced to play Northern Colorado Friday night, who swept the Hornets in a three game series from March 24-26. The game was scoreless prior to the top of the fourth inning when sophomore right fielder James Outman hit a three run home run to spark a scoring frenzy for a 10-1 victory and a place in the conference championship game. Freshman pitcher Austin Roberts (4-1, 5.11 ERA) earned the win, only giving up one run in six innings pitched, striking out five batters.
The championship final was a rematch with CSU Bakersfield, who won through the loser's bracket to earn a berth in the title game. Since Sac State had yet to lose, the Roadrunners would have to beat them twice in order to earn a conference title.
Despite starting three days prior, Dillon took the mound again for the Hornets. He only gave up one hit in five shutout innings en route to the 5-0 championship victory. Senior pitcher Tanner Olson and junior pitcher Austin Root came out of the bullpen and threw two shutout innings each, with Root earning the save.
Dillon, who threw a no-hitter against Northern Kentucky in his second start of the season, earned tournament MVP honors for his two starts in Mesa. After being a part of the team through the 2014 conference title, Dillon knew what was at stake for him and his teammates through the championship outing.
"I had butterflies the whole game thinking about it," Dillon told WAC Sports regarding the feeling of winning a second conference title. "Coming into it, I felt so confident about our team, the whole time we were imagining it and now it has happened."
Sac State will travel to face Stanford (40-14, 21-9 PAC-12 Conference) in the first round of the NCAA Regional on Thursday at 6 p.m on ESPN3. The Hornets — 13-19 against the Cardinal all-time — have not matched up with Stanford since 2009.
The winner of the double elimination four team regional bracket, which also features Cal State Fullerton and BYU, will advance to the NCAA Super Regional starting June 9.