Sac State baseball sweeps final home series, celebrates Senior Day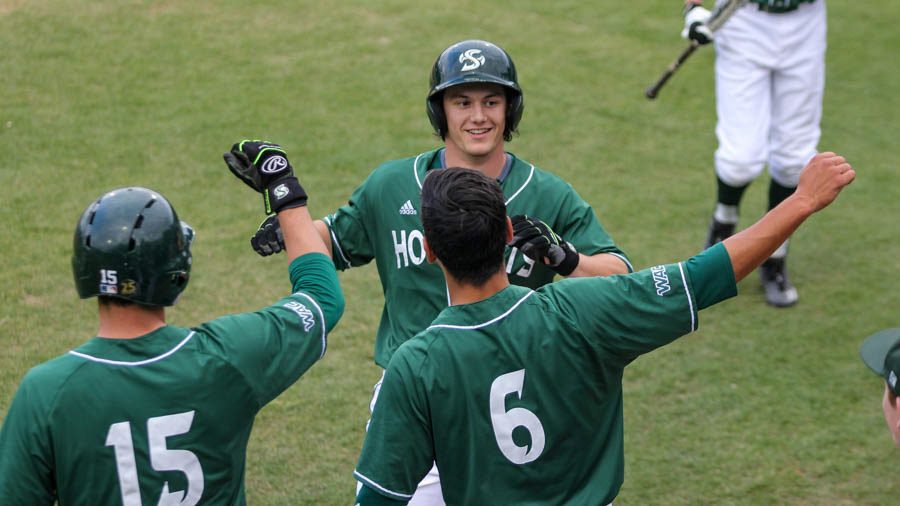 Sacramento State's baseball team beat the UT Rio Grande Valley Vaqueros 8-6 Saturday to complete a three-game sweep in its last home series, the second series sweep of the Hornets season.
Sac State (28-27, 12-12 Western Athletic Conference) locked itself in as the No. 3 seed in next week's Western Athletic Conference Tournament after beating the Vaqueros (16-28, 7-17 WAC) Friday by a score of 13-6 — one night after clinching a berth in the tournament Thursday night by winning 6-4.
Saturday's game was also Senior Day, as nine graduating senior players were recognized after their last game at John Smith Field.
Senior Trent Goodrich, a transfer shortstop who started nearly every game in his time as a Hornet, batted 3-for-5 with two runs scored and an RBI.
"I feel great," Goodrich said. "I've kind of committed to this being the last ride, and the last time I get to be on the field with these guys. I'm trying to enjoy it as much as I can."
Senior right-handed pitcher Chad Perry pitched a perfect ninth inning, earning his second save of the season and finishing his last regular season game with a Hornet record of 89 pitching appearances.
Saturday's game featured four lead changes, as freshman right-handed pitcher Austin Roberts started the game giving up no hits through two and two-thirds innings before eventually surrendering three unearned runs and four runs total.
Sac State outscored the Vaqueros 27-16 over the series, and coach Reggie Christiansen said after Saturday's game he was "proud of the way we've been swinging bats this weekend and excited for next week."
"We didn't have a lot of winning streaks this year and to be going into the tournament winning four in a row is always good," Christiansen said.
Fifth-year senior Justin Dillon started Thursday against the Vaqueros, earning a no-decision after pitching six innings with seven strikeouts and one earned run.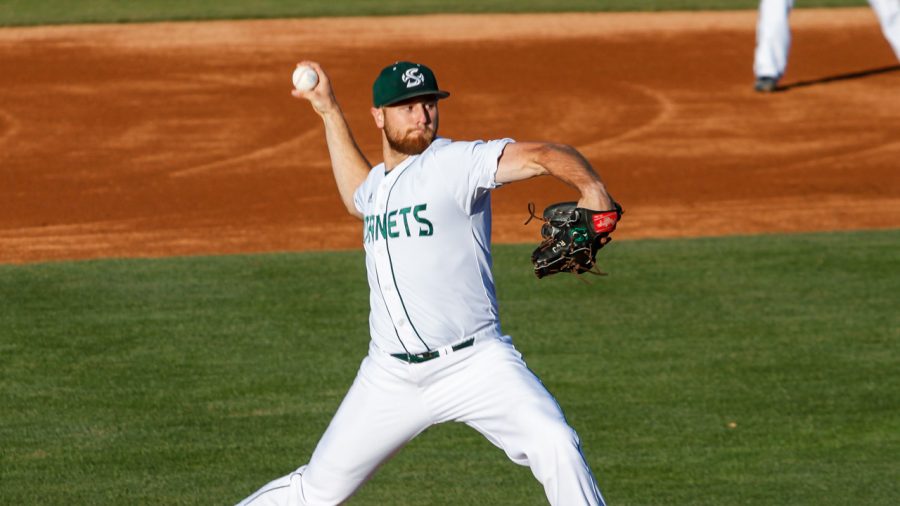 Dillon said Thursday didn't feel different from any of his other starts, despite knowing it was his last at John Smith Field. However, he said his emotions finally got to him when Christiansen gave him a call Thursday night.
"We had a talk about how happy he was and how grateful we are to have had this relationship and be together for five years," Dillon said. "That's when it kind of hit me."
Christiansen said it would be hard to lose Dillon, and sounded somber after the game when talking about the ceremony for the leaving players.
"Senior Day is different every year but it's certainly tough to see some of those guys go," he said.
Team preps for WAC Tournament
Sac State played a three-game series on the road at Seattle University (19-33-1, 8-16 WAC) in April, winning the series 2-1 and outscoring the Redhawks 16-9 overall.
Dillon and Christiansen, both with the team in 2014 — the last time Sac State won the WAC Tournament — said that winning that series would have no bearing in the tournament.
Dillon, scheduled starter for Wednesday's WAC Tournament opener against Seattle University in Mesa, Arizona, said he has seen similarities between the 2014 team and this year's team.
"The 2014 team was a bunch of bulldogs — we were always fighting," Dillon said. "This team has that potential. In tough situations when it really matters, you see that come out of us. With tougher teams in this tournament, I think it will bring that mentality out."
Christiansen said gameplay differences exist, pointing out that 2014's roster didn't strike out as much, but wasn't as good defensively, specifically in the infield.
He thinks the Hornets have a chance to end their season the same way as the 2014 team did — with a WAC championship.
"The 2014 team was really special, and I think this team has the potential to do that as well," Christiansen said.