The WELL: six years of eco-friendliness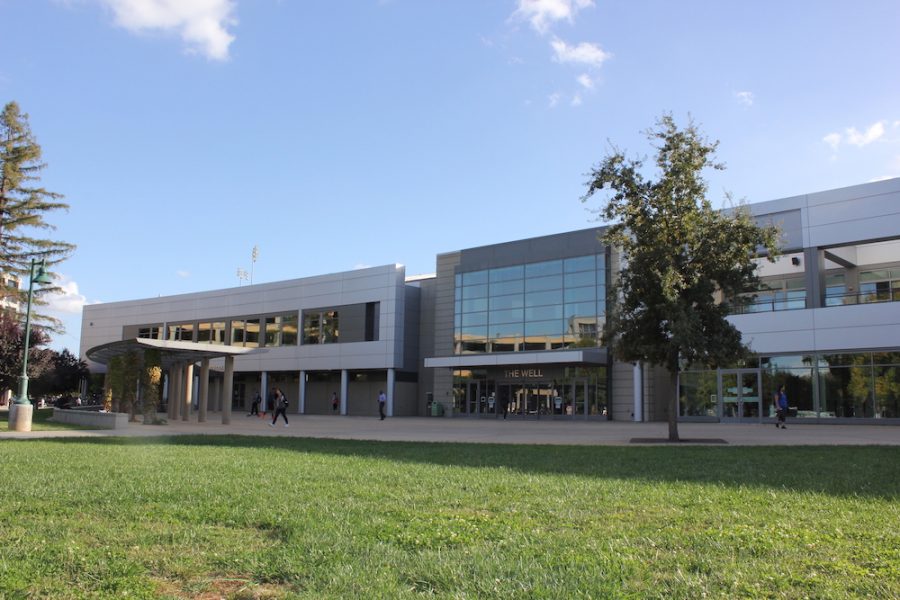 Sacramento State has won awards and recognition for its accomplishments in sustainability and being a green campus, even taking the initiative further with the construction of the LEED gold certified The WELL.
Currently, The WELL is one of the most eco-friendly structures on campus, as evidenced by the materials used to build the space, which included sunflower seeds, glass bottles and "Big Ass Fans".
According to John Davis, the architect who designed The WELL, the building was constructed of insulating glass windows using aluminum metal panels, while the curving front portions were made with thin shell panels with high insulation.
"Exterior and interior materials are very durable and long lasting," Davis said. "We were actually visiting the WELL last week, and six years later, it still looks brand new. Very little wear, damage or dirtiness."
In addition, millions of sunflower seeds were mixed with agricultural waste to assemble the walls. The indoor running track was made out of recycled synthetic rubber, and the lobby's terrazzo floor was created from recycled glass bottles.
Freshman mechanical engineering major Alexander Ly, who plays basketball at The WELL at least four times a week, said he did not know that the building's walls were made out of sunflower seeds.
"I think recycling (found in building materials) is really good for the environment and it seems like The WELL is really beneficial to it," Ly said.
Windows and skylights also allow enough light inside the building during the day without having to use any electrical lights, which helps save energy and reduces utility costs.
"The inflating skylights are unique because they are plastic pillows that are inflated with air—super light weight (and) energy efficient, providing daylight and shading at (a) much lower cost than traditional glass walls or skylights," Davis said.

The "Big Ass Fans"— named after the company that created them — are located on the second floor cardio room by the elliptical machines, treadmills and bicycles to help keep students cool while they are working out. These fans have blades created from aluminum and the motor is created from steel and cast iron.
Josh Kegley, spokesman for the Big Ass Fan Company, said bigger fans can keep air conditioning costs low by producing more airflow using less energy.
"The area in which you can feel the air flow in order to produce that same level from one Big Ass Fan, you need about 28 smaller fans," Kegley said. "So by replacing that need, it can result in up to 30 percent of energy savings on heating and air conditioning use."
Leslie Davis, executive director of The WELL, was employed at Sac State during the time of construction and said that The WELL is one of the most sustainable sites on campus.
"By using recycled or sustainable materials, The WELL helps reduce energy consumption and waste emitted into the atmosphere," Davis said. "It also improves indoor air quality and water efficiency."
To architect John Davis, The WELL's eco-friendly, sustainable foundation serves more ways and people than just the environment.
"We believe that (The WELL) is a living building that exudes its positive energy and its sustainable qualities as it adds to, rather than takes away from, each student's learning experiences at Sacramento State," Davis said.