Basketball builds from overseas trip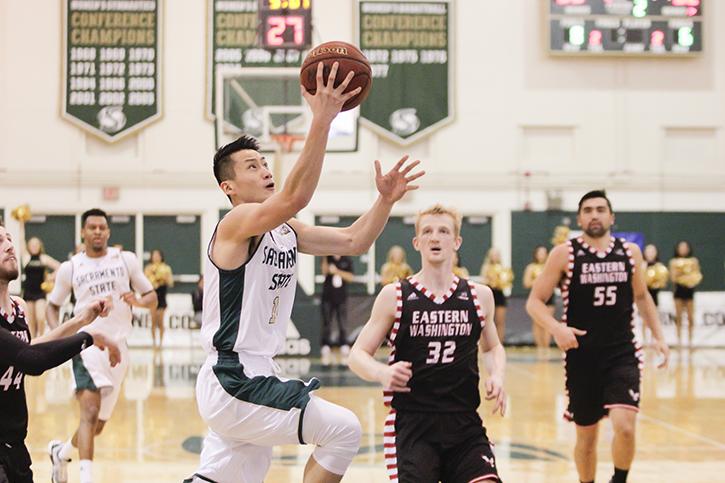 While many Sacramento State students took time during the summer to unwind from the nine-month grind of classes and exams, it was business as usual for the men's basketball team.
This summer, however, business took them overseas to Taiwan, where the team participated in the 38th annual William Jones Cup against national and professional teams from across Asia. The Hornets were the only collegiate team – and the only team from America – to participate in the tournament, which went from July 22 to July 31.
Despite the difference in experience, Sac State went 3-5 during the tournament, with the only major loss coming against a Philippines team that featured four former NBA players. Head coach Brian Katz, who is entering his ninth season with the team, had nothing but positive things to say about the overseas trip in Taipei, Taiwan.
"Number one, getting to a country where they don't speak the language, and getting to learn another culture where they have tremendous work ethic and humility in Taiwan, we were impressed with their graciousness in everything," Katz said. "It was a great learning experience."
However, the trip did have its share of drama. As the team arrived at the San Francisco International Airport on July 21, they discovered that their flight was cancelled, and ended up leaving the following morning. After a 12-hour flight, Sac State only had nine and a half hours to rest and prepare for their opening game of the tournament, which was moved from midnight PDT to 6 a.m. PDT on July 23.
Despite having to acclimate to a 15-hour time change, Sac State fought hard and won the opening game against India 62-60. The following game against Korea (July 24) didn't go so well, as they lost 63-48, a game that was fairly close considering they tipped off against India only 17 hours earlier.
Between July 23 and July 28, Sac State played six consecutive games in six days, which doesn't happen at all in the collegiate game. During the streak, the team went 2-4, with wins over the aforementioned India and Chinese Taipei B.
Junior forward Justin Strings talked about how the difference in competition helped him as an individual, as well as his teammates.
"It was nice to have the challenge of performing against higher level competition," Strings said. "We're playing against people who played professionally or nationally, so it obviously helps to gauge where we're at performance wise."
After getting a well-deserved day of rest on July 29, Sac State lost to the Chinese Taipei A team before finishing off the tournament in winning fashion, dominating the Japan national team 71-51 on July 31. However, the trip was about more than just basketball as the team took time to take in the sights and learn more about the culture of Taiwan. One person that was able to help the team acclimate was Jeff Wu, a sophomore guard from Taiwan.
"That was my first time playing basketball back home since middle school," Wu said. "Getting to see the fans and how they cheered us on, it was amazing."
For the Hornets, this tournament will serve as a good bonding experience for the upcoming season. All NCAA Division I teams during the summer are only allowed two hours a week for team practices; Sac State was granted ten extra practices to prepare for the overseas trip, and also had the William Jones Cup to prepare.
The tournament also served as a crash course for the team's five freshmen: Chibueze Jacobs, George Dancer (who did not play due to being medically redshirted for the upcoming season, but was with the team), Izayah Mauriohooho-Le'afa, Joshua Patton and Matt Battaglia. Before even stepping foot on a collegiate basketball court, the freshmen have faced off against professional and international competition much fiercer than any college opponents they will face.
Senior guard and co-team captain Trevis Jackson believes that the tournament and the extra time they had can only help in the long run.
"I feel as if those 18 practices allowed us to bond and build that chemistry from an early standpoint," Jackson said. "It helps us to paint the bigger picture. Getting those practices in only helps contribute to that."