Women's soccer not intimidated by underestimated preseason poll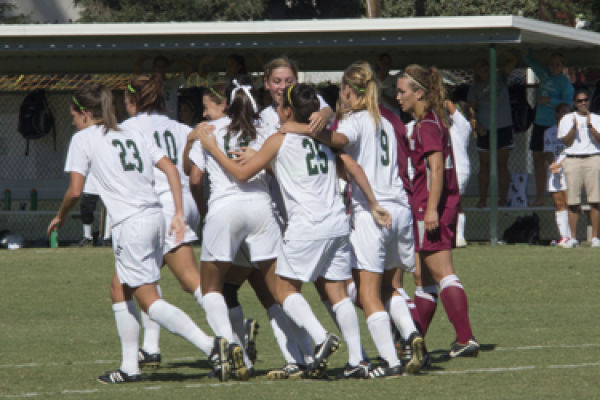 Sacramento State women's soccer team will relish the underdog role this season as they were picked to finish seventh this season in the Big Sky Conference. The Hornets will open their season Friday against Causeway Cup rivals, the UC Davis Aggies.
Sac State is looking to rebound after a disappointing end to last season when the team fell a couple games short of making the Big Sky Tournament.
"We like the role of being the underdog this season," said women's soccer head coach Randy Dedini. "We are looking forward to proving coaches wrong all season long."
The Hornets are returning a deep team this season as they will be led by senior midfielder Raylene Larot and junior forward Shelby Salvacion. The duo spent most of their summer training with the Philippine Women's National Soccer team, attending training camps and traveling with the team.
Junior goalkeeper Kimberly Mata could tell the difference in how both Larot and Salvacion play their positions now that they have spent their summer with a higher-level team.
"It is awesome to have a chance to play with them (Larot and Salvacion) because it has shown how much they've grown since last summer," Mata said. "They have shown us different styles to play the game and different viewpoints."
Larot said she wanted to train with the Philippine National Team because she wanted to come back prepared to the Hornets' summer training camp.
"There is no more excuses for us," Larot said. " By the end of the season there should be no reason why we don't accomplish what we set out at the beginning of the season."
Sac State finished last season in seventh place in the BSC, with a conference record of 3-4-2. Although it was not the finish the team wanted last season, the team is not only confident that they will be ready for the season opener, but that they will make a run in conference.
Dedini said this season's team is very hungry to get back to the Big Sky Tournament and NCAA tournament this year.
Although the team lost seven players last season, a majority of the roster is returning and the veterans are hungrier than ever for the win.
A part of last season's incoming freshman class, sophomore forward and defender Kassidy Kellogg and redshirt freshman midfielder Jennifer Lum will be looked at to make a huge impact in their positions.
"Kellogg is making the transition from defender to forward and she looks like she will be a great scorer this season," Dedini said. "Lum along with Larot look to be our top midfielders for us this season."
After former senior goalkeeper, Shelby Tomasello's departure, the team will look to move forward with Mata.
"We feel like we are not losing much after Shelby left last season because we have two great goalkeepers for us this season," Dedini said.
Mata said the competition at goalie between redshirt freshman Hannah Gendron was good because both were able to push each other to better themselves for this season.
Although the potential of the Hornets young team is high, Dedini said he wants to keep everything in perspective.
"We need to continue to get better every day as we fine tune some things to fit our team," Dedini said.
Seven out of the 11 starters on this season's team played very little or not at all last season.
"Everyone is stepping up," Larot said. "Even I am stepping up because everyone around me is pushing me. We will be ready for the start of this season."
The Hornets will head to UC Davis to take the field for their first regular season game Friday at 5 p.m. on Aggie Soccer Field. 
Clifton Jones can be reached on twitter @SH_Sports