Hornet's preseason ends with a WPSL win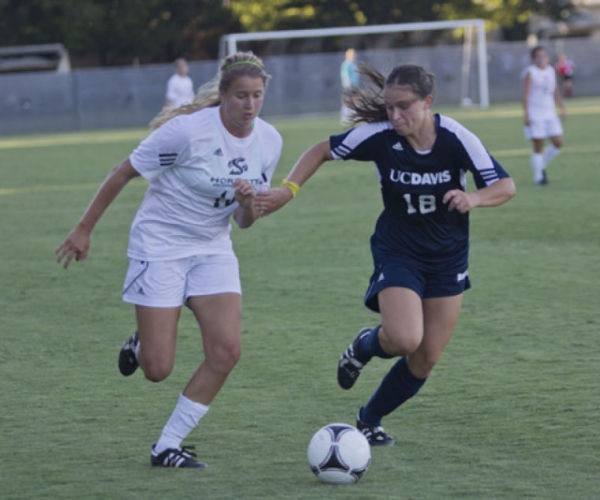 Led by goals from senior defender Jordyn Rolling and sophomore Kassidy Kellogg, the Hornets shut out their Women's Premiere Soccer League opponent.
The 2013 Sacramento State women's soccer team is back on the field for preseason as its second exhibition ended in a 2-0 win against the Sacramento Storm Sunday at Hornet field.
Sac State and the Storm were stagnant for most of the first half with the first shot coming in the 31st minute of the first half. After that both teams were able to get both offenses in motion, with Storm having the 6-4 shot advantage in the first half.
Junior goalkeeper Kimberly Mata and redshirt freshman goalkeeper Hannah Gendron both stood strong in the net for the Hornets as they blanked the Storm, blocking four shots together. Sac State found the net in the 41st minute of the game after Rolling finished on an assist from senior defender Melissa Gomez.
The Hornets had chances to expand its lead early on in the second half, but were uanable to do so after the Storm's goalie deflected the ball off the goal post. However, it would not stop the Hornets from continuing its pressure until they scored their final goal with less than four minutes left in the game.
The Hornets were able to score off a corner kick by sophomore forward Josie Jogwe to Kellogg as she headed the ball into the back of the net.
Though the Storm had an 11-6 shot advantage, the team had only four of those shots on target.
With their final preseason exhibition game in the books, Sac State will prepare for the first game of the season against Causeway Cup rival UC Davis on Friday Aug. 23 at 5 p.m.
Clifton Jones can be reached on twitter @SH_Sports