Pumpkin cinnamon rolls make for yummy autumnal treats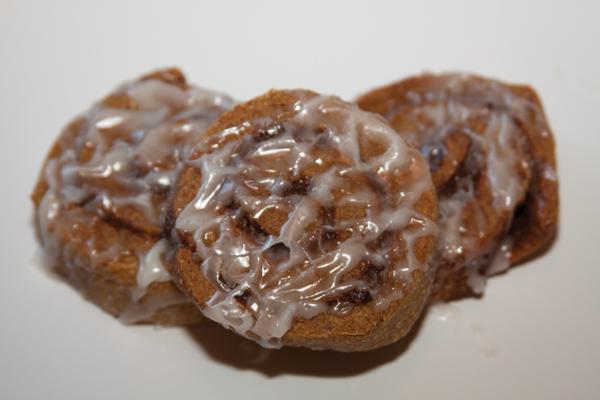 We can probably all agree that cinnamon rolls are a gift to humanity.
But have you ever had a cinnamon roll that tasted like pumpkin? On one of those cold, rainy days a few weeks ago I developed a craving for cinnamon rolls and ended up finding a great recipe online.
While I was setting out the ingredients, though, I noticed the untouched can of pumpkin staring at me, begging to be used. So, being the innovative baker I am, I included it into my cinnamon roll recipe, and was pleasantly surprised.
At this time of the year, pumpkins seem to be impossible to get away from, especially after the Halloween season is over and those pumpkins on your porch are just rotting away. Might as well put those suckers to use and make something delicious and festive everyone will enjoy.
If you are too lazy to painstakingly carve out the meat of the pumpkin, cook it and puree it yourself, then just do what I did by quickly hopping to a grocery story store and grabbing a can of pureed pumpkin. If you are up for a challenge, a pumpkin puree recipe can be found under "Baked Pumpkin Puree Recipe" at About.com.
Pumpkin Cinnamon Rolls
Ingredients:
2 tablespoon coconut oil
1/3 cup almond milk
1/3 cup pumpkin puree
1/4 cup sugar
1 tablespoon milled flax + 3 tablespoons of warm water
1 (2 ¼ teaspoons) package dry yeast
2 cups all-purpose flour
1 teaspoon cinnamon
1/2 teaspoon salt
1/2 teaspoon ground nutmeg
1/4 teaspoon allspice
1/4 teaspoon ground cloves
1/8 teaspoon ground ginger
Filling:
1/4 cup brown sugar
2 tablespoon tofu (or softened butter/margarine)
2 teaspoon cinnamon
Glaze:
1 cup powdered sugar
1 tablespoon almond milk
1/4 teaspoon vanilla extract
In a small pan, heat the coconut oil and almond milk over low-medium heat until the coconut oil melts. Remove from heat and then sprinkle in the yeast and stir until the yeast dissolves. Let the mixture sit for five minutes. It should look creamy.
While the mixture above sits, combine the pumpkin and milled flax mixture. In another bowl whisk together the flour, sugar, salt, cloves, cinnamon, ginger, nutmeg and allspice. Add this to the pumpkin and then pour in the yeast mixture. The recipe calls for all-purpose flour but I always use whole wheat flour. Either one will work just fine.
Now for the fun part. Place your hands in the dough and knead it until all the flaky, dry crumbles have become one big ball of moist dough. You may have to add a bit of water, but make sure not to add too much – you do not want the dough too sticky. Continue to knead for about 10 minutes.
After the kneading is done, cover the dough with a dishcloth or plastic wrap and set in a warm area to rise for 1 hour and 15 minutes. While the dough is rising, mix together the tofu (or softened butter or margarine), brown sugar, and cinnamon in a small bowl.
Remove the dough and knead it on a lightly floured surface. Roll it out with a rolling pin and spread the brown sugar mixture on top, keeping an inch of the edges bare. Carefully roll the dough into a log and then slice the dough into half-inch slices. Place in a greased 9-inch casserole dish. Cover with the dishcloth or plastic wrap and let the unbaked rolls rise for another 45 minutes.
Preheat oven to 350 degrees. Bake rolls for 25 minutes. Let them cool while you make the glaze.
For the glaze, mix together the powdered sugar, almond milk and vanilla extract. Add more powdered sugar if the glaze seems too runny. If you have got cookie decorators, great – as for me, I just took a plastic Ziploc bag, put the glaze in, and snipped off the edges to make lovely little swirls over the top of these rolls.
This recipe is more about waiting than anything. Making dough is an art; all you need is the patience, knowing that something delicious and delightful can become of it. Besides, these pumpkin cinnamon rolls were quite the treat, and worth waiting for the dough to rise. These rolls are the perfect amount of sweet – and the combination of pumpkin, cinnamon and brown sugar inside feels like Thanksgiving in a bite.
They will surely have your friends begging for more, even when pumpkin season is over.
Janice Daniels can be reached at [email protected]