Rush Week 2011 aims to expand membership of sororities and fraternities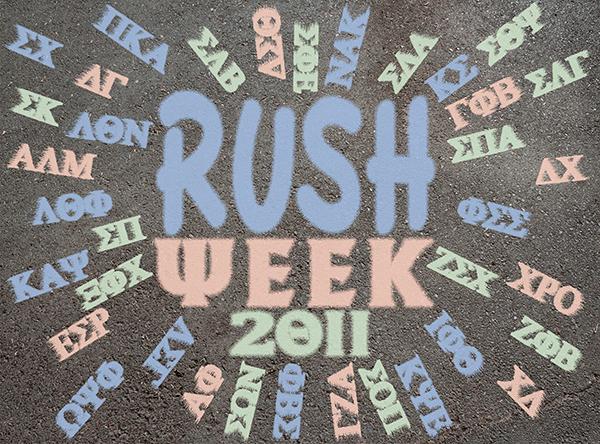 The first three weeks of the fall semester is hectic for the sororities and fraternities of Sacramento State, with many reliant on these critical weeks to replace their members who have graduated.
Rush Week is a time in which Greek-letter organizations take over the Library Quad, using the foot traffic of the campus's central hub to promote and inform students of the opportunities within Sac State's Greek community.
"My guess is since our first organization was created on campus, in 1950 or so, we have had groups that have done the recruiting process to bring in new members," said Melissa Norrbom, Sac State's Greek life specialist.
Sac State has remained supportive of rush week over the years, allowing organizations to set up booths along the Library Quad's walkways, place large signs in the Quad's grass and use chalk to write in Greek lettering on the Quad's pavement.
"We want new students to identify and meet members of the organizations and discover what the opportunities are," Norrbom said. "Besides having it be a way for students to see if interest in Greek life is there, it's a great way to start off the semester. There is just so much positive energy."
For some Greek-letter organizations, Rush Week in the fall semester is the best time to recruit, given the influx of incoming freshman and transfer students.
"Because of the nature of college life, fraternities and sororities have limited time with each of their members," said fraternity member Ricky Horn, junior business major. "Having a few weeks to refill rosters with transfer students or freshman is important. It takes time to find like-minded people, who really want to stick with it until they graduate."
Some fraternities and sororities choose not to participate in rush week, instead opting to pursue additional membership through alternative methods.
"Instead of the traditional recruitment, fraternities and sororities will sometimes hold specific meetings or events to recruit students," Norrbom said. "Some only open recruitment during the spring semester; others will recruit throughout the entire year."
Not all students are receptive of the recruiting period of rush week, finding certain aspects of Greek life unappealing.
"For one reason or another, I have never paid much attention to the Greek life at Sac State," said Stephanie Borja, senior speech pathology and audiology major. "Part of it may be their required membership fees."
According to the Sac State Panhellenic Sorority Council, chapter dues within Greek communities can range from $300 to $400 per semester. However, it is noted that fees differ depending on the organization – each having its own budget.
Apart from the fees, Borja also said she tries to avoid the Library Quad during Rush Week, based on the overly crowded paths and the "in-your-face" recruiting techniques that the Greek organizations employ.
Borja added that if she wished to join a sorority, she would simply approach it on her own time, not when she is trying to make it on time to class.
"I don't think it's about pressuring students to join fraternities or sororities," said sorority member Diane Casper, senior sociology and social work double-major. "Everyone's recruitment process is different, but it seems like most just want to educate students on Greek life."
An observation Borja made on her trips through the Library Quad on Rush Week is that recruiters seem to hand out information pamphlets only to certain people, and the Greek-letter organizations are particularly selective about who they choose to recruit.
"Because every fraternity is so different, it is encouraged to sign up for whatever works with your personality," Horn said. "Some are going to bring in students who are interested in sports. Others are going to be based on something like community service. Ultimately, it's up to the student to decide which fraternity fits them best."
There are  15 sororities and 19 fraternities on campus, which are split into different councils based on whether the fellowship is national or local.
Because of a city ordinance, none of the fraternities or sororities has housing on or near campus, traditionally referred to as a "Greek Row."
Despite attempts to change it, Sac State still remains without a Greek Row, which is thought to be harmful to the influence of Greek life on campus.
"It really hurts the Greek community at Sac State to not have the option for housing – especially because we are a commuter school," said Joe Schonviesner, junior economics major.
Sidney Parker, senior mechanical engineering major, said Sac State's Greek life remains just as strong without the existence of housing for fraternities and sororities.
"Alpha Phi Omega gets along fine without housing, having just over 100 members," Parker said. "While it makes it more difficult, it's not something that is essential. There is always going to be an available venue for events."
Because the Greek community of Sac State cannot rely on having physical locations on campus to bring new students for recruitment, rush week is an opportunity of the organizations to make their presence on campus known.
Rush Week will continue weekdays until Sept. 16. Afterward, many organizations will hold follow-up meetings for the new recruits to receive official membership status.
Councils of Sac State's fraternities and sororities
Interfraternity Council: "Sharing a primary loyalty to the University and seeking to close mutual aid and spirit of good will among fraternities."
National Pan-Hellenic Council: "To unify the divine nine black fraternities and sororities."
Panhellenic Council: "We, as members of women's fraternities, stand for good scholarship, for guarding of good health, for maintenance of fine standards, and for serving, to the best of our ability, our college community. Cooperation for furthering fraternity life, in harmony with its best possibilities, is the ideal that shall guide our fraternity activities."
United Sorority Fraternity Council: "To assist culturally diverse sororities and fraternities in the achievement of their noble purposes and to provide a forum for the regulation of chapter interactions. The USFC shall act as liaison between our member chapters and the university administration by establishing a communicative network for all culturally diverse sororities and fraternities to promote unity among the organizations."
Brett Johnson can be reached at [email protected]