No. 21 Wildcats get stung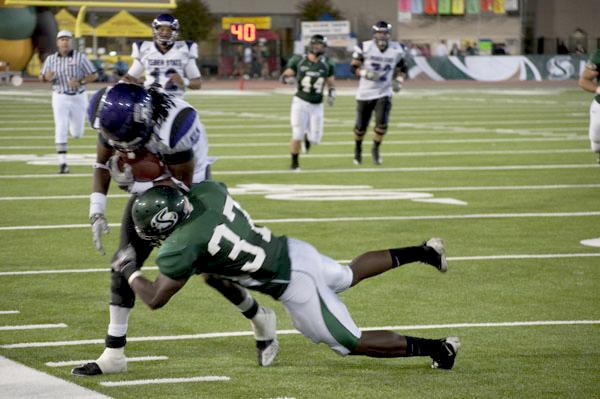 The Sacramento State football team beat conference-rival Weber State University on Saturday at Hornet Stadium 24-17, putting the Hornets in a first-place tie with Eastern Washington University atop the Big Sky Conference standings.
The Hornets now have a 2-1 overall record and a 1-0 conference record for the season.
The Wildcats were No. 21 in the nation in The Sports Network's Football Championship Subdivision rankings. The Hornets' last win over Weber State came in 2006 when Sac State won 24-21.
"We've never beat them since I've been here," said head coach Marshall Sperbeck. "They've had a great program, they've been a playoff team and you've got to beat those kind of teams if you want to have success. It was a good starting point for us tonight."
Running back Bryan Hilliard ran from four yards out for a touchdown with 3:23 remaining, which ended up being the game-winning touchdown.
Hilliard had his second consecutive 100-yard rushing game with 136 yards on 32 carries and a touchdown.
Hilliard made an impact from the first drive – 61 of his 136 rushing yards came in the first quarter alone.
"Everybody was playing as one and we were all playing as a whole," Hilliard said. "We just have to keep at it. We knew they were a good team and can put up points. So we just had to do our job and put up points as well."
The Hornets found a rhythm in the passing game during second quarter, as quarterback Jeff Fleming threw a 16-yard touchdown pass to wide receiver Morris Norrise. Fleming's first touchdown of the game put the Hornets up 7-0.
This was Fleming's second start after transferring from New Mexico State University on Aug. 30. He said the results and his emotions were the complete opposite after transferring.
"I didn't win much before and coming here and winning just feels so great," Fleming said. "It's feels like a real football team again and I'm just so excited. I know it was a big time deal for everybody."
Fleming went 13 for 22 passing and threw for two touchdowns. His second touchdown pass came later in the second quarter – a 10-yarder to wide receiver Brett Willis.
"I thought (Fleming) had one heck of a game," Sperbeck said. "He keeps getting better every game. He's very pleased with how well he's doing so far."
Wide receiver Chase Deadder led the Hornets' receivers with four catches for 83 yards.
On the defensive side, safety Kyle Monson is no stranger to making big plays. After returning a punt for a 70-yard touchdown against Stanford in the first game of the season, he intercepted Weber State's Cameron Higgins for the only interception in the game.
Even the offense knew the defense was capable of stopping a FCS-ranked team.
"We believed in our defense. Our defense showed us in practice that they can stop the pass," Hilliard said. "I had a lot of faith in them."
The defense held the Wildcats to 17 points and Sperbeck said stopping an offense that scored 88 points in its first two games was impressive.
"They've been a very explosive offense. So to keep that offense in check – hat goes off to the defensive staff and defensive players for a great effort tonight," Sperbeck said after the game."
The Hornets will travel to the University of Montana on Saturday.
"We keep telling our kids, "If you keep playing hard, long enough, good things will turn your way,'" Sperbeck said. "When you do things well, you need to be rewarded and complimented."
Marshall Hampson can be reached at [email protected]