Mourning family, friends hold candlelight vigil for late Tyre Nichols
A remembrance of life and a look to the future
Two friends sat in a car, taking a drive near the Delta to Clarksburg like they have many times before. Country music blared on the radio as they looked for a prime field or river to take pictures of.
The driver, Sac State alumna Amanda Paxton, saw her friend, Tyre Nichols, cast her a curious look. She questioned this look as he rolled down the passenger's side window while she drove down Levee Road. 
Paxton watched Nichols get out of his seat and sit on the edge of the window while he laughed and sang.
This is Paxton's favorite memory of the late Nichols.
"I keep saying that he was light because that's how he made you feel," Paxton said. "He walked in the room and you smiled."
Years after the two friends went on that drive, over 100 people huddled together, braving the cold at Regency Skatepark in North Natomas Monday evening to pay homage to Nichols and celebrate memories, like Paxton's. 
Surrounded by candlelight, the group was attending a vigil held in honor of the 29-year-old, who died on Jan. 10, after being beaten by police in Memphis, Tennessee.
"He loved everyone and everyone loved him," Nichols' uncle Johnie Honeycutt said. "That was just who he was as a person."
Nichols' death gained nationwide attention and prompted protests regarding police brutality and violence against Black men.
Attendees of the vigil lit candles and, one by one, members of the crowd walked up to the podium, telling stories of Nichols.
Story continues below photo.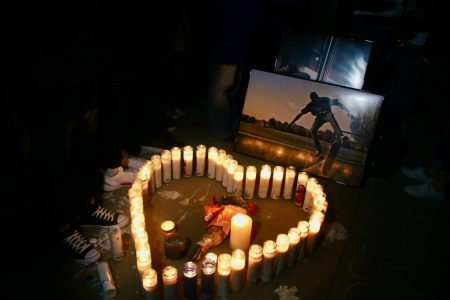 Nichols was described as somebody who was funny, always smiled and loved to skateboard. Despite the somber tone of the event, there was the occasional laugh after a story was told.
Honeycutt said Nichols was a kind person and a good kid growing up, adding Nichols taught him life lessons, including how to be more positive.
Paxton said the vigil was one of the most comforting things to come from Tyre's death. 
"He enjoyed life," Paxton said. "He enjoyed people; he enjoyed the relationships he had with people. He was just happy to be here — happy to be alive."
Honeycutt said he was thankful for the community outreach and said he believed Nichols' death will spur larger legislative change. 
"As far as the community, a lot of people [in charge of police] are starting to become better just from this tragedy," Honeycutt said. "I think the law is going to be better. Times have changed."
Honeycutt said he hopes to see the officers involved convicted of Nichols' death. 
"
Everyone knows his name. I just wish it didn't have to be this way.
— Johnie Honeycutt
Shani Melinda Drake, a member of the IAmSAC Foundation, said she believed there is progressive change to come.
"You can tell that [Memphis Police] were not following protocol and procedures," Drake said. "Once we have those specifics, we're gonna make sure that we really incite policy and legislative change around those actions from those officers."
Drake added that police brutality, especially in the instance of Nichols' death, is not solely a matter of race.
"People always want to believe that it's always Black people against police — people of color against police," Drake said. "It's not that. It's corrupt law enforcement."
Paxton said she hopes to see the creation of "Tyre's Law," a bill which would make the failure to intervene in police brutality a prison sentence nationwide. 
Paxton said the media coverage, while invasive and stressful at times, has also been a blessing that allowed the story to spread further. 
"Everyone knows his name," Honeycutt said. "I just wish it didn't have to be this way."