Sac State baseball look to relocate winning ways after losing four straight
Hornets now sit at 8-5 after 7-0 start
After jumping out to a 7-0 start in the 2022 season and being ranked as high as #20 in the nation according to Baseball America, Sacramento State baseball has had things go sideways on them. 
The Hornets were off to their best start in Division I history before they skidded mightily, losing five of their six games since their national ranking, including four straight losses.
"We're not very good right now, that's what my thoughts are, we didn't pitch very good, obviously didn't swing the bats very good, and certainly played really bad defense," Sac State manager Reggie Christiansen said
This came after the Hornets' most recent loss, an 8-2 home defeat to Saint Mary's.
Sac State shook up college baseball when they swept then-ranked #6 Long Beach State on the road, putting them in several national rankings. The moment felt like a crescendo for the program that has consistently put up successful seasons under Christiansen, including winning the Western Athletic Conference three times, most recently in 2019.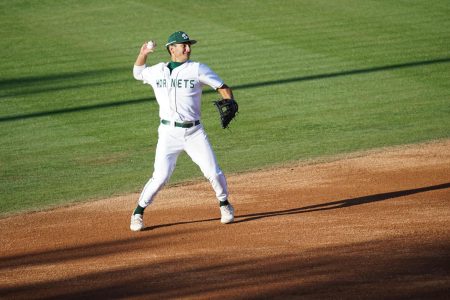 Over the Hornets' first seven games of the season, Sac State averaged 6 runs per game, in the last six games down to just 4.8 runs, including a 21-run on-pour of Houston Baptist in the midst of the Sac State skid.
"Offensively we need to just come together as a team, stick to one plan and go out there and compete," sophomore shortstop Jorge Bojorquez said. Bojorquezleads the team with 16 hits.
At their core, the Hornets feature a very powerful and patient offense, early-season standouts include Cesar Valero who has already clubbed six homers in 2022, and senior infielder Nick Iwasa who has drawn 10 walks in just 11 games.
In the Hornet's first 13 games they've hit 35 extra-base hits while holding opponents to just 25, they've also been walked 63 times this season, while Hornet pitching has walked just 45.
While those numbers are great for Sac State, it's not the full story. The Hornets are great at working counts and hitting for power but they've stolen just three bases all year and allowed thirteen. 
Another troubling statistic for Sac State is the strikeouts. Hornet hitters have struck out 106 times thus far in the year and opponents have struck out 86 times against Sac State.
"We're trying not to strike out, obviously some guys are going through some tough stretches, hopefully, we can get it fixed this weekend," Christiansen said. 
Another issue for Sac State recently has been their defense; they've committed nine fielding errors over their last five games including four in their most recent loss against Saint Mary's. The Hornets committed just six errors in their first eight games of the season.
While most of this has been focused on Sac State position players, the Hornet pitching staff has slipped with the recent rise of walks. During the 7-0 start, Hornet pitching allowed a very clean 2.7 walks allowed per game. That number has moved up to 4.3 per game over the recent struggles. 
While that alone isn't very drastic, accompanied by the sudden rise of defensive errors and the offense cooling off after a hot start, it adds up and the total for Sac State baseball has been a 1-5 record since becoming nationally ranked.
"A week like this is tough, and it's definitely not what we want but if we can learn from it and try to take that going forward, then it's worth it," Iwasa said.
One thing to remember is that baseball is a long season, and by May this could be far in the past as the Hornets expect to compete for another WAC title. The last time Sac State baseball lost four-of-five was back in 2019 when they enjoyed a successful 40-25 record and got their latest WAC title.