Sac State men's basketball team defeats Weber State, 78-76
Hornets improve to 6-9 in conference after last second win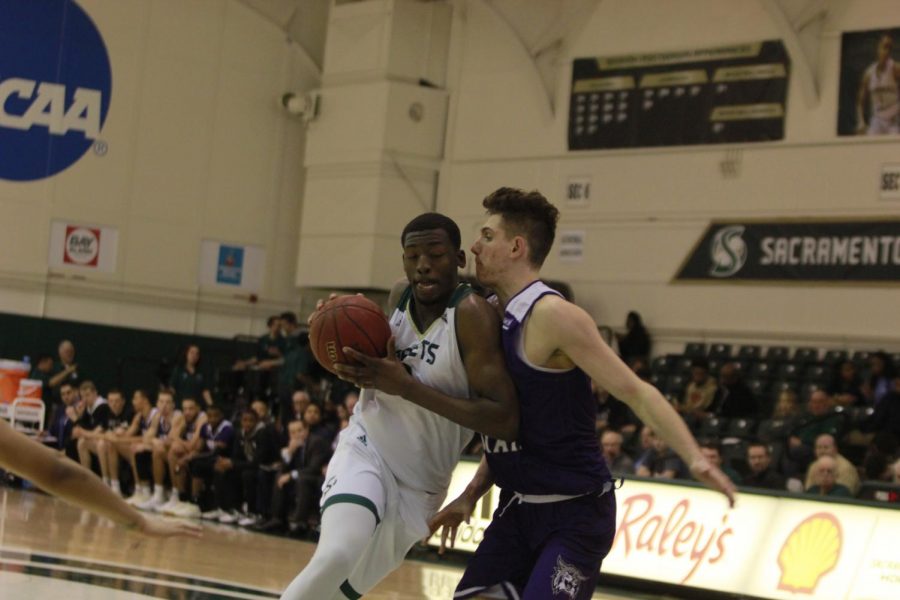 Sacramento State men's basketball team defeated Weber State at home, 78-76 to improve its record to 12-12 overall and 6-9 in Big Sky Conference play.
Weber State (16-11,10-6) played without their leading scorer guard Jerrick Harding who averages 22.3 point per game, which ranks second in the Big Sky.
Sac State's largest deficit of the game was 12 points in the first half and the Hornets were able to complete the comeback by locking down on defense.
"We know our team is never going to give up. We have a really good resilience, they'll fight like hell," said head coach Brian Katz, "That's really the key; can you win when you don't have your A-game."
Sac State had 13 more shot attempts than Weber State  because they out-rebounded Weber 43-31, and grabbed 13 offensive rebounds.
RELATED: Sac State men's basketball defeated at home by Northern Arizona
The Hornets took the lead with 1 second remaining after sophomore forward Ethan Esposito was fouled after getting a rebound. He made both free throws and finished with 10 points.
Ethan Esposito free throw puts he Hornets in the lead 77-76 with 1 second left. pic.twitter.com/l8UEV8lmZi

— Dominique Walker (@DomoWalk) February 22, 2019
"I'm not making any excuses, no sorries or nothing," said senior guard Marcus Graves. "I feel like we always get calls like that, so for it to go our way it feels good."
Graves finished with a game high 24 points, 7 assists and 7 rebounds.
Junior center Joshua Patton had a double-double with 21 points and a game high 12 rebounds.
Postgame interview: Joshua Patton finished with a double-double 21 points and 12 rebounds. pic.twitter.com/uQmjfOPgCG

— Dominique Walker (@DomoWalk) February 22, 2019
"We have to come out to the games with a lot more fire and a lot more energy," Patton said. "These past couple games we've been coming out flat and that can't happen this late in the season, we can't win the tournament like that."
RELATED: Senior guard having career year after return from back surgery