Sac State's men's soccer falls to UC Riverside 2-0
Hornets drop three straight games in Big West Conference play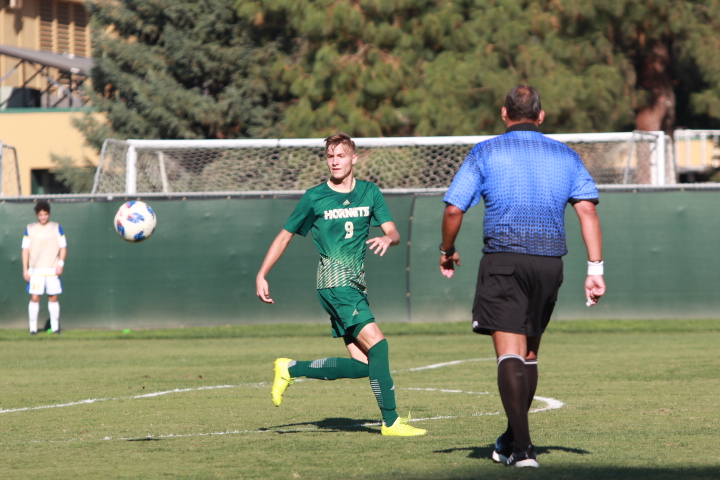 The Sacramento State men's soccer team lost to University of California, Riverside 2-0 at Hornet Field Saturday, dropping their season record to 2-4 in the Big West Conference.
With this loss, the Hornets also drop their overall record to 4-10-2. The Hornets have now lost three matches in a row and have failed to score a single goal in this three-game skid.
Head coach Michael Linenberger said the biggest thing he thinks the team is struggling with on the three-game losing streak is that the team is giving too many goal opportunities for their opponents.
"I feel like we are giving our opponents great chances to score goals, I don't think we are being broken down through great play by our opponent, and they are just killing us with possession, combination and getting in behind us," Linenberger said. "I just think we are making bad mistakes that lead to chances for our opponents to score goals."
RELATED: Sac State men's soccer team wins first Big West Conference match
In the first half of the game, the Hornets and Riverside went back and forth with offense as Riverside shot a total of nine shots followed by the Hornets eight shots. The half ended with both teams going into halftime scoreless.
"I thought we were pretty good in the first half," Linenberger said. "Both teams were pretty even with shots, possession … so we felt good going into the second half, but in the second half we were second best. Riverside was clearly the better team in the second half."
In the second half, things began to look the same as the Hornets and Riverside were deadlocked at 0-0 until the 50th minute of the game, where Sophomore forward Roberto Garcia scored a goal for Riverside making the game 1-0.
Just 20 minutes later, UC Riverside got on the scoreboard again, sealing the game with a 78th minute goal from senior forward Antonio Lokossou making it 2-0 in favor of UC Riverside.
Freshman Forward Benji Kikanovic said that the team struggled with connecting on passes and finishing in the game.
"Just connecting passes and finishing the final third, we get up to our goal and we turn it over and it is not good enough so we gotta work on that," Kikanovic said. "But I feel that once we get that part down, then we will be fine. But, as of right now, it is not good enough."
Sacramento senior forward Brad Bumgarner said that the biggest point of emphasis for the team going into next week is the team continuing to push the ball forward.
"I think we have been struggling with that recently, so hopefully we work on that in [these] six days of training we have before Davis," Bumgarner said.  
The Hornets will look forward to their next opponent rival UC Davis on Saturday at 7 p.m. at Hornet Field.