Sac State men's soccer team wins first Big West Conference match
The Hornets defeated UC Santa Barbara 1-0 at Hornet Field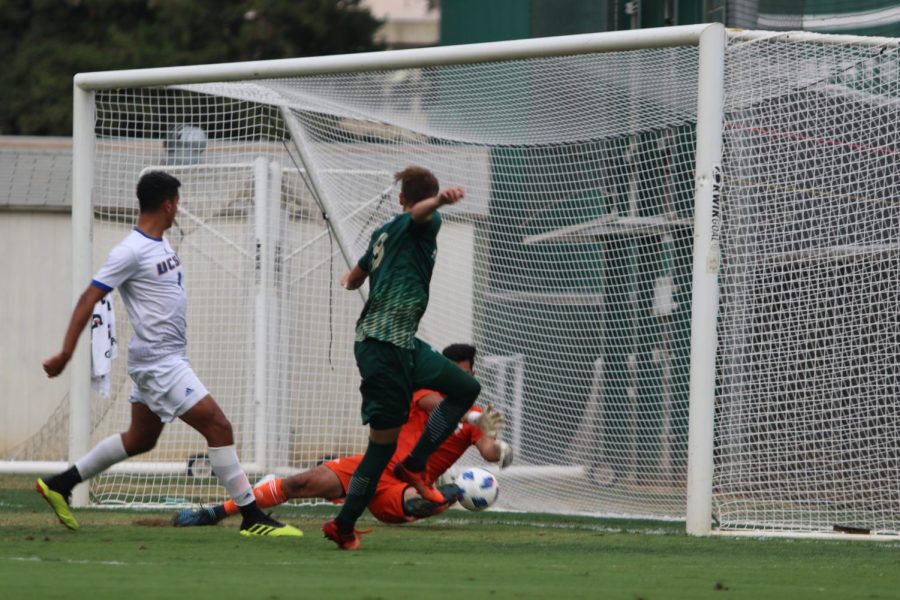 Sacramento State men's soccer won its first Big West Conference match against University of California, Santa Barbara by a score of 1-0 and improves their overall record to 3-6-2.
Coach Michael Linenberger said he was very pleased with the team's performance against UC Santa Barbara. Freshman forward Benji Kikanovic and junior midfielder Matt Carnefix said they both thought the team played well in its first conference match.
"I think we played really well, considering it was our first conference game," Kikanovic said. "Our record doesn't really show that we're that good of a team, but honestly, when we go out to the field, we put all our best toward winning."
In the first half of the game, Sac State defended well by not allowing any shots on goal, according to Linenberger. He said Sac State had more possession of the ball and had four shots on goal.
Even with more shots on goal and more possession, Sac State didn't score a goal in the first and ended with a 0-0 score.
In the second half, UC Santa Barbara started creating more chances to score a goal and started to push Sac State to defend more. In the second half UC Santa Barbara had 12 shots on goal, while Sac State had seven.
Related: Men's soccer looks to prove age is nothing but a number
"[In] the second half, they played themselves into the game and got a hold of the ball," Linenberger said. "We were down at our end a fair amount. But again, I thought we defended well.
"I don't think they ever had a goal scoring chance where you can go, 'Man, they had to score that.'"
Linenberger said Sac State counter attacked pretty well to give them a couple of shots that were blocked by UC Santa Barbara's goalie. Kikanovic had an opportunity to score during a counter attack, but his shot was blocked by the goalie.
Sac State scored when Kikanovic passed the ball to Carnefix, who dribbled past UC Santa Barbara defenders to score a goal.
Related: Women's soccer team takes loss against Weber State University
Linenberger said the win against UC Santa Barbara was vital because conference play gives the team a second chance.
"Obviously, the early part of the season didn't go as we had hoped, but when you open up conference play, it gives you new life and gives you a new chance," Linenberger said.
Seniors Brad Bumgarner and Dominic Scotti didn't play in the match due to hamstring injuries, Linenberger said. Linenberger said they will probably be ready to play in the away match Saturday Oct. 6 against University of California, Irvine.