Sac State student Matthew Major incorporates creative jazz into violin
Major is taking his violin talent from the streets to San Francisco and beyond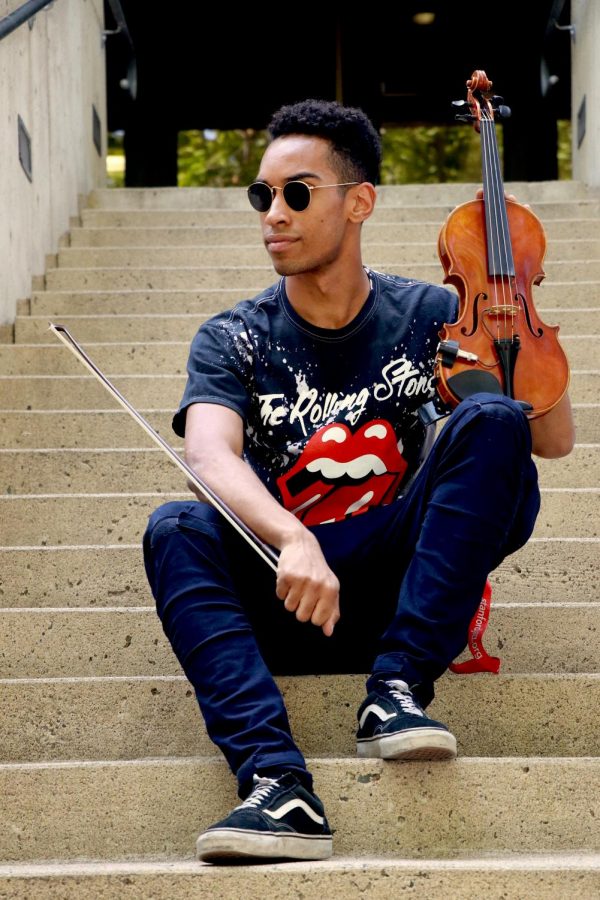 Sacramento State student Matthew Major is an upcoming jazz violinist who is creating a unique sound by changing the way violin is traditionally played.
"There's not a lot of violinists and there's not a lot of jazz violinists," Major said. "That's why i'm going to be that guy to make violin funky, jazzy, new and creative."
Major grew up in a musical family so music was always playing in the house, he said. On his dad's side of the family, they listened to jazz and on his mom's side, he listened to the classics.
"When I was a baby, I always heard the classical standards [like] Beethoven and Mozart and Vivaldi," Major said.
Although Major's instrument of choice is the violin, he originally showed interest in the trumpet, he said.
"I really wanted to play trumpet but [my parents] said that I'd break windows by playing too loud, so they got me a violin and it's been history ever since," Major said.
Major gives credit to his musical talents to his first two private teachers. Major said most of what he has learned came from them.
"Celia Vollov, my first private teacher, and Debbra Schwartz, my second private teacher, those two ladies helped me become the musician I am today," Major said. "Ninety percent of the things I've learned, I learned from them."
Major favors jazz over classical he said. "Jazz gives me the freedom I want and love so much," Major said.
Major said musicians actually have the power to say what they want to say using their instruments versus words.
"It's kinda like the difference between ballet dancing and salsa dancing. Ballet dancing every detail has to be there and in Salsa it's more social," Major said. "It's what you feel in [your heart]."
Ray Charles, Louis Armstrong, Frank Sinatra, Carlos Santana, Tito Puente, Eddie Parente and Jimi Hendrix are some of his favorite artists that Major said he likes to listen to.
"I want to be a Santana or a Hendrix," Major said. "I want to solo, I want to sing, I want to scream. I want to make my violin sound as best as it sounds."
Major said he loves playing in a band and recently played with Nagual at The Shady Lady.
Major also played with Don Gato and will be a regular substitute for one of the players, he said.
"In a band, everyone is a soloist, it's really just a big conversation," Major said. "If I do a rhythm on my instrument the guitar player can play it back, and the drum player can play it back."
Olivia Contreras, Major's friend and roommate, highlighted Major's ability to adapt quickly and play along to the music he hears as one of his strong suits.
"He's really talented, because he can hear the first eight count of a song and just jump into it," Contreras said.
Contreras' godfather plays in a latin jazz band and she said Major filled in for her godfather's band one night.
"[The performance] was cool because he only met them an hour [before] and he was able to hop in on their songs that they have been playing for years," Contreras said.
"I definitely see him having his own band, making a name for himself," Contreras said. "He already has the perfect stage name, Matt Major. I see him going a lot of places."
Major now has a band of six people including himself. He said he's hoping to have a total of seven members soon.
"As musicians I believe that we are all unique, we all have a different flavor, a different seasoning to add to the big meal which is the band," Major said.
Beatriz Figueroa, a friend of Major's who plays in the Sac State Latin Jazz Ensemble, expressed excitement to see how Major's band will work.  
"I'm pretty excited to see what that's going to look like," Figueroa said. "I have really good expectations because he is a really good leader, he has really good ideas and I don't doubt that his combo is going to express and embody his idea of music making."
Major said he's trying to get more involved in the professional music scene, because he's still new to it.
"What I want to do hopefully for Sacramento State is create a new club so I can bring my combo to the Union so we can host jam sessions not just for music students but for all students," Major said.
Major said he's gotten most of his gigs by playing on the streets.
"I might go back to playing on the streets," Major said. "I did that for awhile, I made good money. Then I started getting gigs and I stopped, but now I'm a starving musician and I have to pay rent and bills so I have to play on the street again."
Major has traveled to Europe and put in hours to perfecting his craft.
"I went to Europe to train for two summers in a row and there I was practicing eight hours a day," Major said.
He said he would wake up by 8 a.m., eat breakfast at 8:30 a.m., and started to practice at 9 a.m. and would finish around 7-8 p.m.
Matthew is currently a third year student, majoring in violin studies and music education, but said he wants to switch his major to jazz studies.
He said he is now focusing on making his music sound emotional. "How do I touch people's hearts, because that's what I'm trying to do," Major said.
Major said Grammy-winning violinist Mads Tolling has agreed to teach him techniques to "be a better soloist and to adapt to any musical situation I'm put into."
After 14 years, Major still always has the violin in his hand.
"I feel like I'm not even in my head," Major said. "I feel like I'm in the violin."
He never really knew how much he appreciated playing or how important it was in his life, until he truly realized that playing the violin was what he was meant to do, he said.
"I really do believe that it's what God put me on this earth to do, so I intend to do that," Major said.