New satellite campus provides access to capital connections
Rudy Obstaculo - The State Hornet
Two weeks into the inaugural semester for Sacramento State's new downtown extension campus, the outlook for 304 S St. is promising, department chairs say.
The Department of Public Policy and Administration has been actively involved with the downtown campus since the idea was first conceived, acting Department Chair Robert Wassmer said.
"This has been in the works probably for at least a decade—moving downtown, better serving our audience of people who work there both in state and local government," Wassmer said.
According to Wassmer, eventually 90 percent of the department's graduate courses will be taught at the satellite campus, "So we're very excited about it."
The graduate program involves politics and the way it shapes policy, Wassmer said. The accessibility to infrastructures in downtown Sacramento, like the Capitol, are some of the ways Sac State students taking classes in the department can get real-world experience.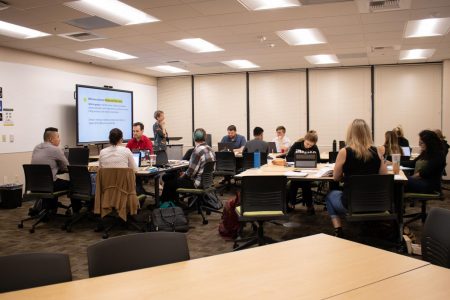 Currently, Sac State Downtown hosts four classrooms and 11 courses, most being public policy and administration classes, this fall.
Additional educational services include a doctorate program in educational leadership, dietetic internship opportunities through the family and consumer sciences program, degree completion and professional development certificates through the college of continuing education, as well as consulting services for public agencies and non-profit organizations run by the Institute for Social Research, according to a Sac State press release.
"One of the things that's unique about our dietetics internship is that we do have some components of policy and legislative types of advocacy in some of the coursework," Family and Consumer Sciences Department Chair Lynn Hanna said. "We'd like to expand on coursework that is directly related to food and nutrition policy."
The press release also said more programs would eventually find their home in the new downtown facility including the college of arts and letters, college of health and human services and college of natural sciences and mathematics.
"It's just not public policy and administration or the college of social sciences and interdisciplinary studies," Wassmer said. "The plan now is that every college throughout the entire university has offices down there and that they all have things like this in the works."