Hundreds gather for Sac State eclipse viewing party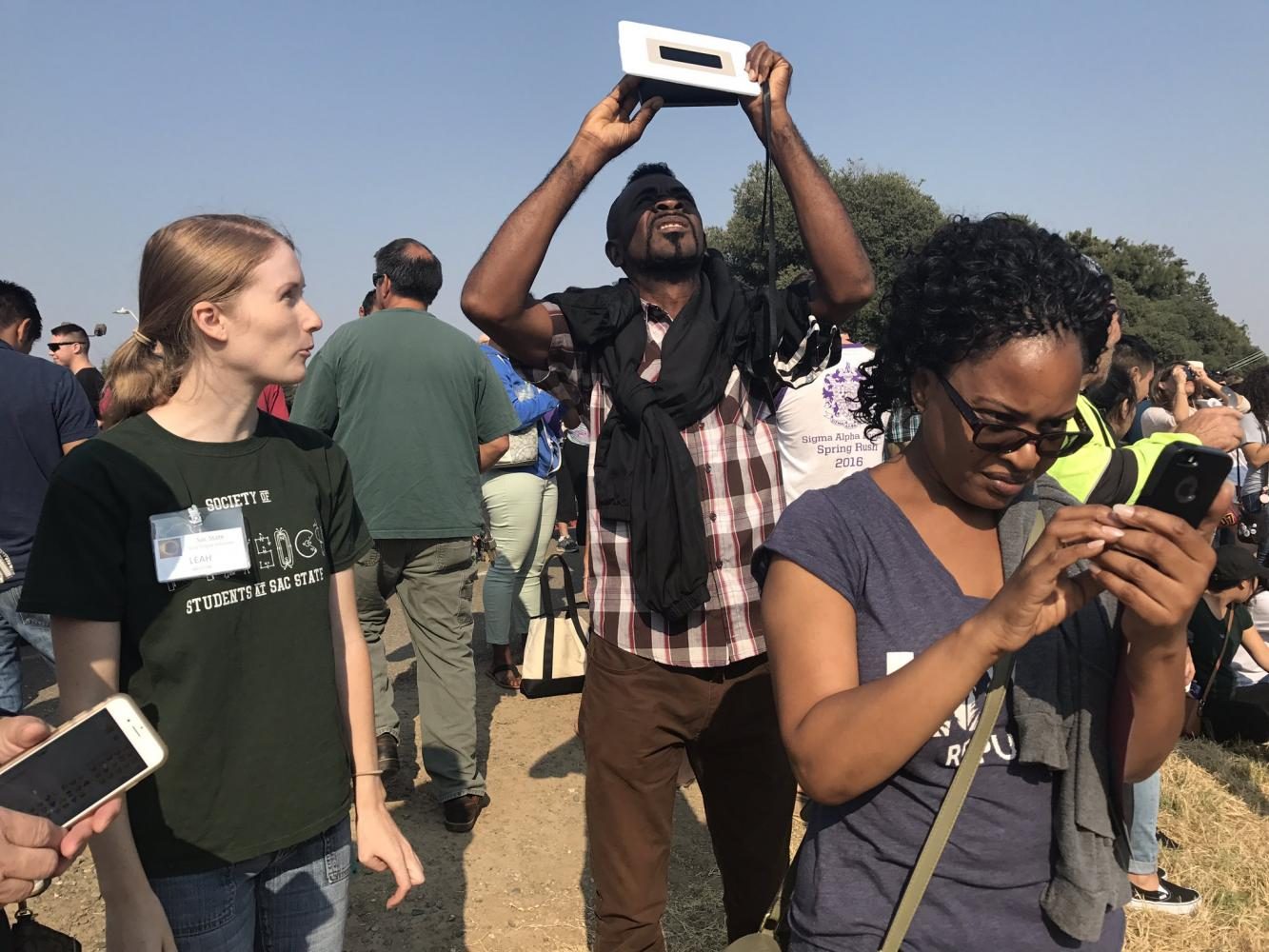 Hundreds of people gathered on the American River levee across Sacramento State's Hornet Bookstore for a solar eclipse viewing party Monday.
The event, which started at 9 a.m. and ended around 10:30 a.m., was hosted by physics professor Rodolfo Barniol Duran and the physics department.
A solar eclipse is the rare occurrence when the moon passes directly between the sun and the Earth, blocking sunlight and casting a shadow on Earth.
The last total solar eclipse visible from the lower 48 states happened in 1979 and it only covered a few states in the Pacific Northwest. Monday's eclipse was coast-to-coast, stretching from the coast of Oregon to the edge of South Carolina.
As visible from Sacramento, the moon eclipsed 80 percent of the Sun.
"The eclipse was at its optimal at around 10:17 a.m. and it caused the wind to pick up a little" Duran said. "Now, the percentage (of the eclipse) is dropping. Everything will get a little brighter and hotter."
There were also attendees who brought their own welding glasses, lenses, X-ray scans or homemade pinhole projectors, which reflect the eclipse through a tiny hole into a cereal or cardboard box.
Heavy clouds in the Bay Area forced a few UC Berkeley's engineering students — who came with their own pinhole projectors — to drive to Sac State to view the eclipse.
Missed this year's eclipse? Then mark your calendar. According to NASA, another total solar eclipse will pass through the U.S. in 2024, projected to stretch from Northeast to Southwest.
More tweets from the event below:
Crowd stretches from the levee near Hornet Bookstore to the Guy West Bridge entrance. #Eclipse2017 pic.twitter.com/AeBRJtamv8

— Vu Chau (@vchau2020) August 21, 2017
A large crowd gathered to watch the solar eclipse on the American River levee across from Hornet Bookstore @SacState pic.twitter.com/w0bgcGqVoG

— Vu Chau (@vchau2020) August 21, 2017
According physics student&volunteer Leah Weston, 80% of the sun, when viewed from Sacramento, will be covered at around 10 a.m. #Eclipse2017 pic.twitter.com/kpuCsoHE7E

— Vu Chau (@vchau2020) August 21, 2017
About 26 welding lenses are available for attendees to borrow at the viewing party @SacState pic.twitter.com/Azm5PdiuEc

— Vu Chau (@vchau2020) August 21, 2017
The sun as of 9:42 a.m. in Sacramento. (Shot through the welding lens provided by the Department of Physics and Astronomy @SacState) pic.twitter.com/dmw7CcMFGj

— Vu Chau (@vchau2020) August 21, 2017
Incoming biochem student Taylor Mcrhl brought her own pinhole projector to reflect the solar eclipse into the box without having to look up pic.twitter.com/5svEzJA1Dl

— Vu Chau (@vchau2020) August 21, 2017
Heavy clouds in the Bay Area forced several UC Berkeley students to come to @SacState to view the solar eclipse pic.twitter.com/FCaSMejfxQ

— Vu Chau (@vchau2020) August 21, 2017
It's happening, everyone! (shot through the welding lens) #Eclipse2017 pic.twitter.com/E89H19WjnO

— Vu Chau (@vchau2020) August 21, 2017
X-Ray vision. Literally! #Eclipse2017 pic.twitter.com/gso2SLNSHn

— Vu Chau (@vchau2020) August 21, 2017
Physics professor Barniol Duran said the eclipse was at its optimal at around 10:17 a.m., which caused the wind to pick up #Eclipse2017 pic.twitter.com/BpzMm85eye

— Vu Chau (@vchau2020) August 21, 2017