Hornets win 16 events in Sacramento State Open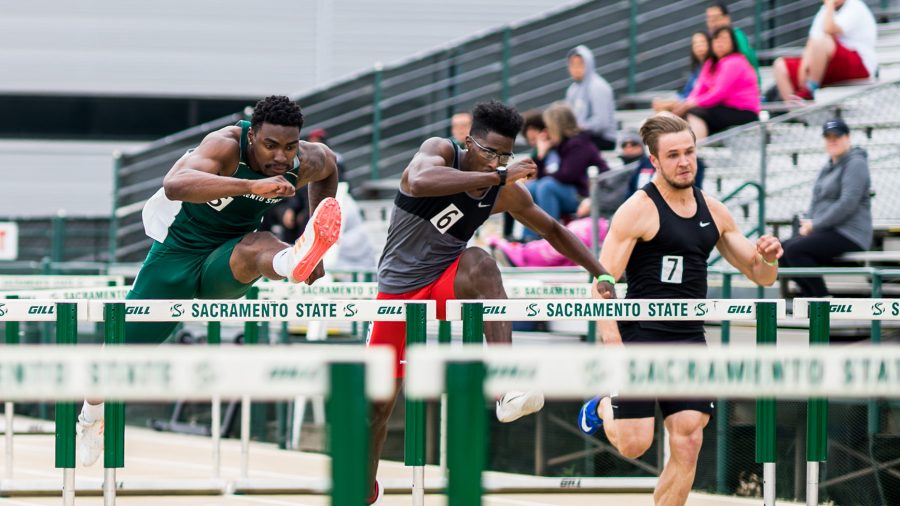 In what was a tune-up meet to prepare for the Big Sky Championships, the Sacramento State track and field team hosted the Sacramento State Open at Hornet Stadium on Saturday.
Both the men's and women's teams combined to win a total of 16 events and set four top-10 school marks.
Senior thrower Tyhana Cooper and freshman Morgan Jones finished first and second in the shot put with throws of 46-10.75 and 43-09.75, respectively. Cooper set a personal record with her throw and is now tied for seventh in program history in the shot put. Sophomore Jelaia Jones was third with a mark of 42-05.25. Junior Selena Cisneros-Haefke took first place in the javelin throw with a distance of 37.05 meters.
Juniors Lauren Kinloch and Kathleen Durand finished first and second in the women's discus with throws of 141-00 and 140-06, respectively.
The women continued their success in the field events as Danielle Brandon took first place in the pole vault with a mark of 12-06.75. Senior Siobhan Anderson finished in third place with a distance of 3.38 meters.
Sophomore Amari Sperling won the 100 meter race in 12.69 seconds and placed third in the 200 meter after running 25.74. Her time in the 200 meter was her season best. Senior Joy Weems also set a season best in the 200 meter race after running 25.65 to place second. Junior Carly Schulz captured the top spot in the 400 meter race after posting a time of 56.28 which ranks 10th in the Big Sky this year.
In the men's field events, sophomore Kyle Peterson took first place in both the hammer throw and the discus with tosses of 178-03 and 167-08, respectively.  Freshman Kyle Carrillo was second in the discus with a career-best 164-02, which improved him to a 10th place ranking in school history.
Sophomore Daniel Onuoha took first place in the high jump with a leap of 6-07.00 while junior Mohamed Abdullah came in second with a jump of 6-03.25.
In the running events, junior Andre Lindsey continued his dominance in the 110 meter hurdles as he took first place with a time of 14.17, which is a personal best for him. Lindsey now holds the No. 8 all-time record for the 110 meter hurdle in Sac State history and is in first place in the Big Sky Conference rankings.
"This week, my whole mindset was to see how well I can be going into the Big Sky Championships," Lindsey said. "Next week I am going to challenge myself and get my time under 14 seconds and if I eat well, make the right decision of listening to my body and resting up, I think that I'll be ready."
Senior Michael Turner took first place in the 100 meter race with a time of 10.67 while senior Eric Adorno finished in second with a time of 10.73. Turner, who has already qualified for the NCAA West Preliminary meet on May 25, said he hopes to run a qualifying 100-meter race time as well.
"For me, the (100 meter race) wasn't perfect, but it was definitely a step in the right direction," Turner said. "I'm very glad I ran it this week because if I sat out, I would not have had the opportunity to fine tune some things."
Sac State Track and Field Director Jeff Magley said that all the athletes did a good job of fine-tuning some things during the "low-key" meet before the Big Sky Championships on Wednesday.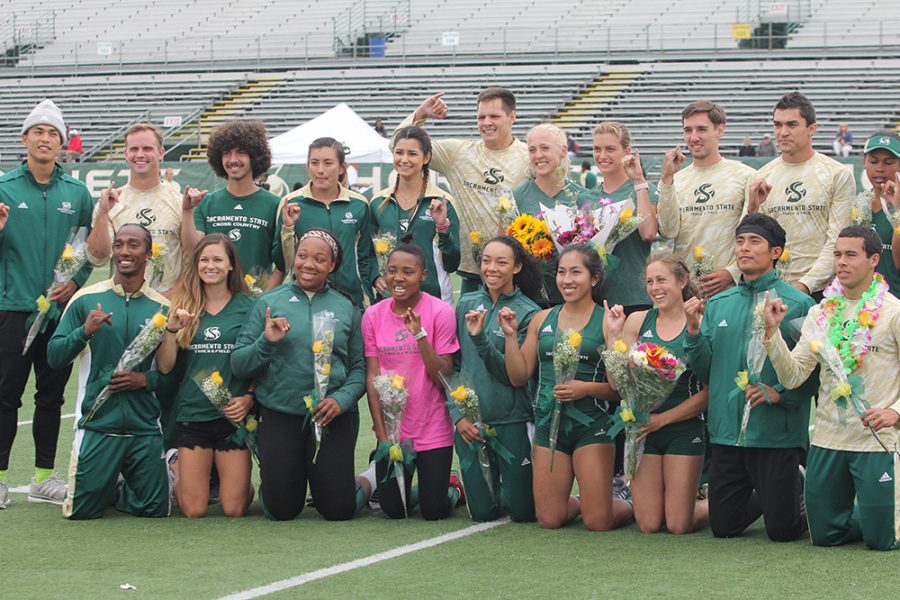 The Sacramento State Open also highlighted the regular season meet in which 20 seniors, who are competing in their final outdoor season for the Hornets, were honored during the competition.
"It's a bittersweet feeling, but it hasn't hit me yet," Cooper said. "It's also exciting because I love competing at home, I'm comfortable and I usually do my best (here)."
Sac State will now prepare for the four-day Big Sky Championships at Hornet Stadium from Wednesday to Saturday.
"Physically, the work has already been done," Magley said. "Now, we must manage the mental approach and all of our coaches have to put our athletes in the best position to have high confidence going into our meet."
Additional reporting by Raul Hernandez